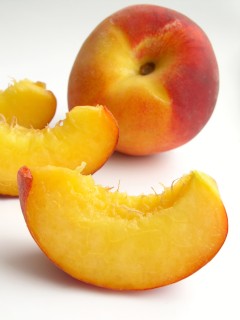 Each year the Environmental Working Group, a non-profit organization dedicated to protecting public health and the environment, puts out a list called the "Dirty Dozen".
What is this list?  It is a list of the most chemically-treated fruits and vegetables.
EWG research "has found that the people who eat the 12 most contaminated fruits and vegetables consume an average of 10 pesticides a day.  Those who eat the 15 least contaminated conventionally-grown fruits and vegetables ingest fewer than 2 pesticides daily."
In case you are shopping and can't remember what is on the list, the basic rule of thumb is this: buy organic fruits or vegetables that have nothing to be peeled off before eating.
If you know someone who has kids, please forward this to them.  Kids are the most vulnerable to pesticide intake.
This year's Dirty Dozen.
1. Peach
2. Apple
3. Bell Pepper
4. Celery
5. Nectarine
6. Strawberries
7. Cherries
8. Kale
9. Lettuce
10. Grapes (Imported)
11. Carrot
12. Pear
And now for the list that all fruits and vegetables aspire to be on.  Let the bragging begin.
The Clean 15 (lowest in pesticides)
1. Onion
2. Avocado
3. Sweet Corn
4. Pineapple
5. Mango
6. Asparagus
7. Sweet Peas
8. Kiwi
9. Cabbage
10. Eggplant
11. Papaya
12. Watermelon
13. Broccoli
14. Tomato
15. Sweet Potato