Organic Insider
Company Stories
Farmer Direct Organic is Raising the Bar When it Comes to Fair Wages for Growers and Traceability for Consumers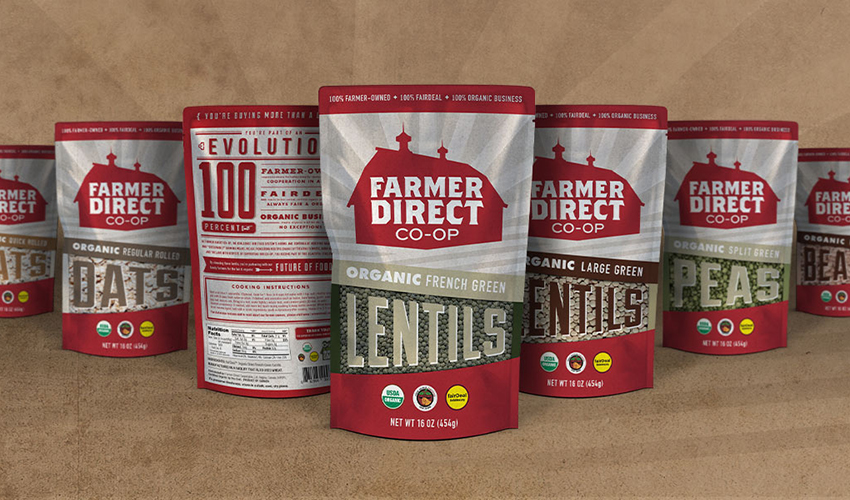 With more than 80% of U.S. consumers purchasing organic food on a regular basis, the industry continues to surge in popularity, and there are more organic brands – and choices – than ever.
Yet, when one takes a deeper look at what is happening behind the scenes, the picture is rather unsettling. Most notably, the farmers are suffering beyond imagination.
According to the USDA, projected 2019 median farm income was expected to be -$1,636, and a majority of farmers are forced to earn off-farm income to feed their families and keep their farms afloat.
Canada-based Farmer Direct Organic, a certified organic producer of grains, seeds and legumes, is acutely aware of this problem and is making it a cornerstone of the company's operating philosophy.
"Having seen first-hand the challenges farmers face, Farmer Direct Organic is dedicated to supporting family scale, organic, regenerative farming through transparency and by paying farmers based on the true cost of production. We believe this investment in sustainable agriculture is not only a moral imperative but is scientifically proven to be the best hope society has to mitigate climate change," said Jason Freeman, Founder and General Manager of Farmer Direct Organic.
Along with the transparency that it provides to its family farmers, the company offers an unprecedented level of visibility to its customers.
On the back of every Farmer Direct Organic package features a string of fourteen numbers and three dashes. These numbers track each product from the farm to the shelf, when each lot was harvested, how it was processed and packaged, and even which field it was grown on.
With the exception of its oats, which are sourced from a group of organic farmers, the company is deeply committed to single-origin lots.
This means hemp seeds, for example, are not collected from 10 different farms and combined into one container to full its bags of product. No comingling ever takes place, which allows for each package to be traceable back to a single farm. This also helps to eliminate fraud, a major issue in the organic industry when it comes to grains.
Additionally, Farmer Direct Organic is an early participant in a third-party certification program called Tested Clean.
Tested Clean utilizes a method of precisely measuring pesticide levels in food and makes sure that glyphosate and other chemicals are not present in the company's products. Although glyphosate is prohibited in organic, it has found its way into the organic food supply chain, something that poses a tremendous problem for consumers.
As a result, a growing number of organic brands, such as Farmer Direct Organic, are taking it upon themselves to rigorously test their certified organic products for pesticides, a job that the USDA does not do itself. Despite the added cost of time and money, this only ensures a higher quality, safer product for shoppers.
The fact that the company has gone to these lengths to ensure that its products are of maximum safety and quality has not gone unnoticed by industry buyers.
"We are in a constant search for best, most cutting-edge organic products and companies that are doing the right thing by consumers. That is why we started selling Farmer Direct Organic, and the feedback from our customers has been fantastic. So much so that we will be expanding with the company in a bigger and more exciting way this coming crop season," said Dwight Richmond, Director of Center Store, Merchandising at The Fresh Market, an organic and natural supermarket chain with locations in 22 states.
Farmer Direct Organic is truly raising the bar when it comes to delivering fair and transparent organic products to the marketplace.
Needless to say, this is industry leadership at its finest.