Living Maxwell
Company Stories
Seedz Cafe in St. Louis, Missouri is Serving Up Some Fantastic Food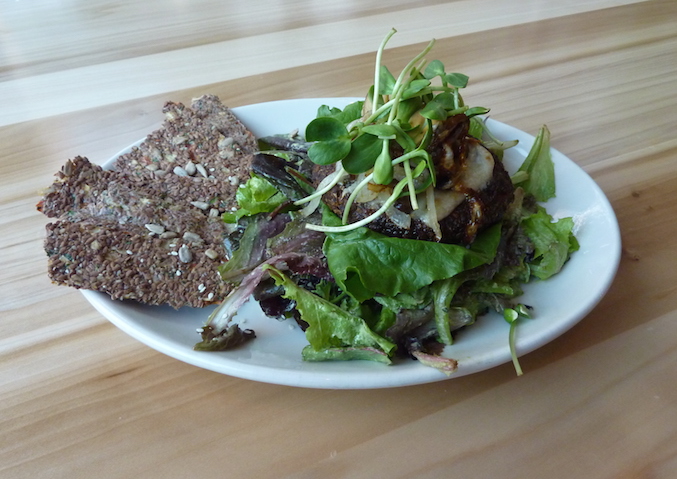 While in St. Louis last week attending the National Organic Standards Board meeting, I spent an inordinate amount of time at Seedz Cafe, a plant-based organic restaurant located in Clayton's DeMun neighborhood.
Founded by a former buyer at Whole Foods Market and built with many reclaimed and recycled materials, Seedz Cafe is dishing out some truly delicious cuisine.
Here are some of the things that I ate at Seedz Cafe on one of my numerous visits to this very inviting and appealing organic restaurant.
BBQ TEMPEH PIZZA
Made with sprouted organic wheat and a cashew cream base, this pizza is topped with tempeh, cilantro, onions, tomatoes, black olives, jalapeño cheddar cheese and a house-made bbq sauce sweetened with roasted pineapples.
MOCK TUNA ON SALAD
I am a big fan of mock tuna, but I have never had one like this before. This mock tuna was made with carrot pulp, capers, tomatoes, sprouts, sweet pickles, and onions, and it was served on a bed of greens.
TEMPEH REUBEN
Made with smoked fermented tempeh, sauerkraut, house-made thousand island dressing, lettuce, tomatoes, and sprouts, this Reuben wrap was delicious and so flavorful.
MALIBU BURGER
This black bean and quinoa burger was absolutely phenomenal and had outstanding texture. Topped with sauteed mushrooms, onions and "mock"arella cheese, the Malibu burger is one of the restaurant's best items.
MOCHA BAR
When I think of the best raw desserts ever, Pure Food & Wine's mint chip sundae is at the top of the list. However, Seedz Cafe's mocha bar is right behind it. While eating it at the restaurant, I texted my friend Peter Cervoni, one of NYC's best plant-based chefs, and told him that he needed to check this one out. I was that impressed.
The mocha bar was made with house-made chocolate from raw cacao, mocha caramel sauce with tahini, walnuts, maple syrup, espresso and coconut flakes. Rock star status, and I don't say this lightly.
—
If you ever are in the St. Louis area, you definitely want to check out Seedz Cafe. Fantastic food, warm and inviting atmosphere, very friendly service. Needless to say, the people in St. Louis are lucky to have this spot.