Living Maxwell
Better Choices
Another Reason to Eat Organic — No Potassium Bromate in Your Bread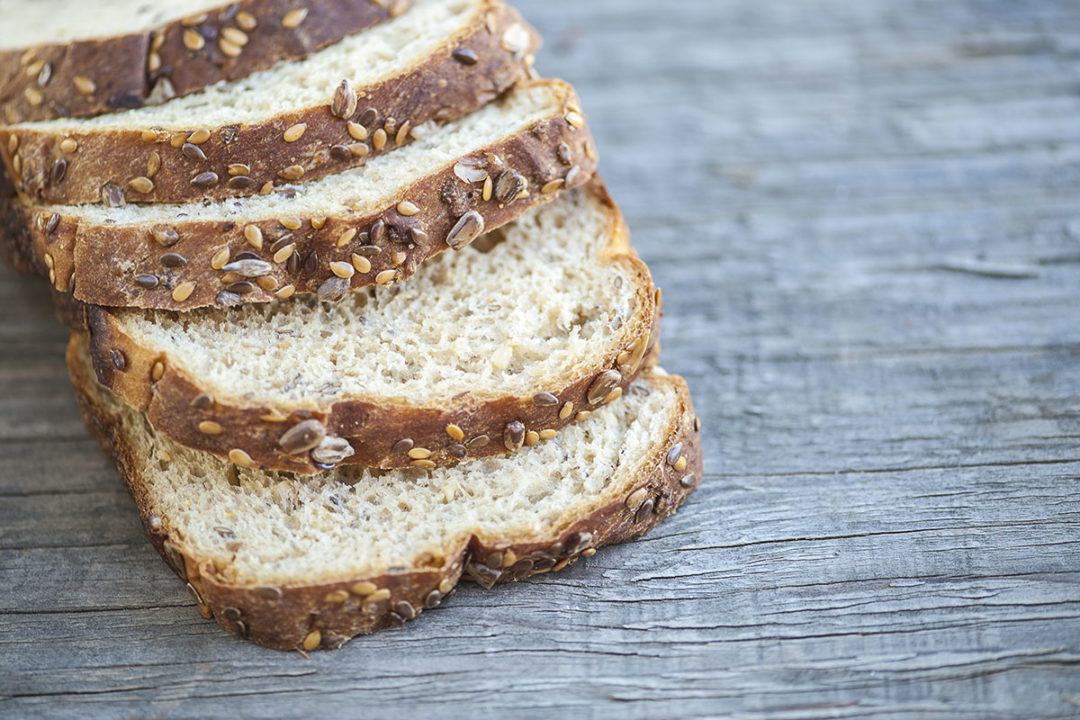 If you are a bread lover, which so many of us are, there is just another reason why you should be eating organic: potassium bromate.
Potassium bromate is an additive used in flour which strengthens the dough and allows it to rise higher. Furthermore, it gives the finished bread an appealing white color.
But, the problem is that this additive is also linked to cancer.
In 1999, the International Agency on Research for Cancer declared that potassium bromate was a possible human carcinogen, which means that it possibly causes cancer.
Here are some other things for you to know about potassium bromate:
– It is not allowed for use or is banned as a food additive in a number of countries, including the United Kingdom, Canada, Brazil and the European Union.
– The state of California requires food with potassium bromate to carry a warning label.
– In tests on laboratory animals, exposure to potassium bromate increased the incidence of both benign and malignant tumors in the thyroid and peritoneum.
– Potassium bromate also has the potential to disrupt the genetic material within cells.
To no one surprise, the food industry says that potassium bromate is perfectly safe. It claims that potassium bromate gets converted into potassium bromide, a similar yet non-carcinogenic chemical, during the baking process.
However, testing in the UK has proven that this is not the case and that potassium bromate still remains after the baking process.
WHAT TO DO
There are three concrete steps that you can take.
First, be aware of which conventional brands are using potassium bromate in their products and avoid them.
According to the Environmental Working Group, there are currently at least 86 baked goods and other food products found on supermarket shelves, including well-known brands and products such as Hormel Foods breakfast sandwiches, Weis Kaiser rolls and French toast, and Goya turnover pastry dough.
Amello's Italian Style Raspberry Drop Cookies
Amon's Kosher Deep Dish Pizza
Busken, Tea Cookies
Canadian Home Style Pizza Cheesy Veggie
Canadian Home Style Pizza Fluffy & Cripsy
Caribbean Food Delights Mild Beef Patties
Chopsie's Pizza Rolls
Dockside Classic Crab & Cheese Bites
Dockside Classics Crab Cakes
Dockside Classics Lobster Cakes
Fresh Daily Easter Bun
Fresh Daily Inc. Spice Fruit Bun
Fresh Daily Nutmeg Bread
Fresh Daily Round Spice Bun
Fried Garlic Sticks
Fried Sticks Palitos Lemon
Galletas Paloma Castilla Crackers
Giovanni's Kaiser Italian Rolls
Golden Krust Fresh Traditional Style Whole
Golden Krust Hard Dough Bread
Golden Krust Jamaican Style Chicken Patties
Golden Krust Spice Bun
Goya Dough For Turnover Pastries
Harrington's Amish Style Handmade Egg Noodles (2)
Home Like Hard Rolls
Hormel Bacon Egg & Cheese in Deli Bagel
Hormel Black Label Breakfast Sandwiches
Imperial Garden Pork Egg Rolls
J.T.M Chicken Philly Cheese Steak Kit 4 Complete Sandiwiches
J.T.M Meatball Sub Kit
J2 Broadway's Gourmet Pizza
La Bayamesa Corn Muffins
La Bayamesa Pineapple Filled Pastry
La Fe Chicken Croquettes
La Fe Tropical Crackers
La Gustosa Tortelli With Cheese
La Rosa's Hoagy Rolls
Larosa's Meatballs
Lemon Spicy Sticks
Longo's Pizza Crusts
Longo's Sicilian Pizza Crust
Lucca's Italian Rolls
Mary's Bakery Guava Bread
Mary's Bakery Sweet Bread
Minardi Round Bread
Minardi's French Mini Bread
Murry's French Toast Bites Cinnamon Blast
New York Flatbread Everything
New York Flatbread Sesame (2)
New York Flatbreads Garlic (2)
Palagonia 6 Mini Hero's
Palagonia French Bread
Palagonia Italian Bread (2)
Palagonia Panino Italiano
Palagonia Rolls
Palagonia Sliced Heros
Palagonia Sliced Italian Bread
Pao Ge Milho Apple Cake
Pierino Jumbo Shells With Cheese
Pierino Manicotti With Cheese
Racine Bakery Pumpernickel
Racine Bakery Sunflower Rye Bread
Rico Original Discos, Dough For Turnover Pastries
Rico Original Grandes
Royal Caribbean Bakery Hard Dough Bread (2)
Scotto's Gourmet Cookies
Sibstar Bread Farmers
Sibstar Bread White Wheat
Stern's 100% Whole Wheat Bread
Super Cakes Milk Bread
Super Craft Milk Bread
Tastee Choice Chicken Parmigiana and Penne Pasta
Tastee Choice, Orange Chicken
Terranova Bakery Pane Di Casa
Terranova Bakery Plain Friselle
Terranova Bakery Wheat Bread
The Bakery Bacon Mini Pastries Kolacky Cream Cheese
Tony Luke's Chicken Cheesesteak
Tony Luke's Roast Pork Sandwiches
Triana Almond Cake
Triana Pineapple Cake
Tudor Bakery Biscotti Almond
We Are The Finest! Odessa White Bread
Weis Enriched Rolls Kaiser (2)
Weis French Toast Bites Cinnamon
Wheat Bran Bread
Second, sign the Environmental Working Group's petition, which is demanding that companies immediately stop using potassium bromate in their products.
To sign the e-petition, click HERE.  
Third, make sure that you and your family are purchasing organic bread because potassium bromate is not allowed in organic products.
Here are some great brands to choose from.
One Degree Organic Foods – sprouted, Non-GMO Project verified, veganic
Silver Hills – certified gluten-free, sprouted, Non-GMO Project verified
Dave's Killer Bread – Non-GMO Project verified
Alvarado St. Bakery – sprouted, made with organic grains
Manna – sprouted, yeast-free
Ezekial 4:9 – sprouted, made with organic grains
Please share this post with anyone you know that is still eating conventionally-produced bread. It is vital that they know the truth about this risky ingredient.