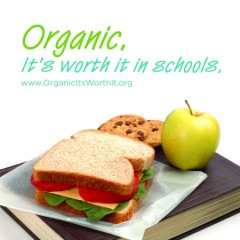 While there are many great organizations in the country that promote organic food and work to protect organic food regulations in Washington D.C., the two most prominent ones are the Organic Consumers Association and the Organic Trade Association.
As you can tell from their names, one focuses on consumers and the other focuses on the trade.
Last year, however, the Organic Trade Association (OTA) embarked on its first nationwide consumer awareness and education campaign.  As part of this outreach, the OTA just launched a program called "Organic. It's Worth it in Schools."
This initiative is calling on teachers, parents, students, educators and others to vote for their favorite school to win an organic garden complete with seeds, soil and expert gardening support; or a fully stocked vending machine, which can feature organic items like milk, fruit, cheese, yogurt and snacks.
Through May 1, 2010, individuals visit www.OrganicItsWorthIt.org and enter their school name and address while at the same time "voting" by signing up for an electronic newsletter featuring organic tips, recipes, news and more. A school must receive a minimum 1,000 votes (or newsletter sign-ups) to win. (Full details on rules and regulations can be found here.
The winning school selects the garden or vending machine for installation in the 2010-11 school year.
Based on my experience, there is a much greater understanding on college campuses today about the importance of organic food than ever before.  Hence, what I really like about this OTA program is that they are trying to educate kids at an earlier and more crucial age.
Even though only one school will win the contest, the hope is that many kids will get exposure to organic food and learn the reasons why we need to be eating it.
I applaud the OTA for its efforts and for showing a commitment to organic on the consumer level.
Please forward this to any parent of a high school child.  We need to get organic food into the school system as quickly as possible. The health of kids is too critical to ignore.