With Thanksgiving right around the corner, two thoughts come to mind.
One, I am super-excited that my beloved New England Patriots will be playing the Detroit Lions on national television. Since Detroit has finally developed into a respectable team, the football game should be a good one.
Two, I am trying to figure out exactly which organic food I'll be eating.
For me and many other people, holidays do not mean a vacation from organic food. Here are some of my best ideas for an organic Thanksgiving.
– DINNER –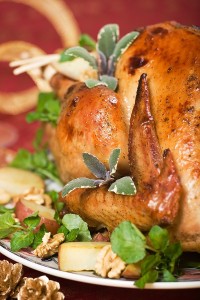 Certified Organic Turkey
As we all know, the staple of traditional Thanksgiving dinners is turkey. Certified organic turkeys mean that:
– No antibiotics, chemicals or pesticides are used.
– All organic feed is used.
– They are pasture-raised, have had ample time to roam outdoors and are not confined to tight spaces.
There are many online vendors that sell certified organic turkeys, and local organic supermarkets have them as well. However, the following two farms offer something pretty unique.
**  Guttenberg Farms in Wisconsin offers certified organic heritage turkeys. Heritage turkeys are the ancestors of the common broad-breasted white industrial breed of turkey that comprises 99.99% of the supermarket turkeys sold today.
Heritage turkeys have a stronger flavor and darker color, dine on grass and insects, and require about 28 weeks to get to full size. Because it takes so long to grow to market weight, the turkeys have time to develop a thin layer of fat under their skin, which makes them "self basting."
Guttenberg Farms says it always sells out, so reserve early. The New York Times did a story on heritage turkeys several years ago.
**  Wise Organic Pastures offers both certified organic and kosher turkeys. Kosher turkeys have been prepared in a special way in order to reduce bacteria and are overseen by a certified Rabbi. Furthermore, the slaughter process is as quick as possible in order to minimize pain to the animal.
Again, reserve early. There is a good chance that Wise Organic Pastures will sell out.
Grown Right Organic Cranberry Sauce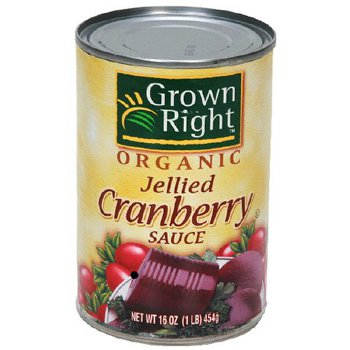 Finding organic cranberry sauce on the shelves is not that easy for some reason. You may find plenty of "natural" cranberry sauce but as we know, there are no standards for "natural."  So, your best bet may be to order it online.  Grown Right has gotten rave reviews, and the company offers a jellied version and whole berry version.
Arrowhead Mills Organic Savory Herb Stuffing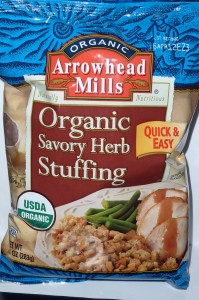 Arrowhead Mills is one of the real mainstay brands in the organic world. This stuffing is quick and easy to prepare — approximately 20 minutes.  And, the organic spices in the stuffing (sage, rosemary and thyme) will provide great taste for the organic turkey.
It is available nationwide and can be ordered online HERE.
– DRINK –

R.W. Knudsen Sparkling Organic Apple Juice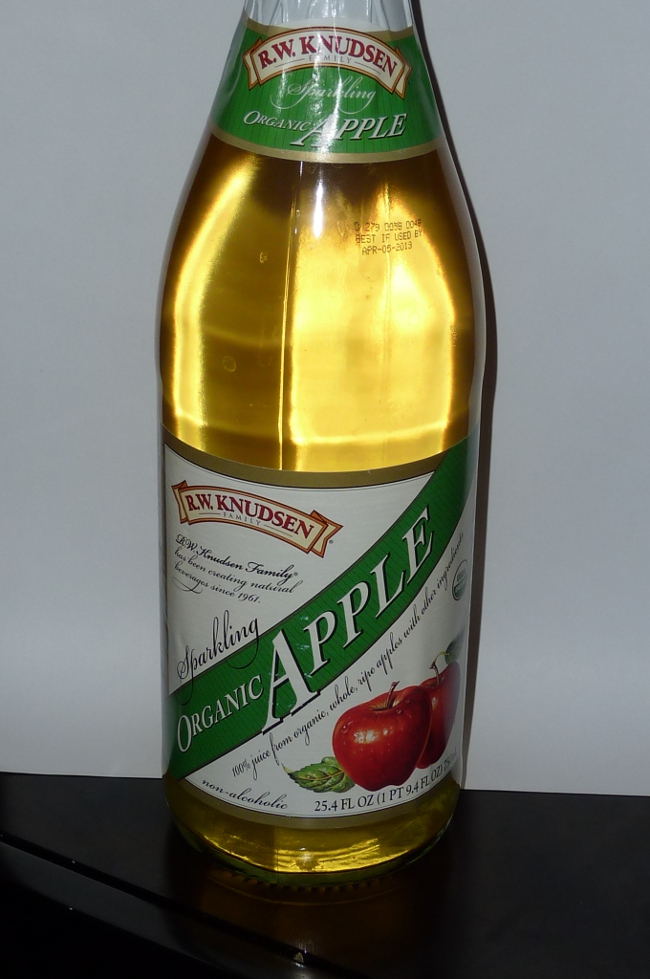 Taking just one sip is a near impossibility. This non-alcoholic sparkling apple juice is crisp but not overbearing at all. Plus, it is all juice with no sugar added and six ounces is equivalent to one serving of fruit.
The product is sold nationwide.
Simply Organic Mulling Spice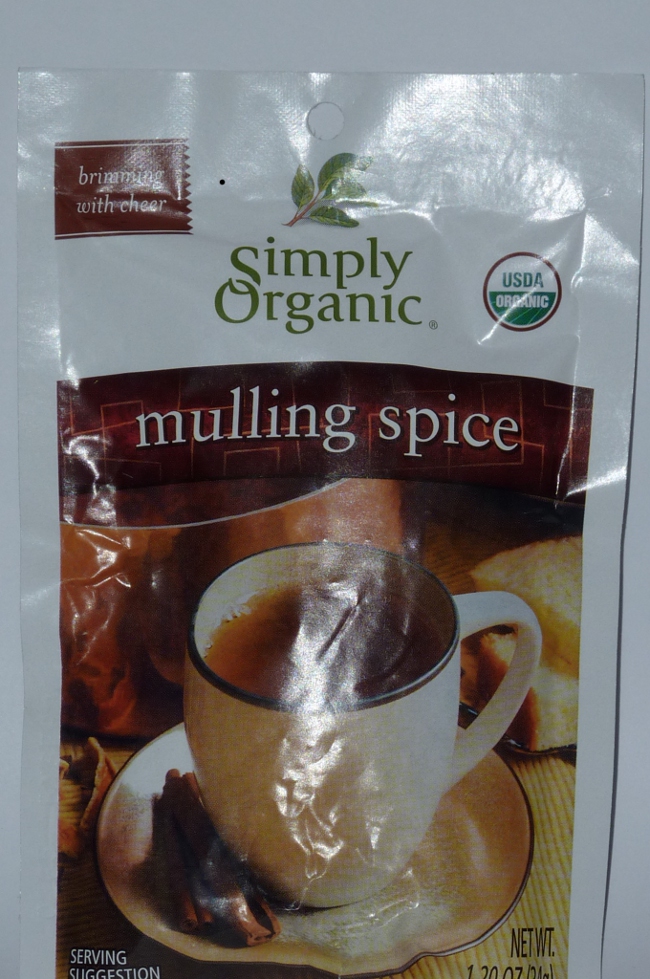 If you prefer a hot apple drink, this could be the one for you. Take apple juice and mix in this organic packet of cinnamon, allspice, orange peel, cloves and ginger. The preparation is very simple and only requires about 20 minutes to make. Another great option is to replace the apple juice with cranberry or grape juice.
Simply Organic Mulling Spice is available at stores nationwide and online.
– DESSERT –

Farmers Market Organic Pumpkin Pie Mix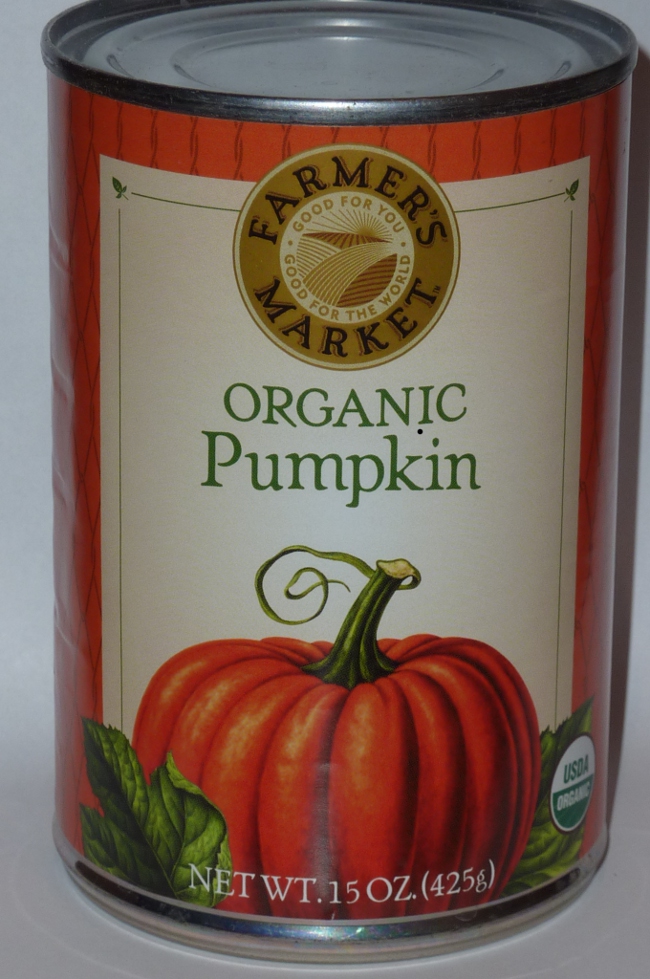 For those people who don't want to make this classic dessert from scratch, Farmer's Market is here to help. This will serve about 6-8 people and will take about an hour to prepare. It is sold nationwide and can be purchased online HERE.
Wholly Wholesome Organic Spelt Pie Shells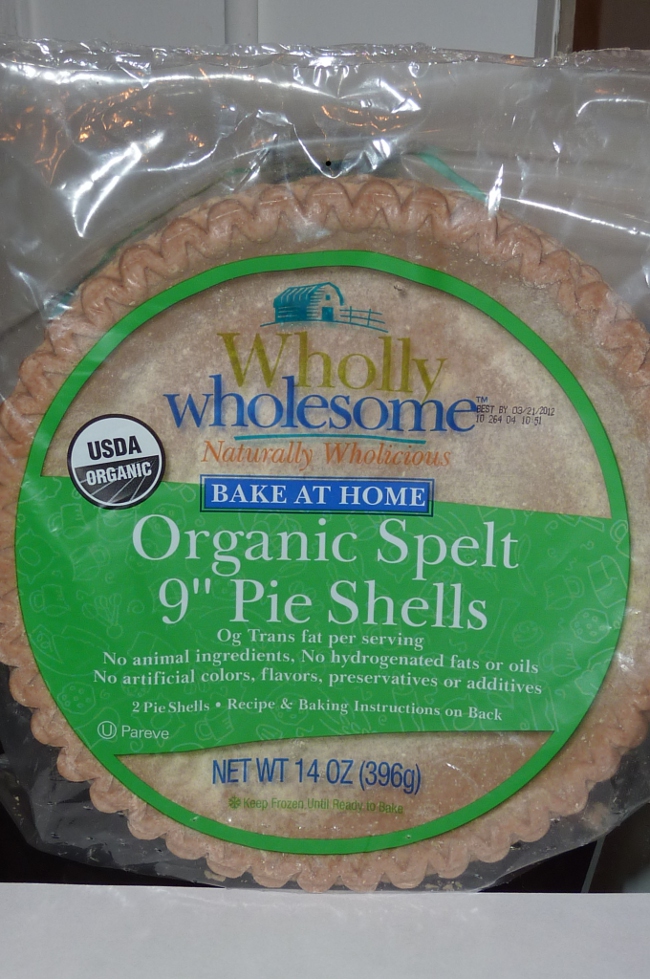 If you want the pumpkin mix pre-made, then you are probably going to want to buy the crust as well. Wholly Wholesome can save you A LOT of time. Instead of a white or wheat crust, this one is spelt. These pie crusts come frozen and are available nationwide. To find a location near you, click HERE.
Frontier Organic Cinnamon Stick and Powder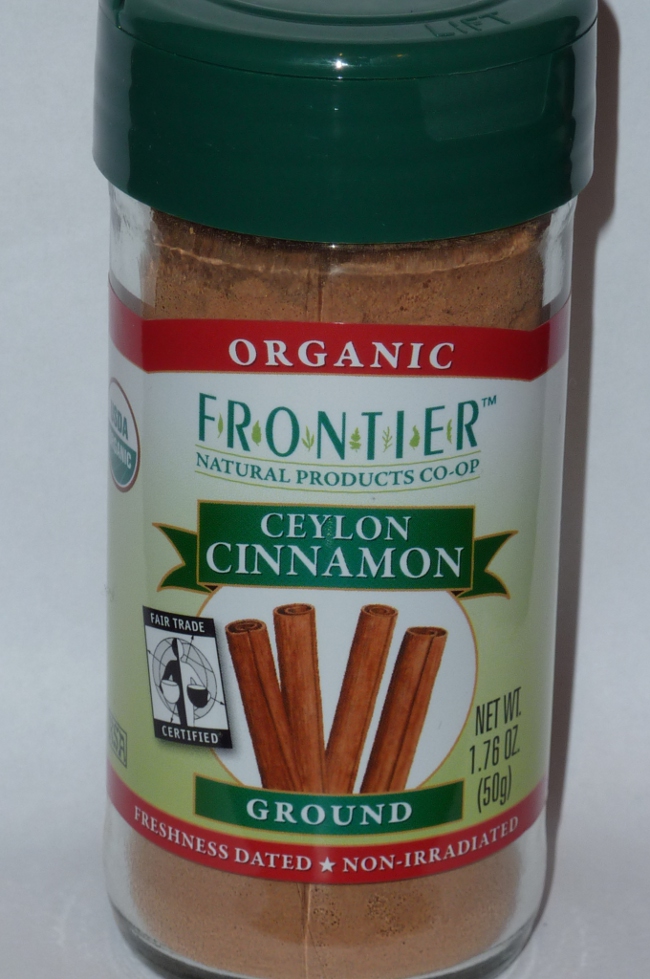 All cinnamon is not alike. Known as "true cinnamon", ceylon cinnamon has a more delicate and and sweet flavor than the more common cassia cinnamon. Click HERE to find a store near you that carries this product.
Purely Elizabeth Organic Chocolate Chip  Cookie Mix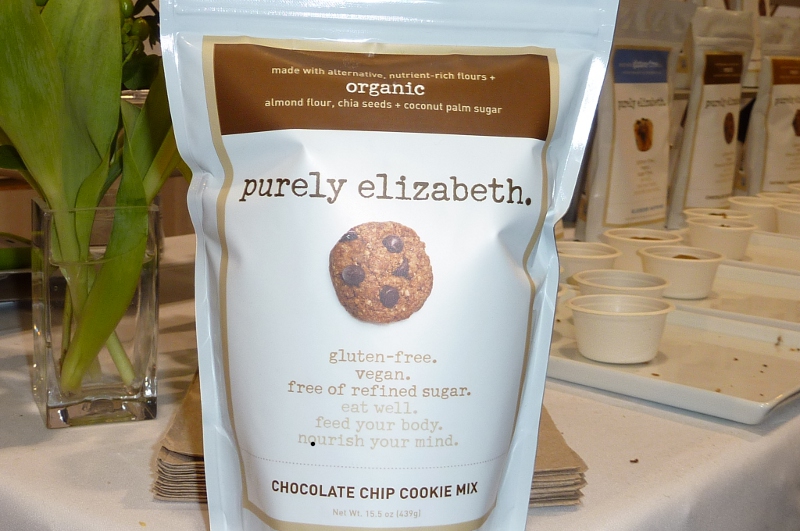 If you have any guests who have gluten-free requirements, try Purely Elizabeth. I came across this brand at the recent Natural Products Expo East Trade Show and think it is fantastic. There are no refined sugars, and it is gluten-free, wheat-free and dairy free. Plus, she uses some ingredients I love, such as millet and chia seeds.
To find a store near you that sells Purely Elizabeth, click HERE. It can also be purchased online.
– RAW/VEGAN –

Earth Cafe Dairy-Free Cheesecake
If you have some guests who love dessert but are looking for a vegan option, then get on the phone/computer IMMEDIATELY and contact Earth Cafe in California. Their pumpkin cheesecake is simply stellar. Made with nuts and no dairy, it has the perfect combination of spices and is not too rich.
All of their cheesecakes are raw, vegan, and wheat/gluten free. They are sold throughout much of the country, and nationwide shipping is available if you order directly from the company.
Raw Dinners
For people who don't eat meat, dairy and cooked food, one fantastic option is to call your local raw food restaurant. All of the raw food restaurants that I know are very committed to organic and put together phenomenal meat-free Thanksgiving dinners for pick-up. Call well in advance because these meals take several days to prepare.
For example, Pure Food and Wine in New York City is offering marinated portabella and wild mushrooms, pecan and herb stuffing, cranberry sauce, mapled brussels sprouts, and celeriac mash. For dessert, you'll get pumpkin pie, apple crisp, vanilla cream and vanilla ice cream.
In Boston, the Thanksgiving dinner at The Prana Cafe will consist of a butternut squash soup, marinated mushrooms, mashed turnips, gravy, stuffing, cranberry sauce and pumpkin pie.
Vegan Recipe:  Slow-Roasted Stuffed Holiday Seitan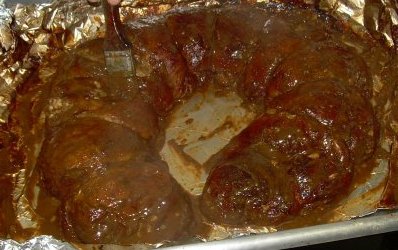 If you want to have a vegan Thanksgiving, below is a recipe from Cliff Preefer, the founder and chef of Sacred Chow. As I mentioned in my video review of Sacred Chow, Cliff can make dishes like no one else. The guy is simply extraordinary. I asked Cliff to put together a Thanksgiving special for readers of livingmaxwell and this is what he came up with – a slow-roasted stuffed holiday seitan.
—
Seitan is the protein, or gluten, part of wheat flour. You are washing off the starch and leaving behind just the protein. If you're using whole wheat flour, you're going to be washing out the bran and germ as well, so it's kind of pointless. Just use all purpose.
The starch that you wash off can be saved to thicken soups, stews, puddings, etc. Treat it just like corn starch and think of it as a pre-mixed slurry. If you're not saving the water, throw it in the garden for compost or flush it in the toilet. It'll clog your sink or bath tub.
For the flour, try to find hard red winter wheat flour because it has the highest protein content. It'll give the best results with regards to the amount of seitan that you end up with. If you'd like to scale back, it works just fine. You can do any combination of bread flour and all purpose flour, as suits you. Please don't use flour with any additions (pre-mixed flours).
10 cups unbleached white flour
3 – 3 ½ cups cold water
1 recipe stuffing (see recipe)
1 sheet fresh yuba
¼ cup yuba mix (2 TB paprika, 2 TB nutritional yeast, 1 TB garlic powder, 1 TB onion powder, 1 tsp salt, ½ tsp pepper)
Sift flour into the bowl of a stand mixer or a large bowl. Add 3 cups of cold water and knead well to make a dough. You may need more or less water, and more or less flour, to make sure that you end up with a dough that's more or less smooth. It can be a little sticky.
If you're mixing by hand, you'll need to knead for about 10 minutes to develop the protein/gluten. The more you knead, the more protein develops.
Pour in enough warm water to cover the dough and let rest for 5 minutes. This begins the process of washing off the starch and/or bran and germ (if using whole wheat).
Set up two large pots. One with warm water and one with a colander placed over it.
Remove dough from the resting bowl and place in a large pot with warm water. Make sure that the dough is completely covered with warm water. Think of this process as if you're washing a t-shirt. Start kneading the dough. Grab, knead, grab, knead.
The water will begin to get white and thick. Transfer the dough to the colander set over the 2nd large pot. Once drained, place back into first pot. Again, submerge the dough with warm water. Knead, grab, knead, grab. Transfer to the colander, and drain again. You'll need to repeat this process about five times, until the protein completely separates into wheat muscle. Yes. It looks like muscle and is totally cohesive.
At this point, you have the actual seitan itself. Place into cold water, let sit for 15 minutes. This will allow it to drain off any final bits of starch and allow the seitan to completely firm up.
Spread and pull the seitan onto a large roasting dish, into a rough rectangle. Try to flatten it as much as you can. Stuff with Seitan Stuffing, and roll up into a log. Cover with a sheet of fresh yuba. Wrap tightly. Truss with twine, and cover in marinade. Roast in the oven for 60 minutes, basting with extra marinade every 10 minutes. After the first 30 minutes of basting, sprinkle the roast with yuba mix each time, so that the color starts to build slowly.
Stuffing
1 cup arborio rice (or any short grain rice)
2 cups water
5 dried shiitake mushrooms
4 TB vegetable oil, split into 2 TB and 2 TB
2 shallots, thinly sliced
¼ lb fresh shiitake mushrooms, caps cut into ½ inch pieces
Salt & Pepper to taste
2 scallions, coarsely chopped
1 – 2 Chinese sausages (see recipe), sliced ¼ inch rounds
8 oz can of water chestnuts, drained and sliced 1/8 inch thick
2 TB cooking wine or dry sherry
2 TB soy sauce
2 TSP sugar
¼ cups chopped cilantro
Place rice in water. Bring water to boil. Cover. Return to stir the rice every 5 minutes, then re-cover. Continue the process for 15 minutes. When water is completely absorbed, remove from heat and set aside, covered, for 15 minutes.
Meanwhile, put dried shiitakes into medium bowl and cover with boiling water until softened (about 20 minutes). Chop caps into ½ inch pieces. Carefully pour soaking water into a cup and stop before you reach grit.
Preheat oven to 350°F. In a deep skillet, add the oil and shallots, and cook until translucent. Add fresh shiitakes. Stir, cover and cook for 5 minutes. Add dried reconstituted chopped shiitakes. Cover and cook 2 minutes. Set aside.
Sautee the sausages in remaining 2 TB of oil, along with scallions, and cook until the sausages are lightly browned. Add water chestnuts, cook and stir until heated (about a minute). Add the mushrooms, and ¼ cup soaking liquid that you reserved, soy sauce, sugar, and bring to a boil. Add steamed rice. Stir to incorporate, stir in cilantro, season with salt and pepper.
Sausage (makes 5 large sausages)
2 cups vital wheat gluten
¼ cups nutritional yeast
2 TB sticky rice flour
1 TB onion powder
2 TB fennel
1 tsp black pepper
1 TB paprika
½ tsp red chile flakes (adjust as needed)
½ TB oregano
1 TB hickory salt
1/8 teaspoon cloves
½ cup olive brine
2 TB water
¾ cups white wine
2 TB garlic, chopped
¼ cups vegetable oil
2 TB soy sauce
1 ½ TB tomato paste
Combine all the dry ingredients. Combine wet ingredients. Mix wet into dry. Knead together until firm. If it's too sticky and wet, add more vital wheat gluten. When combined, split into 5 large logs. Wrap in foil. Steam for 30 minutes (covered). Unwrap, and let chill.
If you have leftovers, they freeze perfectly.
Marinade
3 cups water
1 cup apple juice
¼ cup soy sauce
¼ cups sesame oil
2 TB ginger
2 TB garlic
2 TB paprika
2 TB chili powder
3 TB corn starch
Combine in a blender until smooth. Use to baste seitan roast.
————
Have a great Thanksgiving!