On the first Wednesday of every other month, I have a column called Wednesdays at Whole Foods. It showcases the most interesting news, products, store events, and happenings at the company.
IT'S ALL ABOUT THE SOAP
Have you ever heard of Dark Rye?
No, not the bread. The James Beard award-winning online magazine from Whole Foods Market that is putting out incredibly compelling content with cutting edge design. If you haven't seen it yet, definitely take a look. You'll be surprised, and very impressed, at what you discover.
In the recently released issue of Dark Rye called The Body Issue, we are introduced to Olowan'djo Tchala, the founder of Alaffia, an African company producing super-high quality lotions, body and face washes, soaps, and other body care products.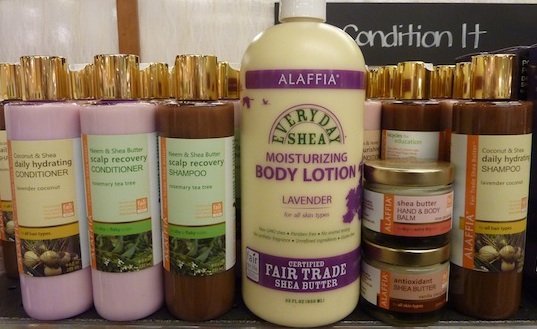 Olowan'djo Tchala started the company as a way to support communities and employ women in his home country of Togo. All of the shea and coconut products sourced for his products are fair trade, and the shea is harvested and processed in Togo by a cooperative of women who use a traditional, centuries-old technique. Using this process means keeping African traditions and culture alive while simultaneously processing ingredients without harmful chemicals. Read more »