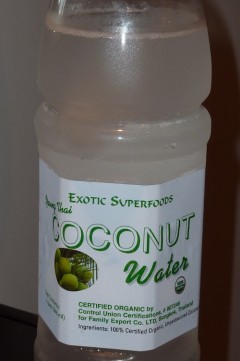 One of the organic food trends that I predicted for this year was the continued growth of coconut water.
There is a product on the market by a company called Exotic Superfoods (great name, isn't it?) that sells certified organic young Thai coconut water.
Why is this so novel?
Well, the white young Thai coconuts that you see in the market are not organic. They are shipped from Thailand in formaldehyde in order to prevent mold from growing on the outside. Yes, formaldehyde. The same stuff they use on a corpse.
Exotic Superfoods gets around this whole mold issue by bottling the water in Thailand and shipping them frozen to the US. When you buy them here, you usually buy them frozen and have to let them defrost before drinking.
Nevertheless, non-organic coconuts are widely used in the raw food world, which generally prides itself on organic food.  Read more »