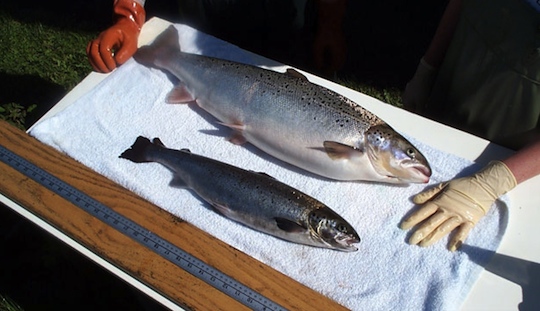 Just a few hours ago, the FDA declared that GE-salmon is as safe to eat as non-GE salmon and has given its approval for it to be sold to consumers.
Despite the fact that:
– Over 400,000 comments were submitted demanding that genetically-engineered salmon be rejected.
– More than 300 environmental, consumer, health and animal welfare organizations, salmon and fishing groups and associations, food companies, chefs, and restaurants filed joint statements with the FDA opposing approval.
– More than 40 members of the U.S. Congress have repeatedly urged the FDA to conduct more rigorous reviews of environmental and health safety, and halt any approval process until concerns over risks, transparency and oversight have been fully satisfied.
……….the FDA refused to listen to consumer opinion and environmental concerns, and it completely placated the well-funded biotech industry.
Not only is this the first GE-fish approved, but it is the first GE-animal approved for human consumption. (This "FrankenFish" is injected with a gene from the Pacific Chinook salmon and can reach adult size in 16 to 18 months instead of 30 months for normal Atlantic salmon.) Read more »