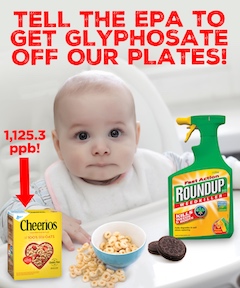 If you were under the impression that our government is here to protect us, now is the time that we demand that they do so.
A blockbuster new report by Food Democracy Now! and The Detox Project shows that our health is in serious jeopardy because of the most widely used chemical in the world: glyphosate.
Glyphosate, the primary ingredient in Monsanto's RoundUp, was was called a "probable human carcinogen" by the World Health Organization. This means that it probably causes cancer in humans.
Even more alarming is that 250 million pounds of it are used in the U.S. each year — on farms, lawns, parks and schools, among many other places.
New scientific evidence shows that probable harm to human health could begin at ultra-low levels of glyphosate at 0.1 parts per billions (ppb). This is 1,750 times lower than what the EPA currently claims is safe. Read more »