Living Maxwell
Company Stories
Top 5 Organic Products of Fancy Food Show 2022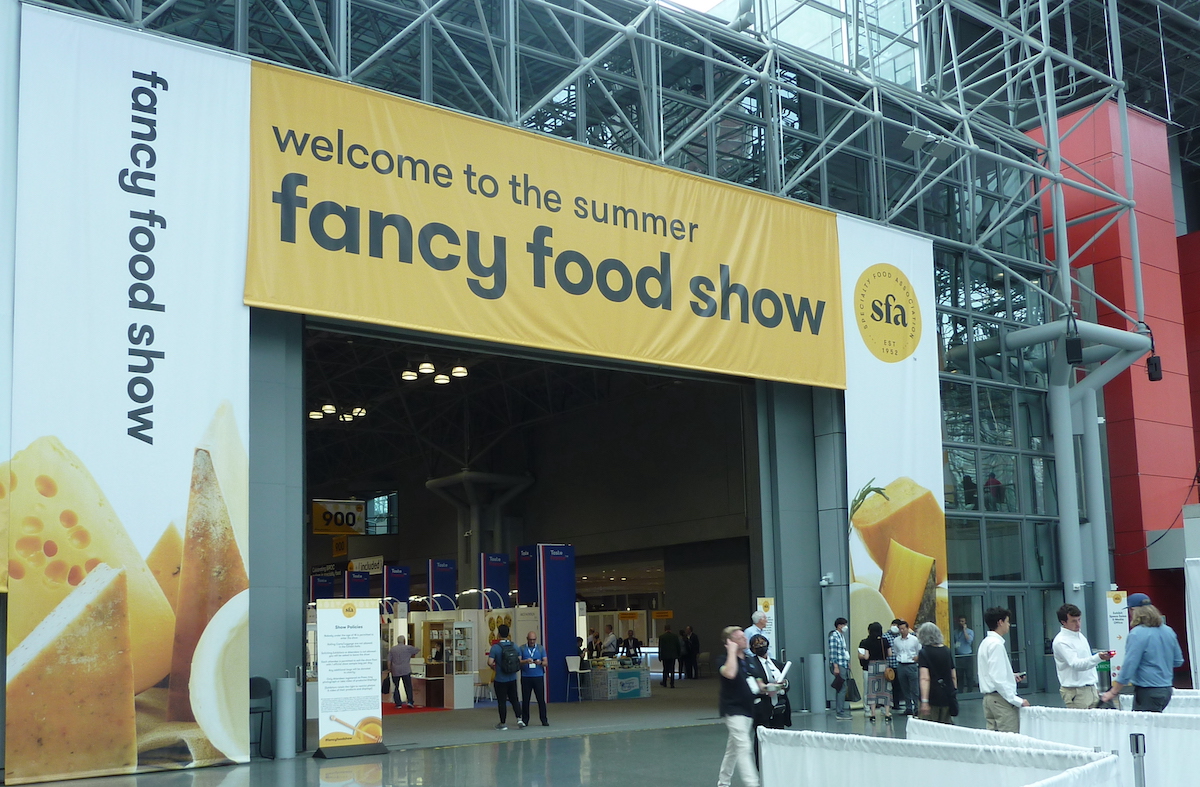 For the first time in three years, the Fancy Food Show returned to New York City, and as usual, it was a spectacular show.
While walking around the show on the first day, I was getting a bit concerned that I wasn't going to find some stellar new organic products. But by the end of the show on the third day, I completely changed my mind.
Some of the new organic products that I discovered have the potential to be very large, well-known national brands, and the innovation that I saw was outstanding. Additionally, narrowing this list down to just five products was incredibly challenging. It easily could have been ten.
Here are my Top 5 Organic Products of Fancy Food Show 2022.
VERDUN'S VEGGIE PATE, QUICHE AND PIE CRUST
If there was one brand that "won" the 2022 Fancy Food Show, it was Verdun's.
The Brooklyn-based founder, Jessy Caruana, was missing the vegan pâté that she would easily find in her native Montreal. With no solution at hand, she realized that she had no choice but to make it herself, which is precisely what she did. And she has created a masterpiece.
The line-up includes veggie pâté, pie crust and quiche, and the product — which comes frozen — is certified organic, vegan, certified gluten-free, Non-GMO Project verified and nut-free.
I was hardly the only one impressed by the product. As I was visiting the booth — and shamelessly devouring one sample after the next — the buyer from Whole Foods stopped by and said he wanted to carry Verdun's products right away.
The organic, plant-based quiche market is white space, and with its very clean ingredient panel and delicious taste, Verdun's has the opportunity to be a clear category leader on a national level.
INNER LOVE LEMONBLUEADE
It didn't take long for me to realize that the people behind Inner Love Foods are doing something special. And the fact that they link to the Real Organic Project and the Bionutrient Food Association on their website is more proof that they understand good food.
I loved the company's organic sprouted and air-dried almonds and walnuts, as well as the organic maple root ginger chews, but what really blew me away was its LemonBlueAde water kefir.
Made with all organic ingredients, including the Blue Magik from E3Live, it is a raw, unpasteurized, fermented beverage with live cultures that naturally provide beneficial micro-organisms. Organic cane sugar is metabolized by the SCOBY in the initial ferment, so a very low presence of sugar remains. It contains B vitamins, electrolytes, acetic acids and enzymes for gut and immune support.
LemonBlueAde is one of the best-tasting beverages I have ever had, and I literally could not stop drinking it at the show. Refreshing, effervescent and immediately apparent how healthy it was.
LITTLE PICKINS MEAL BITES
It was really cool to see a certified organic brand in the Incubator Village. Aside from the fact that there were very, very few of them in that section, Little Pickins was part of the 2018 Ready to Launch cohort at the CommonWealth Kitchen in my hometown of Boston.
Putting hometown preferences aside, Little Pickins knocked it out of the park with its organic meal bites. They were absolutely delicious, with fantastic flavor and outstanding texture, and I had trouble restraining myself at the booth from not eating too much and overstaying my welcome.
Geared toward children from 10 months to 4 years, these frozen, nut-free organic bites are available in different varieties, including three that are vegetarian: Cheesy Italian, Spring Chicken, Veggie Karma, Lucky Turkey Thai, Broc N' Roll and Love You, Tofu.
Despite the fact that these are geared toward little kids, I plan on eating these myself. After all, why should adults be denied access to such delectable organic meal bites? Loved these!
NOSHI EDIBLE FOOD PAINT FOR KIDS
I stumbled upon the Noshi booth with about 45 minutes left to go in the show, and the company was down to its very last samples; seemingly, every parent at the show came by and took some for their own children, equally as impressed as I was.
Founder Tomo Delaney came up with this brilliant idea as a way to get kids to eat a variety of flavors earlier on in life, and the key to this concept was to empower them. If children are making their own decorations on food — with certified organic food ingredients in a "paint" tube — they are more apt to eat that food. This empowerment encourages the consumption of flavors and ingredients that are new to them.
The fact that the company was able to get the Crayola and Peppa Pig licenses is enormous, and Walmart aggressively wanted this product for its shelves nationwide.
Brilliant innovation and the company has a huge amount of runway ahead of it.
ACAI ROOTS SUPERFOOD BARS
For some reason, it is very hard to find a good energy bar, possibly because they need to last on shelves for months.
So, whenever I come across one, I get incredibly excited.
Such was the case with the organic superfood bar from Açaí Roots. And as I kept eating them, the more impressed I became. What I really loved was that it was not too sweet and its texture was phenomenal, resembling a thicker, more condensed version of a crumb cake.
While the company is better known for its açaí juices and frozen sorbets, the superfood bar could easily become its flagship product.
Sweetened with coconut nectar and available in three flavors — goji berry, dark chocolate and peanut butter — it contains freeze-dried açaí, pumpkin seed protein, zero refined sugar and 7g of protein per serving. Everything is soy-free, grain-free, dairy-free and plant-based.
This is a product I'd love to keep in my backpack at all times.
—
My full recap of the 2022 Fancy Food Show is on Organic Insider here.