Living Maxwell
Company Stories
EXCLUSIVE INTERVIEW: Hollywood Actress Jennifer Garner and Organic Food Veteran John Foraker Join Once Upon a Farm as Co-Founders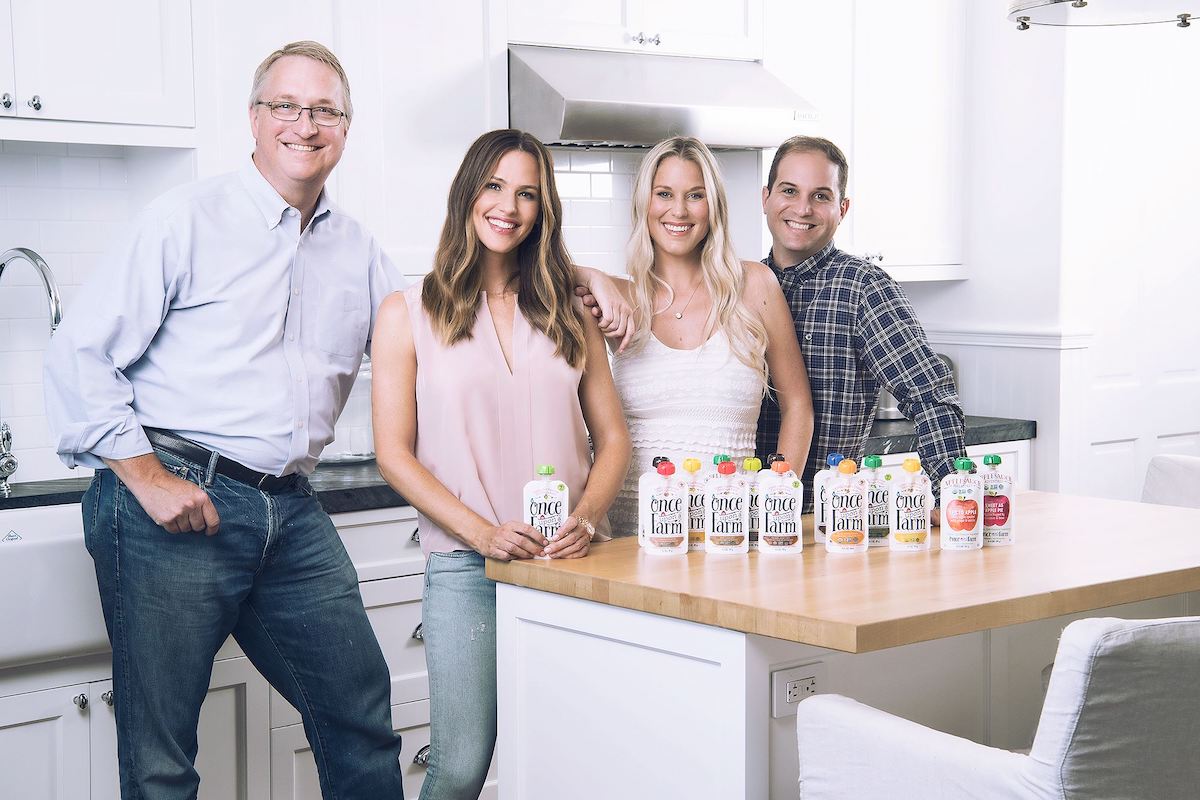 In what is sure to send shockwaves throughout the entire industry, A-list celebrity Jennifer Garner and John Foraker, former President of Annie's, have signed on to become co-founders of organic baby food company Once Upon a Farm, alongside current co-founders Cassandra Curtis and Ari Raz.
Having recently stepped down as the head of Annie's, where he led the company for 18 years and negotiated its sale to General Mills for $820 million, John Foraker is one of the most accomplished and respected executives the organic industry has ever seen. And if you combine that with Jennifer Garner's star power, branding acumen and dedication to both healthy food and helping children, Once Upon a Farm will be a very, very serious force in the fast-growing organic baby food segment.
Last week, I spoke with John Foraker and Jennifer Garner, who will now be the company's Chief Executive Officer and Chief Brand Officer, respectively, about this new and exciting development.
How did this all come together?
Jennifer Garner: I had been looking for a while to partner with an early-stage brand in the food space. And as a mom with three kids, I have three lunch boxes to pack each day and understand the problems that must be solved with serving fresh food to young children. My mother made every single meal for me, and I have always been a big believer in staying connected to the earth, which grows our food.
In my work with Save the Children, where I have been an ambassador for the last five years, I have visited a ton of families in rural America, and kids just do not have access to fresh organic food.
Even though I have advocated for this issue in the government at both a state and national level, I understand that business drives change and wanted to find a company that could get nutritious food out to kids.
I ended up meeting Cassandra and Ari, and loved the product. After some research, I soon learned that John was on the board of directors and wanted to know why.
Once John and I met, everything he said rang true with me. He is so passionate and knowledgeable about all of the same things. It was clear early on that we were meant to be partners.
John Foraker: I was one of the earliest investors in Once Upon a Farm, and during that initial meeting with Jen, we just started talking about the product, the vision for the company and what got me interested in the brand.
That first meeting, which was supposed to be 30 minutes, lasted four hours. By the end of it, I said to her "I am in, if you are in." I left there knowing that this was truly unique, special and not expected.
At Annie's, I believed that I had the best job in the food business, especially being able to leverage organic within General Mills. Even though I was presented with hundreds of opportunities over the last three years, I was in a great spot and under no pressure to leave.
But I am an entrepreneur, and this one felt perfect.
What was it about Once Upon a Farm that you found so attractive?
JG: For me, it was opening up these pouches and trying the food. When you meet Cassandra, she is Earth Mother personified, and you immediately want to start making food to feed your babies. Once Upon a Farm is doing what they say they are doing.
JF: I love the brand name. And it is so clear that with our shared passion, we can make this way bigger than baby food. We want to become the next big nutrition brand for kids.
There is a lot of white space out there for healthier kids' food than what is now found in the center of the store. There are a lot of products in the pipeline, and we're currently working on many different ideas.
Jennifer, how involved will you be on a day-to-day basis?
JG: I believe in the motto "How you do anything is how you do everything."
When I started with Save the Children, I was involved on a daily basis. With Once Upon a Farm, it will be the same, and I plan on being very involved. More specifically, I will be a part of innovating on new products, participating in design, going on sales calls, and making sure the world knows we exist.
JF: I would not have done this if this was just an endorsement deal. The opportunity is big, and I saw her passion to be actively involved. Jen has a great track record at Save the Children.
John, after building and running Annie's for nearly two decades, what is the most important learning that you will take with you to this new venture?
JF: Annie's was an amazing brand, but it took us a while to articulate the mission. Once we did, the company took off. That showed me the power of a socially-driven business.
At Once Upon a Farm, it was critical that we get clear on the mission and our core values. We already have that down.
—
To be able to attract both Jennifer Garner and John Foraker to your company is an incredible accomplishment, and co-founders Cassandra Curtis and Ari Raz deserve a lot of credit for this.
They were able to build a fantastic brand with great-tasting products, so much so that it convinced both Jennifer and John to deeply commit themselves to the company.
It seems that the stars have aligned for Once Upon a Farm, and the quest to become the next big nutrition brand for kids now begins.