Top 5 Organic Food Products from Natural Products Expo East 2016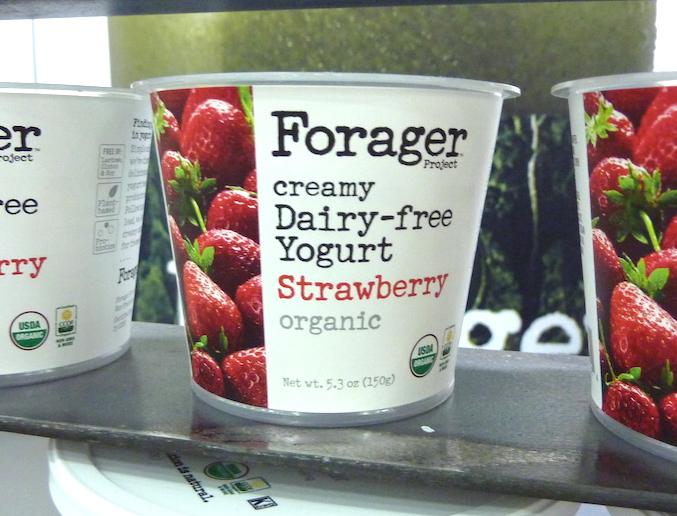 As I do at the end of each Expo East and Expo West, I list my top 5 organic food products of the show.
Some of the criteria that I use to judge the best products include originality, taste, and innovation. Also, I try as hard as I can to include products that most people have never seen before.
At last week's show in Baltimore, there were many great organic products to choose from but here are the ones that I found to be the most compelling. These are My Top 5 Organic Products from Natural Products Expo East 2016.
FORAGER PROJECT'S DAIRY-FREE STRAWBERRY CASHEW YOGURT
Having watched this company for several years now, I give major kudos to the folks at Forager Project.
Despite being one of the country's leading pressed organic juice brands, Forager has not been sitting still. Instead, it has pushed very hard to expand into food, with a complete emphasis on plant-based ingredients.
As I wrote about in May, Forager Project grew tired of having its juice pulp go to waste. So, the company spent one year on R&D in order to turn its juice pulp it into organic vegetables chips, which are phenomenal.
Wanting to grow its food offerings even more, Forager recently launched a line of dairy-free, cashew-based yogurts.
It is the very first time that I have seen a dairy-free yogurt with cashews as the primary ingredient, and Forager did a fantastic job with the formulation. The yogurt comes in five flavors — my favorite, by far, is the strawberry — and it is currently available at stores throughout the U.S.
Forager's innovation team deserves an A++, and I believe that this product will spark the trend for more nut-based, organic yogurts going forward.
REBBL'S DARK CHOCOLATE PROTEIN COCONUT MILK
While not touted as a meal replacement drink, REBBL's dark chocolate protein coconut milk offers 16 grams of protein and is chock full of awesome ingredients.
Aside from its great taste and excellent texture, REBBL's dark chocolate stands out to me for two other reasons.
First, I love the different plant-based protein powders that it is using: pumpkin, sunflower, and pea. Rarely, if ever, do you see this combination in one drink.
Second, I love the medicinal herbs that it is using: ashwagandha, maca and reishi.
REBBL is currently sold throughout the U.S. and much greater distribution on the East Coast is expected very soon. This is a phenomenal product.
TOLERANT'S GREEN LENTIL & BEET PASTA
When it comes to Tolerant's red lentil pasta, it is almost embarrassing how much I eat of it. It is one of those products that I never seem to get tired of. It's that good and that addictive.
While I am not saying that Tolerant's new green lentil & beet pasta will take the place of my beloved red lentil, it is still an excellent option and is something that I will definitely add into the rotation.
Along with green lentils and beets, the only other ingredient is organic corn and the product offers 14 grams of protein per serving.
For those looking for a certified gluten-free, Non-GMO Project verified, certified organic pasta option, Tolerant is absolutely a brand that you need on your radar screen.
It is expected that Tolerant's green lentil & beet pasta will be available for sale in the U.S. in November.
NEW BARN'S ALMONDCREME DAIRY-FREE ICE CREAM
New Barn has launched an incredibly novel line of dairy-free ice creams called AlmondCrème.
All eight of the flavors use almonds as their base, something that I have yet to encounter in a certified organic ice cream. What makes this line so notable, however, is that while all of the eight are dairy-free, chocolate and banana chocolate chip are completely vegan while the remaining six flavors contain egg yolks.
Normally, you would think that if it were dairy-free, eggs wouldn't be included either but that is not the case here. And it is probably why I find it so interesting. Since I am not vegan, the eggs are not an issue for me and they do add extra creaminess to the texture.
Overall, it is a very clean product with fantastic taste, minimal ingredients and no carrageenan.
New Barn's almond ice creams are currently available nationwide, and coffee was easily my favorite flavor.
VEGGIE NOODLE CO. BEET SPIRALS
To any organic food company owner or executive who is reading this column, here is my one piece of advice about trade shows: do not start breaking down your booth down EARLY on the last day. Wait until the show is officially over and not one minute before.
Why do I say this?
I can't tell you how many products and companies that I have discovered, and ended up writing about, when I found them at 3:45pm or 3:55pm, with the trade show floor closing at 4pm.
And at Expo East 2016, it happened again with the Veggie Noodle Co.
The Veggie Noodle Co. spiralizes beets, squash and other vegetables, and delivers them in a ready-to-eat container. This product excites me because it solves a problem. Many people would love to eat spiralized vegetables but don't have the time or inclination to spiralize them at home. It is essentially a salad bar on-the-go.
This product is already for sale in much of the country, but I have yet to see it in New York City or other parts of the Northeast. I am hopeful that this will change very, very soon. I can see myself buying it for lunch or as a snack all of the time.
What did you think of these five picks? Any that I am missing? I'd love to hear from you below.