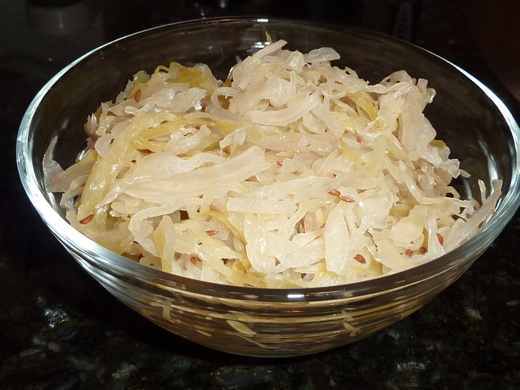 Whether it is with a salad or any other dish that I am making at home, organic fermented foods – usually sauerkraut (above) or kimchee – can almost always be found on my plate. Why is this?
I have come to understand that if we want to have a strong immune system, we must take care of our gut and provide it with beneficial bacteria.
And that is exactly what fermented foods give us – beneficial bacteria.
Dr. Natascha Campbell-McBride, a Russian neurologist and founder of the GAPS Diet, says that:
"about 85% of our immune system is located in the gut wall. This fact has been established by basic physiology research in the 1930s and the 1940s. Your gut, your digestive wall, is the biggest and the most important immune organ in your body. There is a very tight conversation and a relationship going on between the gut flora that lives inside your digestive system and your immune system.
Your gut flora—the state of the gut flora and the composition of microbes in your gut flora—has a profound effect on what forms of immune cells you will be producing on any given day, what they're going to be doing, and how balanced your immune system is."
Dr. McBride also believes that an imbalanced gut will result in a host of physical and emotional disorders, such as dyslexia, dyspraxia, obsessive-compulsive disorder, bipolar disorder, asthma, skin problems, digestive issues, and autoimmune disorders. And this doesn't even begin to mention all of the health problems that many children face such as autism, ADD, and allergies.
An imbalanced gut also leads to depression, and this has particular relevance to me.
When I was at Natural Products Expo West earlier this year, I had a very interesting conversation with Donna Gates, author and leading health expert.
I went on to tell her about my history with antidepressants and depression (I took Prozac for almost 11 years and struggled with serious bouts of depression after going off of the drug in 2001), and she informed me that 90% of our serotonin is produced in the gut.
So, if we want to produce high amounts of serotonin, one of the key neurotransmitters responsible for happiness, we must have plenty of beneficial bacteria.
For me, that is reason enough to make sure I have a steady flow of organic fermented foods –  sauerkraut, kimchee, beet kvass, kefir, cultured vegetables – in my diet.
—–
Want to stay up-to-date on the most important news and products in the organic food world?
If so, make sure you Like my Facebook page, follow me on Instagram and join my email list.
To join my newsletter list, please enter your email below and I'll send you my Top 5 Inexpensive Ways to Shop Organic.