Private Equity Firm Takes Control of Organic Avenue, Interview with New Owner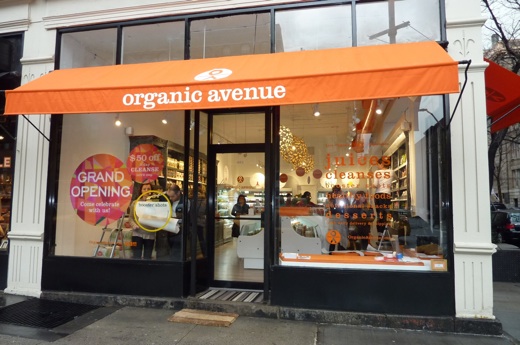 Organic Avenue, one of the hottest organic concepts in the industry today, just announced that it has sold a controlling interest in the company to minority investor Weld North, a private equity fund founded by former Kaplan, Inc. CEO Jonathan Grayer in partnership with Kohlberg Kravis Roberts & Co. (KKR).  Financial terms were not disclosed.
With the deal increasing Weld North's stake to around 70%, management changes have come as well.
Organic Avenue Founder Denise Mari and current CEO Doug Evans will transition to the company's Board of Directors.  Current Chief Operating Officer Arthur Pergament will now serve as interim CEO while the company conducts a national search for its next CEO.  Doug Evans will also begin working on wellness investment opportunities at Weld North.
I had a chance to speak with Weld North Chairman and CEO Jonathan Grayer yesterday to talk about the deal and his future plans for Organic Avenue.  Here are the highlights from our conversation.
—–
You were already a minority investor in Organic Avenue, so what prompted you to increase your stake and take control of the company?
We really liked the business, and to go from a few stores to 16 or more requires capital, which we have, and a certain skill set to do this.  Additionally, it is obvious that the brand resonates with consumers.  When you walk around New York City, you see so many people carrying around their orange Organic Avenue bags.
People want to eat healthy foods, and Organic Avenue presents a real opportunity to capitalize on this.
It has been said that Miami and Los Angeles are markets where you'll be going to next. What are your plans for expansion?
We believe that there is a real following for both juicing and the vegan lifestyle in Miami and Los Angeles.
For 2013, however, our focus is on the New York metropolitan area.  We'll soon be opening in Roslyn (Long Island, NY) and Greenwich, Connecticut, where the offices of Weld North are located.  2014 is when we'll expand outside of New York, but we want to know much more about the potential market before we do this.
Up until now, Organic Avenue has only sold its products at company stores.  Part of our strategy going forward is to have Organic Avenue branded food in 3rd party distribution.
Let's talk about the product mix. How will this change going forward?
We want to be the kind of place where someone who doesn't only eat vegan food will buy what we have because it tastes good.
Organic Avenue will soon be adding cooked vegan food, and we're going to have fewer SKUs, not more.
Will you be switching to High Pressure Pasteurization (HPP) technology with your pressed juices?
Yes. This is essential to extend the shelf life if you are going to be distributing in 3rd party locations.
MY TAKE
I have a few key takeaways regarding the deal and my conversation with Jonathan Grayer.
1) This is a very, very smart move for Organic Avenue.  The deal gives the company access to a deep pool of capital in order to grow, and expanding into 3rd party distribution is essential if you want to scale quickly on a national level.
2) On the product side, I love the changes that will be coming.
Too many products: I have always thought there were far too many SKUs at Organic Avenue, and reducing the number is exactly what the company should be doing.
The first thing on the chopping block should be a majority of the drinks that contain palm sugar.
Going to cooked food: Offering cooked vegan food is a great move.  It will draw many more people into the stores who have otherwise avoided Organic Avenue and and will give consumers more varied choices.
HPP for the juices: With its juices moving over to high pressure pasteurization technology (one of my top 5 organic food trends for 2012), this will allow Organic Avenue to build its brand across the U.S., similar to what BluePrint has done.  It also protects the company in case there is a crackdown on unpasteurized, pressed organic juice.
Given that former Monsanto executive Michael Taylor is the FDA's food safety czar, this is absolutely not out of the question.  Go watch the movie Farmageddon and see how our government has terrorized raw milk producers.
3) I was very impressed with Jonathan Grayer and have little doubt that he is going to take Organic Avenue to the next level.
Not only did I agree 100% with the impending changes to the product line, but this is a guy who knows how to scale a business.  He grew revenues of Kaplan, Inc., a global education company, from $80 million when he took over as CEO in 1994 to $2.3 billion fourteen years later.
Furthermore, his firm has a partnership with KKR, arguably the most prestigious leveraged buyout shop in modern finance. Having KKR as a partner is a serious endorsement.
—-
Denise Mari and Doug Evans have worked incredibly hard over the past decade building Organic Avenue into an amazing brand, and I believe that the company is just scratching the surface in terms of its potential.  It will be fascinating to see what Organic Avenue looks like 10 years down the road.
This deal is not just a winner for the company but for consumers as well because the availability of healthy, organic food is sure to increase.  And for that, I am very grateful.