Organic Insider
Company Stories
Upset Over Policy Differences and that Major GMO/Chemical Companies are Members of the Organic Trade Association, Nature's Path Quits the Organization as a Protest to Save Organic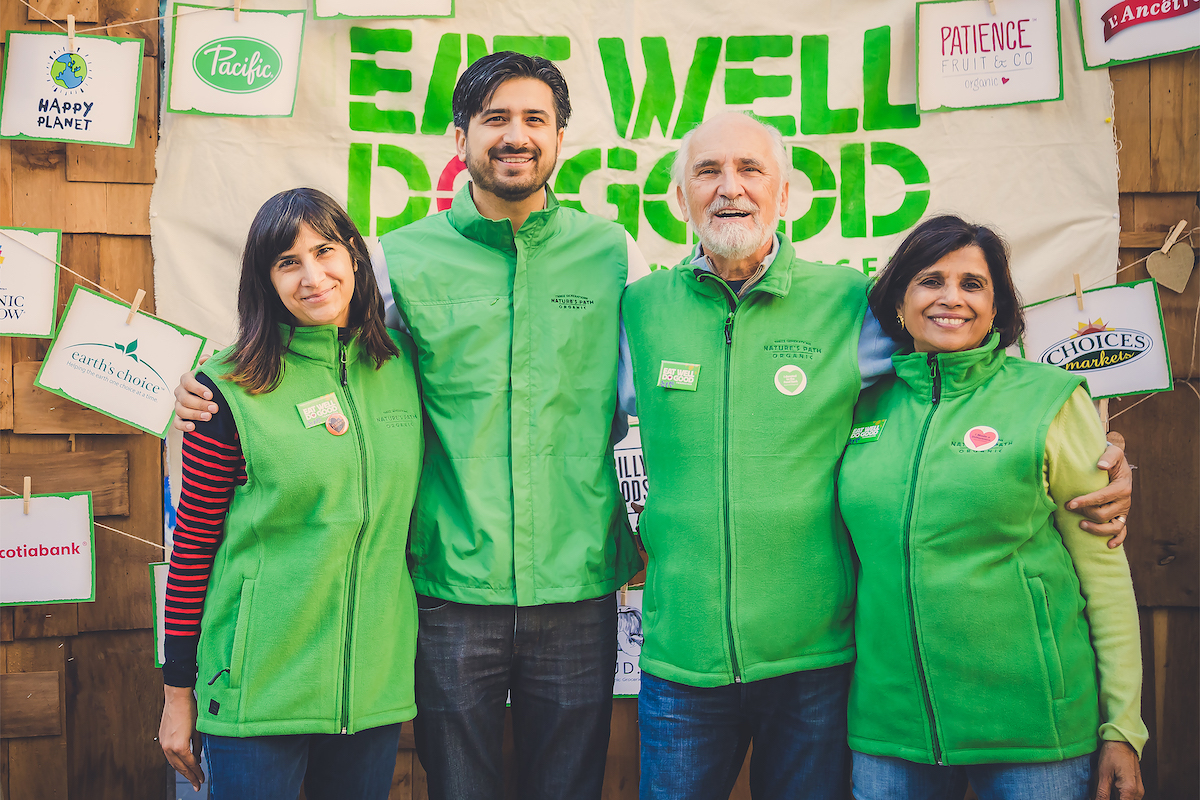 * Iconic cereal brand Nature's Path has quit the Organic Trade Association (OTA) as a protest to save organic.
* The company says the OTA "is not working in step with organic advocates to protect and strengthen the original principles of the organic movement" and is not acting with sincerity when it comes to hydroponics, the most divisive issue in organic.
* BASF and Cargill have been granted membership in the OTA, even though their GMO and chemical products "are actively harming" organic farmers.
* The OTA defends its governance, transparency and organic agenda.
—
For some people, having BASF — one of the world's most powerful chemical and GMO companies — as a member of the Organic Trade Association (OTA) is not a problem.
For Arran Stephens, CEO and Co-Founder of the fiercely independent, family-owned Nature's Path, this was something that he could no longer tolerate.
A combination of frustration with the OTA over the years, the organization's willingness to accept hydroponics in organic, and allowing non-organic members, such as BASF, Cargill, Campbell's and General Mills, to have influence over the direction of the OTA were all reasons Nature's Path cited as reasons why it recently left the trade group.
"Our departure from the OTA is an act of protest to raise awareness of our concern that the important role organic plays to support the health of consumers and our planet is being compromised," says Arran Stephens.
A TURBULENT HISTORY WITH THE OTA
The decision to leave the Organic Trade Association was hardly an impetuous one, and Nature's Path has been intimately involved with the organization for nearly two decades, often at odds with its policies and willingness to protect organic.
According to Nature's Path, Arran Stephens had been on the OTA's board of directors from 1996 to 2002 but quit primarily because the organization was not taking the threat of GMOs seriously enough. He expressed his concerns to the OTA board more than once, warning that "GMOs will become the greatest threat to the organic movement in the years ahead."
"When I resigned from the board, I was becoming somewhat battle-fatigued and felt that I, and other rank and file OTA board members were being ignored by the executive committee. At the 2001 OTA meeting at Natural Products Expo West in Anaheim, one of the executive committee members, who was also the CEO of Cascadian Farms, stated that the OTA wouldn't take a stand for or against GMOs. I whispered to my friend and industry activist, Ken McCormick, 'I betcha anything, Cascadian is selling out.' Sure enough, later that very morning, it was announced that Cascadian Farms had been acquired by General Mills," said Arran Stephens.
Even though Arran Stephens left the board of directors, Nature's Path remained a member of the OTA.
The company's Organic Program Manager, Dag Falck, subsequently served on the OTA's board of directors twice: from 2006-2009 (a full 3-year term) and from 2014-2016 (when he held a board seat as the Canadian Organic Trade Association (COTA) representative).
In 2016, GMO-labeling was the most prominent and politically sensitive topic in the entire organic industry. Vermont passed its own GMO-labeling bill, and many states were attempting to do the same. This prompted Congress to step in and pass a federal GMO-labeling bill that would override any state bill. Needless to say, this federal GMO-labeling bill, also known as the DARK Act, was incredibly flawed, and many constituents in the organic industry were deeply opposed to it.
The way in which the OTA handled the DARK Act caused Dag Falck to resign from the organization's board in 2016.
"This was such an enormous issue that the entire membership should have been asked, but they weren't. As a board member and a member of the executive committee, I was never asked to take a vote on the issue of OTA supporting the mandatory federal labeling of GMOs. Instead, the OTA President and the Executive Director made the decision on their own, and we found out after the fact," said Dag Falck.
BASF AND THE MASSIVE CONTAMINATION DICAMBA HAS CAUSED TO U.S. FARMERS
Even though Monsanto gets almost all of the attention and backlash for its GMOs and super-toxic chemicals, it is by no means alone.
BASF, a German conglomerate with operations around the world, is a major player in GMO seeds and super-toxic chemicals as well.
One of its primary chemicals is a next-generation herbicide called dicamba. It is sprayed on genetically-engineered crops that are resistant to dicamba, but the volatile nature of this chemical has made it very prone to drift, which has resulted in millions of acres of damaged crops.
Despite the fact that dicamba has been linked to increased rates of cancer in farmers and birth defects, it is expected that tens of millions of acres will be sprayed with dicamba over the next few years. This will have catastrophic consequences for pollinators, insects that are vital to our food supply.
Here are more specifics about dicamba:
– In 2017, dicamba damaged approximately 3.6 million acres of soybean crops — crops not engineered to be resistant to this chemical — because of drift.
– The University of Missouri just reported that dicamba has caused approximately 1.1 million acres of damage to agricultural plants, trees and other crops so far in 2018. The number is lower than 2017 because of restrictions put into place by state agriculture departments.
– In March, the Center for Biological Diversity estimated that dicamba will be sprayed on more than 60 million acres of monarch habitat. Dicamba is extremely harmful to milkweed, the only food for monarch caterpillars. Monarch butterflies are very important pollinators, and their populations have already fallen by 80% in the past two decades due to escalating pesticide use and other human activities.
One state that has endured tremendous problems with dicamba is Arkansas. Tensions are so high that farmers are turning against each other, and one farmer was shot to death over a dicamba contamination dispute.
According to Shawn Peebles, an organic farmer in Arkansas and a member of the Arkansas Dicamba Task Force, "My organic edamame is extremely vulnerable, and I am very upset because not everyone who is supposed to stop spraying is doing so. There is a select group of farmers who just don't care. Dicamba has wiped out entire counties, and we are watching our native vegetation die. When I called the USDA's National Organic Program looking for help, I never got a call back. Why is the EPA allowing this? The whole situation is a mess. It's infuriating."
Richard Coy, a beekeeper and owner of Coy's Honey Farm in Arkansas, claimed that he had to move his 3,000 hives to a different state because of dicamba. Soon, he said, "Everyone will be planting the exact same crop. It's already a disaster."
BASF WANTS TO USE ITS GENETICALLY-MODIFIED PRODUCT IN ORGANIC
Even though dicamba is not allowed to be sprayed on organic crops, BASF's biopolymers division, a member of the Organic Trade Association, is attempting to get special approval for its biodegradable mulch from the National Organic Standards Board (NOSB).
At the NOSB meeting in April in Tucson, Ruth Watts, a business development manager for BASF's biopolymers division, acknowledged that "genetically modified organisms are used as a processing aid" in its bio-based mulch for which it is seeking approval. She claimed that the GMOs "do not survive the production process and are not in the final product, so they are not a farm input." GMOs are illegal in organic production.
David Mortensen, PhD, Professor of Weed and Applied Plant Ecology at Penn State University, and a current NOSB board member, listened to Ruth Watts' public testimony in Tucson and said to her, "I was driving back from Washington, D.C. last week when one of your colleagues called in. I was coming back from the dicamba drift discussion, a closed-door discussion, where I heard multiple organic farmers say that they're on the verge of not being able to grow their crops because of dicamba drift, which is manufactured by BASF. I guess I'm trying to reconcile a corporate ethic that wants to sell a product for organic production on the one hand and is selling a product that's being used on about 50 million acres of cropland on the other hand. Could you just help me see the corporate ethic where there's consistency here?"
"I don't even know what this product is that you've been talking about," answered Ruth Watts, claiming that she had no idea what her company's prominent chemical was.
"Just to be clear, dicamba is the herbicide. It will be used because Monsanto and BASF are working together to have 50 million acres treated this coming summer. It would be worth discussing," said David Mortensen.
When asked to comment about BASF's membership in the OTA, CEO/Executive Director Laura Batcha said, "BASF is a non-voting, business associate member because they don't sell any organic products. They are looking to enter the organic market with a bio-based product that would meet NOSB standards. It is a product that would replace a lot of the plastic being used in organic."
CARGILL IS AN ENORMOUS PLAYER IN GMOS AND FACTORY FARMING
Another member of the OTA that Nature's Path took issue with is Cargill, a privately held company with 2018 revenues of $115 billion and probably the largest grain trader in the world, according to Food & Water Watch.
Food & Water Watch Policy Director Patty Lovera said, "Cargill is one of a handful of global players that are driving the factory farm model of food production. Cargill is also intimately involved in the production of cheap GMO soy that is one of the top feed sources for factory farmed livestock and fish. The cultivation of this soy is destroying parts of the Amazon where huge swathes of forest have been cleared to pave the way for GMO soy production. Cargill profits handsomely from this model that is highly damaging to the environment both here and abroad, and is a direct threat to more sustainable models of agriculture."
Among its many agricultural activities, Cargill has just developed, in partnership with BASF, a genetically-engineered canola seed that can produce omega-3 long-chain fatty acids.
GMO canola contamination of organic farms has been very problematic all over the world, including in Australia and the U.S. In Canada, organic farmers have largely stopped growing organic canola because GMO contamination was so bad.
Along with being a global leader in the marketing and promotion of GMOs, Cargill also sells organic sunflower oil and organic soybean oil.
Defending Cargill's membership in the OTA, Laura Batcha said, "Cargill has segregated supply chains for organic and is playing a role in innovation in the U.S. in organic commodities. Whether it is Cargill or others, if you are participating in the organic supply chain, we want you in the business because people learn by participating in the trade. It is good to bring people into the tent for the long haul of organic."
"It is unconscionable that the OTA is allowing these companies into the organization. Not only do they not have the best interests of organic farmers in mind, but they are actively harming them," said Linley Dixon, PhD and Associate Director for The Real Organic Project.
"I noticed that the OTA took on Cargill and BASF as members even though they produce or promote GMO technology and toxic pesticides. Furthermore, they are companies that have spent many millions of dollars fighting GMO-labeling, including, of course, other OTA members—General Mills, Kellogg, Smuckers and others who fought and contributed to campaigns against GMO transparency. I registered a strong complaint about BASF's OTA membership when I discovered it but never got a satisfactory response," said Arran Stephens.
DISAGREEMENT OVER THE HIGHLY CONTROVERSIAL ISSUE OF HYDROPONICS
Within the last year, the most divisive and controversial topic in the organic industry has been the allowance of hydroponic growing systems.
Upset over the damage that this hydroponics controversy may cause to the organic seal, Nature's Path has called into question the OTA's integrity in handling this vitally important matter.
"There is a concern in the organic community that the OTA has not been sincere in its proclamation that it is against hydroponics in organic," said Dag Falck.
Many people believe that the underlying foundation of organic is the soil, and permitting hydroponics threatens the very essence of what organic represents. The issue is so polarizing that a cornerstone of the two most prominent add-on organic labels, Regenerative Organic Certification and The Real Organic Project, is the refusal of hydroponics.
According to Section 6513 b-1 of the Organic Foods Production Act of 1990 (OFPA), hydroponics is a clear violation of organic rules.
Section 6513 b-1 says that:
An organic plan shall contain provisions designed to foster soil fertility, primarily through the management of the organic content of the soil through proper tillage, crop rotation, and manuring.
Where this matter gets particularly complicated, and some people say purposely so, is that hydroponics is broken down into four categories:
– hydroponics (plants grown in water)
– aquaponics (plants grown in water where fish waste added)
– aeroponics (plants' roots hang in the air, misted with liquid nutrients)
– container growing systems (plants grown in peat moss, coconut fiber or mulch with liquid nutrients added)
One point of contention is whether there is a meaningful difference between "hydroponics" and "container growing systems," or whether they are essentially the same thing.
The Organic Trade Association believes that there is a meaningful difference between the two and does not endorse hydroponics. It only supports container growing systems.
In an email from Nate Lewis, Farm Policy Director of the Organic Trade Association, he said, "Our position has been to support the 2010 National Organic Standards Board recommendation which proposed separate definitions for hydroponics and container production, and proposed to prohibit hydroponics and allow containers with strict standards. That position has not changed. We do support the continued allowance of containerized production in organics."
The two largest and most powerful players in this sector are Driscoll's and Wholesum Harvest, both members of the Organic Trade Association.
Driscoll's says that it uses containerized production, not hydroponics. Similarly, Wholesum Harvest says that it is a container production operation.
Not everyone in the industry sees this situation in the same way.
Dave Chapman, an organic tomato farmer from Vermont and organizer of the Keep the Soil in Organic movement, said on Patagonia's blog, "It is a lie that the container production of Driscoll's and Wholesum is not hydroponic. Virtually all the nutrients are supplied to the plants by a liquid solution."
"The OTA has added to the confusion by using the term 'container growing systems' when really talking about what we think of as hydroponic. The industry needs a trade association that has a solid policy on hydroponics and acts with diligence and sincerity in implementing it. The threat to what organic represents has taken an enormous hit by now including hydroponic products, and any loss of trust in the organic mark and what it means threatens organic business. Many are deeply disappointed that our industry trade association is not working in step with organic advocates to protect and strengthen the original principles the organic movement was founded upon, namely fertile soil," said Dag Falck.
PARTING WORDS
When it comes to how the OTA governed, Laura Batcha is confident in how the organization is structured and that its activities are representing the best interests of its members.
"There is no one company or a small group of companies who make a decision as to how the OTA operates. We have a diverse board with one member, one vote. We have really good governances in place, controls on how policy happens, and full transparency," she said.
"The Organic Trade Association's ONLY agenda is organic, and we work every day to represent the interests of all of our members. We are in active litigation to defend the organic standards, and many OTA members have stepped up to support our legal fund. We are successfully advocating on the Hill for a historic increase in organic research dollars, an overhaul of the oversight system, and a strong defense of the National Organic Standards Board. No single group does or has done more than OTA on these fronts. Our members represent the full chain of organic, from organic farmers of every size to processors and handlers and retailers, and they invest in this agenda. Our member task forces, forums and sector councils, including the Farmers Advisory Council, provide our members opportunities to get connected and to get their voices heard, and help ensure that we're meeting the needs of our diversified membership."
Nature's Path believes otherwise, and Arran Stephens hopes that his departure will send a message that change is long overdue.
"The OTA is unduly influenced by the big CPG companies and because of that, we have seen the dilution of the founding principles of organic. It has lost much of the original activism that was there. We want to continue to fight for a level playing field for organic, but it's up to the members of OTA to vote for the ethics of organic," said Arran Stephens.
"This is not a vendetta against the OTA. This is more of a statement about the organization as a whole. It needs a course correction."
—
(Note: The Canada Organic Trade Association is a separate legal entity from the U.S.-based Organic Trade Association and is one that Nature's Path continues to support through membership and Dag Falck's role on its board of directors. For disclosure, Nature's Path and a member of the OTA board of directors are subscribers to Organic Insider.)