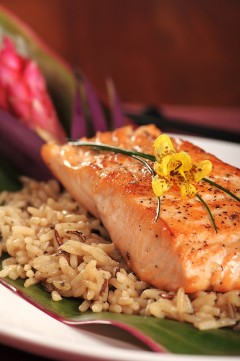 Since I don't eat fish myself nor is there such a thing as USDA certified organic fish (national organic standards for fish have not yet been approved), I don't pay too much attention to this food group.
This does not mean, however, I don't get asked questions about fish. I do, quite a bit.
So, for the people who want to know what is the best fish to eat, what fish should they avoid, what fish have the most contaminants, and what are the least sustainable fish, our good friends at the Food & Water Watch have just released their 2012 Smart Seafood Guide.
The Smart Seafood Guide gives an excellent analysis on over 100 different fish, provides regional guides, and offers helpful suggestions so that consumers can make the healthiest and most sustainable choices possible.
The Food & Water Watch uses five major criteria when it comes to recommending seafood:
– Contaminants
– Status of the Stock
– Catch Method or Farming Method
– Economic/Cultural/Social Significance
– Key Species
THE DIRTY DOZEN OF FISH
Similar to what the Environmental Working Group does with the Dirty Dozen of fruits and vegetables, the Food & Water Watch has come out with its own Dirty Dozen of Fish – the 12 fish to avoid. These are fish that have failed at least two of the criteria for safe and sustainable seafood.
Here are three examples from the Dirty Dozen list:
CHILEAN SEABASS
Chilean seabass may contain levels of mercury contamination that pose a health risk to adults and children. For nearly a decade, illegal fishing has plagued Chilean seabass populations, while killing seabirds by the thousands, including several species of endangered albatrosses.
FARMED, ATLANTIC SALMON
Farmed salmon may contain levels of PCB contamination that pose a health risk to adults and children. It may also be contaminated with pesticides and antibiotics. Farmed salmon are usually raised in cages in open waters. These cages allow free-flow of anything from the farm into the wild, and promote transfer of diseases, especially sea lice, from caged to wild fish.
ATLANTIC COD
The Atlantic cod stock collapsed in the early 1990s and is currently undergoing overfishing. It is listed on the IUCN Red List of Threatened Species. This species is frequently caught using bottom or otter trawls, nets that drag along the seafloor, and can damage the bottom habitat and remove or cover animals and plant life. This fishing method also can result in the unintended capture of many other types of marine life (bycatch).
To read what the other 9 fish are and to see the complete list of the Dirty Dozen, check out the Smart Seafood by clicking HERE (PDF File).
It can be printed out and very easily carried around with you in your wallet or bag.
Two other notes:
1) So why don't I eat fish anymore?
I am concerned about the mercury levels in fish and have also lost the taste/desire for it over time.
2) The Food & Water Watch is a great non-profit that does some fantastic work protecting our food and water supply. Please consider supporting them.
—-
Want to learn about the most important organic food news?
If so, please Like my Facebook page and sign up for my newsletter.
To join my newsletter list, please enter your email below and I'll send you my Top 5 Inexpensive Ways to Shop Organic.