Dr. Andrew Weil's True Food Kitchen was Very Impressive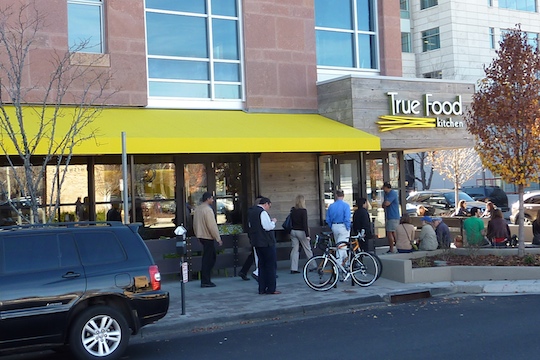 For Thanksgiving, I was in Denver with my family and stopped by the newly opened True Food Kitchen, which is partially owned by Dr. Andrew Weil.
We went there twice for lunch, and each time it was a 30-40 minute wait. After eating at True Food Kitchen, I understood why.
The food and drinks were excellent, the service was outstanding, and the menu was wide and varied.
In terms of organic, they said that any item they served that was on the Dirty Dozen List was organic but other than that, they couldn't guarantee it.
Yet, when I went through individual items with the waitress at the table about what was organic and what was not organic, it seemed that almost everything was organic. Or, at least what I had was.
Here are a few things that I ordered.
KALE-AID
Made with kale, apple, cucumber, celery, lemon, and ginger. This is a spectacular juicing combination and one that I suggest that you try at home.
MEDICINE MAN (Anitoxidant Blast)
Made with sea buckthorn, pomegranate, cranberry, black tea, and soda water. Sea buckthorn is a superfruit that contains very high levels of Vitamin C.
And, yes, this drink was as good as it looked. Maybe even better.
MISO SOUP
FARMER'S MARKET SALAD
MEDITERRANEAN SALAD WITH QUINOA
Aside from Denver, True Food Kitchen also has locations in Arizona (Scottsdale and Phoenix) and California (Newport Beach, San Diego, Santa Monica).
If I lived near any of these cities, for sure I would be there all of time. The food and experience were that good.
Dr. Andrew Weil should be very proud because this place rocks!