Best Trade Show Booths from Natural Products Expo West 2016 – Bitsy's Brainfood, Vita Coco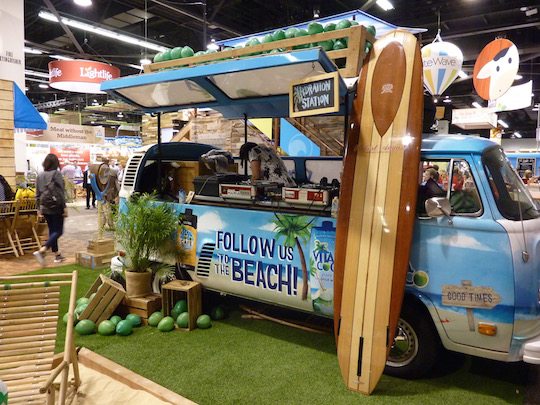 While the main attraction of Natural Products Expo West and Natural Products Expo East are the newest and best products, one aspect of the show that goes overlooked are the trade show booths themselves.
Some companies put a tremendous amount of time, money, and thought into their booths, and I like to acknowledge those organizations who place real importance on making theirs stand out. To me, it speaks volumes.
When selecting my best trade show booth winners, I look for four main qualities: creativity, design, originality, and execution.
There were a lot of very good trade show booths from Natural Products Expo West 2016, but these two stood out from the rest.
BITSY'S BRAINFOOD
I might as well re-name this award the Bitsy's Brainfood Trade Show Booth Award since they have won so many times already.
Without question, Bitsy's Brainfood founders Maggie Jones Patton and Alex Buckley Voris are two of the most creative minds in the organic food industry. Period.
Show after show, they come up with innovative and unique concepts with incredible attention to detail exhibited throughout the booth. This year's theme was a carnival one, and I absolutely loved the main banner which read "Why should junk food have all the fun?"
A broccoli carousel? Loved this one! Also, don't miss the horses made from the shapes of their crackers and the "nut free" flags.
A ferris wheel.
A banner that highlights Bitsy's Farm to Playground initiative, a campaign that donates a portion of sales of the company's Smart Crackers, which will soon be sold exclusively at Target, to organizations that keep kids healthy and active. Super-cool.
Overall, another fantastic showing from the insanely talented folks at Bitsy's Brainfood. This company is something special.
VITA COCO
If you're bringing a VW bus and a beach to the Anaheim Convention Center, where Natural Products Expo West is held, you're going to get my undivided attention.
Along with a DJ booth inside of the Vita Coco bus, which played uplifting and energetic music throughout the show, the clincher for me was the bag toss game on the man-made beach. I love activities that engage people, and this is something rarely, if ever, seen at Expo West.
Just like Bitsy's Brainfood, Vita Coco paid close attention to the details. The VW bus, palm trees, beachballs, wooden surfboard, and coconuts provided a very authentic look and feel.
In case you were wondering why Vita Coco is on the list (because their coconut water is not organic), the company does have a line certified organic coconut oil.
Great job, Vita Coco, and thanks for bringing the positive vibes to the trade show floor!