Top 5 Organic Food Products of Natural Products Expo East 2015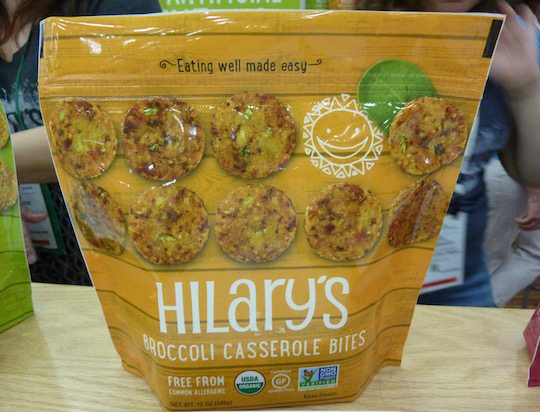 (MY APOLOGIES IN ADVANCE FOR THE SMALL VIDEO ABOVE. THIS IS ONE OF TWO VIDEOS THAT I SHOT HORIZONTALLY ON PERISCOPE AND THE RECORDING OF IT DID NOT TURN OUT AS PLANNED.)
As I do each year at Natural Products Expo East, I name my Top 5 Organic Food Products of the show. And as always, Vani Hari of FoodBabe.com gives me her critique for each of them.
There were a lot of excellent products that I discovered but these five seemed to really grab my attention.
HILARY'S BROCCOLI CASSEROLE BITES
Not only has Hilary's gone completely certified organic (the salad dressing receive certification early 2016), but the company has introduced a new line of casserole bites that are out of this world.
They are vegan, gluten-free, and Non-GMO.  I literally could not leave the booth, they were that good.
SPICELY ORGANIC CHOCOLATE TIN CONTAINERS
While I have seen organic herb-infused chocolate before, I have yet to come across such smart packaging for chocolate, such as these tin containers.
Aptly named 1 Drop at a Time, Spicely Organics hit it out of the park with this packaging.
QUINOA SQUARES BY NURTURME
I am always looking out for healthy snacks for kids and as soon as I laid my eyes on the quinoa squares by NurturMe, I knew this product was a winner.
NurturMe is also a repeat Top 5 Expo winner, having taken home the prize at Expo West 2011.
SOTRU FERMENTED GREEN POWDER
Started by former executives from Barlean's, SoTru is doing something really smart. They are fermenting green powder, thereby making it more bio-available and pre-digesting fibrous material, such as cellulose-rich plant cell walls.
IDO FERMENTED HERBAL TEA 
IDO Tea has introduced something that they claim to be the very first in the U.S. market — fermented herbal tea.
Using traditional oriental medicine and herbal formulations, the fermentation process makes the tea leaves and its powerful healing properties more bio-available. Very, very interesting.