Will GMO-Labeling Ever Happen?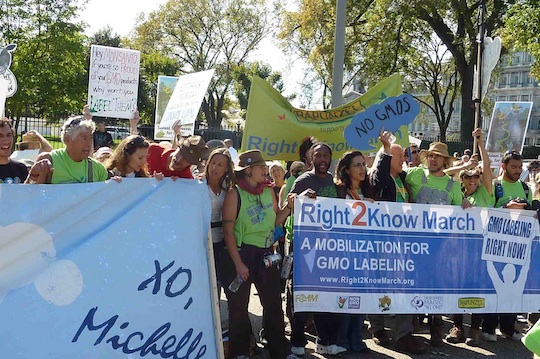 Yes, will GMO-labeling ever happen throughout the U.S.?
While I try to be as optimistic as possible and believe that it is a matter of when, not if, before GMO-labeling laws are put into place, here is the reality of what is going on.
– A federal GMO-labeling bill doesn't seem to be gaining much traction at all. This is largely because the ag-biotech lobby has spent close to $600M on campaign contributions and lobbying to make sure it doesn't happen.
Furthermore, President Obama has done absolutely nothing to push for GMO-labeling, even though he made a campaign pledge in 2007 to do so.
– Aside from a real lack of momentum for a federal GMO-labeling bill, there is a bill in Washington, D.C. called the D.A.R.K. Act that actually wants to make it illegal for states to pass their own GMO-labeling laws.
Anti-labeling groups, such as Monsanto and the Grocery Manufacturers Association, want to put all GMO-labeling powers into the hands of the FDA, a governmental agency that they completely control.
– Earlier this year, Vermont was the first state in the country to pass a no-strings attached, GMO-labeling bill.
Within days of it being signed by Vermont's governor, the Grocery Manufacturers Association sued the state in an attempt to overturn that law.
Insiders that I have spoken to say it is a 50/50 shot whether we win that case or not. We just simply don't know.
THE KEY TO GMO-LABELING
Since a federal GMO-labeling bill looks very far off, our only viable option in the near-term is to get labeling approved on the state level.
And that is why it is absolutely critical that we win the upcoming ballot initiatives in Oregon and Colorado. If we don't win these states and we lose the court case in Vermont, we are essentially back to square one.
Here's the latest.
Oregon:
According to official numbers, we have raised a little under $5 million so far, compared to the opposition's $7.2 million. Dr. Bronner's, Mercola.com, and Center for Food Safety have all donated approximately $1 million each to our side.
I have been told from the Oregon Right to Know campaign that there are no polls, so we don't have an official sense of exactly where we stand. However, GMOs have been in the news a lot in Oregon over the past few years, and two of the state's counties have banned the planting of GMOs. So, awareness of the issue is high.
We have a TV ad running now, which highlights a report from Consumers Union that says most "natural" food products contain GMOs.
Colorado:
I spoke with several people from the Right to Know Colorado campaign this morning, and the picture there looks a bit more challenging.
The opposition has raised a little over $10M, with the major donors as follows:
Monsanto: $4.7 million
Pepsico: $1.15 million
Kraft Foods: $1.03 million
General Mills: $820,000
J.M. Smucker Co.: $345,000
Dow Agrosciences, a Dow Chemical Company: $300,000
Conagra Foods: $250,000
Flowers Food Inc. (Wonderbread, Tastykake): $250,000
Smithfield Foods: $200,000
Abbot Nutrition: $190,000
Cargill Inc.: $135,000
Our side is a little over $600,000, with the largest donors being Food Democracy Now! and Presence Marketing.
Because of a lack of funds, we have not been able to buy TV or radio time, while the opposition is pounding the airwaves with a withering onslaught of propaganda.
Yet, despite all of this, a poll taken a few weeks ago said that 71% of participants said they would vote in favor of labeling GMOs in Colorado.
WHAT YOU CAN DO
For each state, ballots drop this week and are due by November 4th.
So, what happens from now until the beginning of November will greatly influence both the outcome of these initiatives and the future of GMO-labeling in our country.
Even though we are trailing in the fundraising department, both Oregon and Colorado can be won. There is no doubt about it.
But it will require everyone's help, not just those people who live in these two states.
I have given money to both campaigns, and I hope you will consider doing the same.
To donate money or to volunteer your time to Oregon, please visit Oregon Right to Know.
To donate money or to volunteer your time to Colorado, please visit Right to Know Colorado.
Thank you so much for supporting a healthy and just food system.