Living Maxwell
Company Stories
Top 5 Organic Products of Natural Products Expo West 2023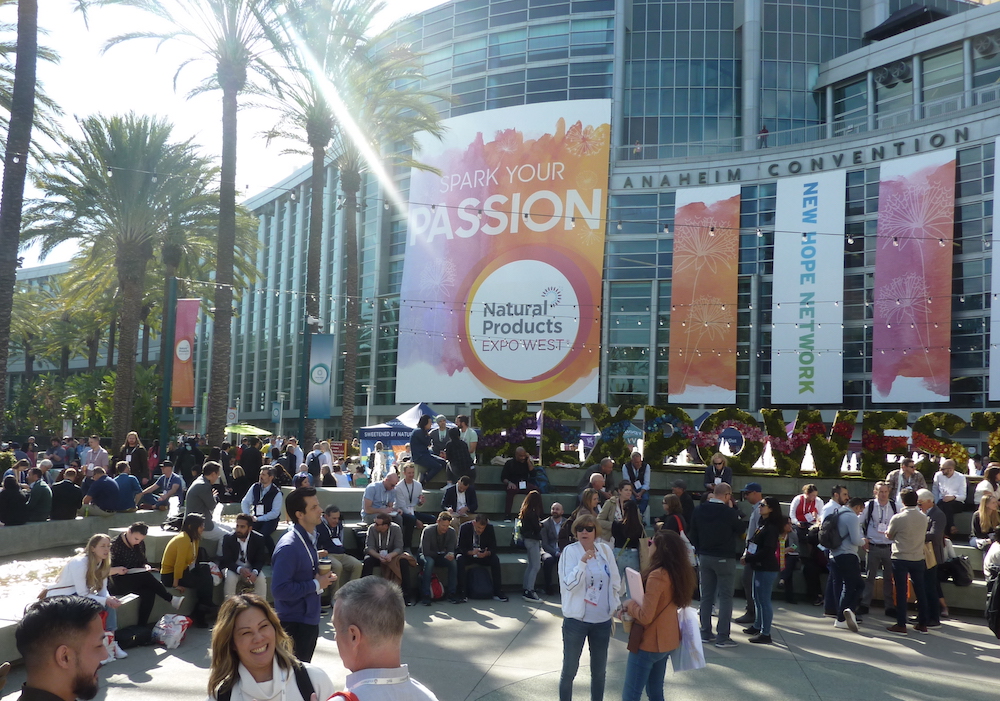 Natural Products Expo West, the largest organic trade show in the U.S., was held last week in Anaheim and attracted more than 65,000 visitors.
I came across some fantastic innovation at the show — a handful of products that I had never seen before and others that brought me back to my childhood.
Here are my Top 5 Organic Products of Expo West 2023:
COCONUT WATER FROM COCOBEAR
Upset about the single-use plastic from drinking a bottle of coconut water?
Do you feel like that plastic is interfering with the taste of your coconut water?
If you answered 'Yes' to both of those questions, you'll want to know about Cocobear.
The company has developed a proprietary process called Coco Below Zero™ that allows it to freeze the coconut without it exploding. (When water or coconut water freezes, it expands. So, freezing a coconut often causes it to explode or crack.)
By figuring out how to safely freeze a coconut, this allows Cocobear to ship frozen coconuts to the U.S. without the use of plastic bottles or pasteurization.
So, when Cocobear's organic coconut arrives at a supermarket here, it has not been treated or interfered with at all. And it contains zero plastic.
Once the coconut has been thawed out, you just pop in a compostable straw and drink the most delicious coconut water you've ever had, as if you just picked it yourself off of a tree in Thailand. Plus, you can eat the coconut meat inside or add it to a smoothie, and then compost the entire coconut, including the straw.
Cocobear exclusively and fairly sources organic Nam Hom coconuts from family farms in Ratchaburi, Thailand — a lush, sea-level region known as the coconut capital of the world, thanks to its high-salinity and calcium-rich soil.
The product is currently sold at Erewhon in Los Angeles and a few other retailers across the country, but after Expo West, expect distribution to grow very rapidly.
Cocobear is truly amazing and brilliant.
CHIAVIAR FROM AVAFINA ORGANICS
Avafina Organics has introduced an outstanding vegan alternative to caviar called Chiaviar™ — a product that I had never seen before, probably because it is only available in Canada at the present moment.
Chiaviar™ really nailed the color and texture of traditional caviar, utilizing an inventive blend of chia seeds, lemon juice, seaweed (dulse, kombu flakes, sea lettuce, wakame) and a select number of other ingredients.
What results is an incredibly satisfying sensory experience on a multitude of levels.
I am eagerly awaiting for this product to be available south of the border, and discussions with numerous U.S. distributors are currently taking place.
Chiaviar™ is certified organic, raw, vegan, gluten-free and Non-GMO Project verified.
NEW JUICES FROM UNCLE MATT'S ORGANIC
Take one look at the new organic drinks from Uncle Matt's Organic, with their visually arresting and stimulating colors, and the immediate thought that comes to mind is — "Those MUST be loaded with sugar."
Very fortunately, that is not the case at all.
"First and foremost, I'm a dad," says Matt Mclean, founder/CEO of Uncle Matt's Organic. "I can't be feeding large amounts of sugar to my kids."
Not only were these high-antioxidant organic juices deeply refreshing and delicious, but the sugar content was incredibly low. Both the Dragonfruit Lemonade and Superfruit Punch (sweet cherries, acerola, blueberries) have no added sugar and only contain 1g and 5g of sugar per serving, respectively.
The Lemon Honey Gingerade is slightly higher at 10g of sugar, but that is because of its use of wildflower honey. However, this product also contains two of the healthiest ingredients on the planet — lemon and ginger.
For sure, I'll be purchasing all of these products for my entire family, with no concern about sugar spikes, and these three drinks will be available beginning in July at natural products retailers across the country.
Yet again, Uncle Matt's Organic is delivering phenomenal, on-trend juices that are meeting the needs of the marketplace, particularly kids.
DR. SPICE FROM VINA
Growing up, during the years when I had no idea what organic was, I consumed far too much Dr. Pepper soda.
Despite having moved into an all-organic lifestyle, that sensory appeal of Dr. Pepper has ceased to go away, even after several decades.
Thanks to VINA, I can now savor those childhood memories all again, with its new Dr. Spice flavor. And all with zero guilt or having to waver from my organic diet.
This functional organic soda offers 40mg of caffeine, contains 5g of sugar and is stevia-free. It will be exclusively available at all Sprouts Farmers Markets beginning in April. Then, in July, it will be distributed to other retailers across the country.
VINA's Lime Lemon had already been one of my favorite drinks, and with the introduction of Dr. Spice, the company is demonstrating that it knows how to develop flavors with the best of them. Very impressive.
PEANUT BUTTER FUDGE HONEYCOMB FROM ALEC'S ICE CREAM
The innovation in the ice cream space continues to get better by the day.
And Alec's Ice Cream is certainly helping to lead the way, particularly with the introduction of its new Peanut Butter Fudge Honeycomb flavor.
Inspired by founder Alec Jaffe's favorite childhood candy bar, the Butterfinger, the new flavor features a peanut butter base, ribbons of fudge and chocolate-covered honeycomb toffee pieces.
But this isn't just about decadent flavor. The ingredients are also the best of the best.
Alec's is using Regenerative Organic Certified® A2/A2 milk from Alexandre Family Farms and carbon neutral, regenerative organic certified cane sugar. In total, 98% of Alec's Ice Cream's base ingredients are certified and verified regenerative organic (via Land to Market).
The commitment to flavor, quality and our environment from Alec's Ice Cream is simply outstanding.
Peanut Butter Fudge Honeycomb is currently available nationwide at all Sprouts Farmers Markets and Natural Grocers locations.
—
If you'd like to read my full recap of Natural Products Expo West 2023, including key trends and analysis, click HERE.