Living Maxwell
Company Stories
Top 5 Organic Food Products from the 2023 Summer Fancy Food Show and Good Food Mercantile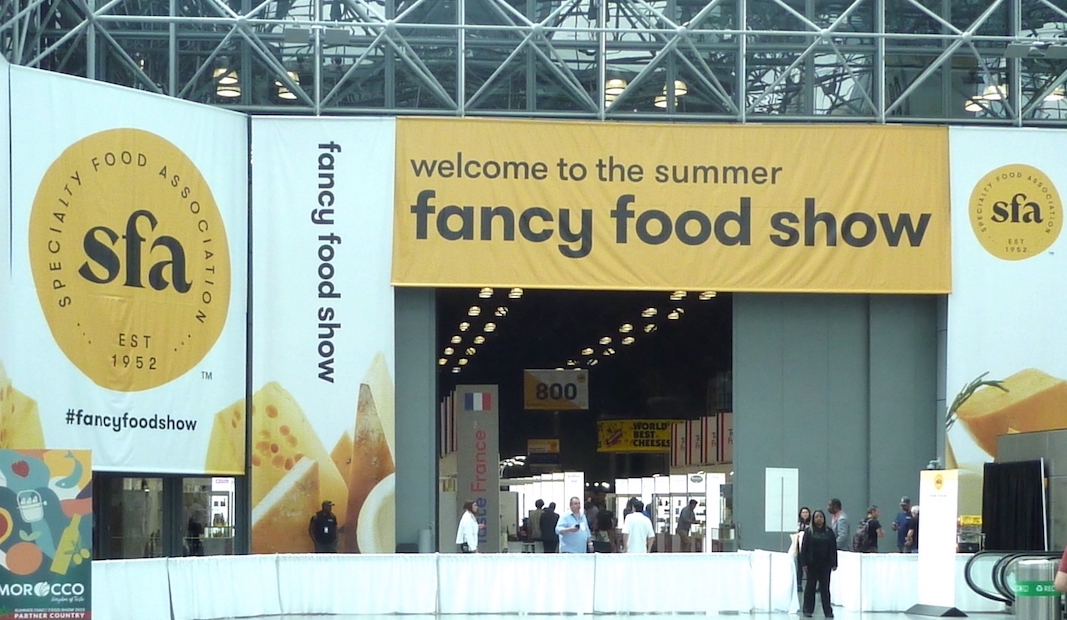 Last week in New York City, the two biggest trade shows of the summer took place — the 2023 Summer Fancy Food Show and Good Food Mercantile.
Impressive innovation was on display everywhere, and narrowing down the best of what I saw was no easy feat.
Here are my Top 5 Organic Products of the 2023 Summer Fancy Food Show and Good Food Mercantile.
KOMBUCHA SALAD DRESSINGS AND VINEGARS FROM BIORA
Just when you think you've seen it all in the salad dressing category, you come across a company like Biora — an absolutely fascinating find in the Canadian section of the main floor at the Fancy Food Show — and you realize that new ideas never cease.
Biora has developed organic kombucha salad dressings and vinegars, and its unique formulation may be unprecedented, in terms of what it offers our microbiota.
The products, which contain no traces of alcohol, are comprised of three main components:
1) Edible botanicals — when fermented symbiotically — can be transformed into highly beneficial products that contain several health-promoting properties. Antioxidants, antimicrobials, anti-inflammatory compounds and detoxifying compounds can all be found incorporated into fermented botanicals.
2) Prebiotics and probiotics 
3) Postbiotics are the naturally occurring end product of fermentation, providing immediate vital nourishment to the body at a cellular level and helping to fight off harmful bacteria. Research has demonstrated the importance of these compounds, which are now essential to consider when treating various disorders and diseases such as irritable bowel syndrome, obesity and diabetes.
Biora is not yet available but is expected to launch later in 2023.
REGENERATIVE ORGANIC CERTIFIED® NON-STICK COOKING SPRAY FROM LA TOURANGELLE
La Tourangelle recently introduced something very novel — a Regenerative Organic Certified® (ROC) non-stick cooking spray.
This chemical-free alternative dispenses only two ingredients — organic, Non-GMO expeller-pressed sunflower oil and plant-based, sunflower lecithin — ensuring a high-heat, non-stick surface.
Sunflower oil is regularly used for baking and cooking, and the seeds used to make this oil come from Park Farming Organics in Yolo County in Northern California, a pioneer in the organic and regenerative farming movement for the past two decades
Unlike aerosol products that leave behind 10% or more of the oil lingering in the can and dispense propellants and chemicals along with the oil, the oil in this ROC product is housed in a BPA-free bag surrounded by compressed air and dispensed without shaking with the press of a button. The compressed air ensures that 100% of the oil is emptied from the bag.
Available nationally at Whole Foods Market stores.
SOURDOUGH BAKING MIXES FROM JESHA'S
Jesha's has been on my radar screen for several years, but this was the first time that I was able to try the products and see the company at a trade show.
And I walked away extremely impressed.
As a young adult living with non-celiac gluten sensitivity, founder Jesha Stevens spent years living a completely grain-free, paleo lifestyle. Yet, when she discovered the power of sourdough fermentation in 2018, she decided to reintroduce grains back into her life, so long as they were fermented. And to her amazement, she remained totally symptom-free.
All of the pancake, muffin and waffle mixes are made with stone-ground whole grains that have been slow-fermented with sourdough culture for 24+ hours. This essential 6,000-year-old practice activates vitamins and minerals, degrades gluten, boosts antioxidants and transforms grains into a bonafide superfood.
Very on-trend, very delicious. I am excited to make these products in my kitchen.
DEMETER-CERTIFIED CURRY SAUCES FROM MIKE'S ORGANIC CURRY LOVE
Unless you are an accomplished chef — and I would definitely not put myself in that category — making curries is not the easiest thing in the world to do.
But thanks to Mike's Organic Curry Love, we can now easily and regularly eat meals with bold and complex flavor profiles. Even better, we can do so knowing that the ingredients are Demeter-certified Biodynamic and grown in small batches in Thailand.
Co-founder & long-time chef Michael Buechi and co-founder Laurie Sebestyen are offering these curries in two flavors — Red Thai and Green Thai, both of which contain a blend of chili, lemongrass, shallots, makrut leaves and galangal. They are vegan, sugar-free, palm oil-free, nut-free, fish-free and dairy-free, as well as keto and paleo-friendly.
I could have stayed at their booth all day eating the curry and rice samples.
CRUNCHY CASSAVA CRACKERS FROM CULT CRACKERS
Any company that calls itself "Cult Crackers" is creating some very, very serious expectations.
But for Berkeley, CA-based Cult Crackers, this name is both deserved and understandable. These organic, grain-free cassava crackers are out-of-the-world delicious and have certainly earned themselves a cult following.
This is a product that I have eaten many times before but had never seen at a trade show. Based on taste alone, not naming it in my Top 5 five would not have been fair, as these crackers could easily become the next Mary's Gone Crackers, in terms of longevity and stature in the industry.
—
Cult Crackers were found at Good Food Mercantile, and the other four I discovered at the Fancy Food Show.
If you'd like to read my full recap of the 2023 Summer Fancy Food Show and Good Food Mercantile, including key trends and takeaways, click HERE.