High Levels of Lead and Cadmium Found in Organic Baby and Toddler Foods — What to Do About It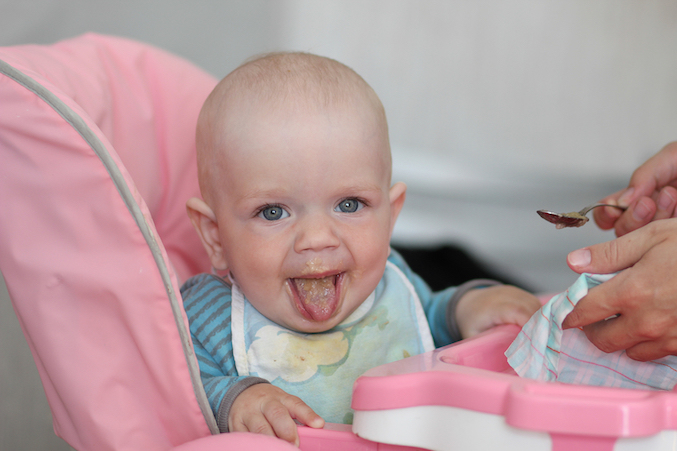 One of the perceptions of organic food in the marketplace is that it is free from all heavy metals, and as long as a food product contains the USDA organic seal, there is nothing to worry about.
I wish both were true, but unfortunately, they are not.
A recent investigation from Consumer Reports found concerning levels of heavy metals — cadmium, lead, and/or inorganic arsenic — in many baby and toddler food products, a good number of which were from organic brands.
While organic production prohibits the use of GMOs or super-toxic pesticides, such as glyphosate or atrazine, the logical question is: how did these heavy metals get into these organic products in the first place?
Consumer Reports says that there are two likely explanations:
1) Most of the heavy metals in food come from soil or water that has been contaminated through either farming and manufacturing practices (such as pesticide application, mining, and smelting) or pollution (such as the use of leaded gasoline).
For an organic farm to receive its certification, it has to be in compliance for three years. Therefore, any contamination that took place on the farm prior to those three years could very well still be in the soil.
Given that crops absorb heavy metals from earth and water in the same way that they do nutrients, these heavy metal levels should not be a huge surprise. However, some crops take up more of the compounds than others. For example, rice absorbs about 10 times more arsenic than other grains absorb.
2) In packaged foods, it is also possible that something in the manufacturing process, such as the type of metal used in machinery, contributes to contamination.
Interestingly, some research suggests that children's food may have more of certain heavy metals than other foods. For example, according to the Environmental Defense Fund's recent analysis of the FDA's Total Diet Study data, more samples of baby food apple juice, grape juice, and carrots had detectable levels of lead than regular versions of those foods. Why that would be the case is unclear, though it is possible that there are differences in the manufacturing processes.
THE HARM THAT HEAVY METALS CAUSE
According to James E. Rogers, Ph.D., director of food safety research and testing at Consumer Reports, "No amount of heavy metals such as lead can be considered safe, but less is certainly better."
While exposure to heavy metals can harm the health of both adults and children, young kids are the most at risk
"Babies and toddlers are particularly vulnerable due to their smaller size and developing brains and organ systems," says James E. Rogers, Ph.D. "They also absorb more of the heavy metals that get into their bodies than adults do."
Exposure to even small amounts of these heavy metals at an early age may increase the risk of several health problems, especially lower IQ and behavior problems, and have been linked to autism and attention deficit hyperactivity disorder.
The risks from heavy metals grow over time, mainly because they accumulate in the kidneys and other internal organs.
"These toxins can remain in your body for years," says Tunde Akinleye, a chemist in Consumer Reports' Food Safety Division. Regularly consuming even small amounts over a long period of time may raise the risk of bladder, lung, and skin cancer; cognitive and reproductive problems; and type 2 diabetes, among other conditions.
NO GOVERNMENT REGULATION
While the government acknowledges the dangers that heavy metals in baby and toddler foods could pose, there is no regulation in place limiting the amount of heavy metals in foods.
In 2016, the FDA did propose limiting inorganic arsenic in infant rice cereal to 100 parts per billion, and in 2013 proposed limiting inorganic arsenic in apple juice to 10 ppb, the federal arsenic standard for drinking water. But neither limit was ever finalized.
The FDA told Consumer Reports that it is on track to finalize these guidelines by the end of 2018.
THE TEST RESULTS
Consumer Reports tested 50 baby and toddler foods from different retailers across the country and they all fell into four categories — cereals; snacks (bars, biscuits, and rice rusks); packaged fruits and vegetables; and entrées.
Every product Consumer Reports tested had measurable levels of at least one of these toxic heavy metals: cadmium, inorganic arsenic, and/or lead; 34 of the products contained enough of a single heavy metal or a combination to reach a level that Consumer Reports' food safety experts believe warrants concern.
Meals and Entrees – More Concern 
Earth's Best Organic Chicken & Brown Rice
Earth's Best Turkey, Red Beans & Brown Rice
Gerber Chicken & Rice, Gerber Turkey & Rice
Sprout Organic Baby Food Garden Vegetables Brown Rice With Turkey
Gerber Lil' Meals White Turkey Stew With Rice & Vegetables
Meals and Entrees – Less Concern 
Gerber Lil' Entrées Chicken & Brown Rice With Peas & Corn
Packaged Fruits and Vegetables – More Concern
Gerber Carrot, Pear & Blackberry
Gerber Carrots Peas & Corn With Lil' Bits
Plum Organics Just Sweet Potato Organic Baby Food
Beech-Nut Classics Sweet Potatoes
Earth's Best Organic Sweet Potatoes, 1st Stage
Packaged Fruits and Vegetables – Less Concern
Beech-Nut Classics Apple, Pear & Banana
Beech-Nut Naturals Carrot, Broccoli, Apple & Strawberry
Beech-Nut Organic Just Apple & Green Beans
Beech-Nut Organic Peas, Green Beans, and Avocado
Gerber Grabbers Strong Veggies, Broccoli, Carrot, Banana, Pineapple
Gerber Organic Peas, Carrots & Beets
Happy Baby Organics Purple Carrots, Bananas, Avocados & Quinoa
Cereals – More Concern 
Beech-Nut Complete Rice Single Grain Baby Cereal
Happy Baby Organics Organic Probiotic Baby Cereal
Beech-Nut Complete Oatmeal Whole Grain Baby Cereal
Beech-Nut Organic Oatmeal Whole Grain Baby Cereal
Earth's Best Organic Whole Grain Oatmeal Cereal
Gerber Oatmeal Single Grain Cereal
Gerber Organic Oatmeal Cereal
Earth's Best Organic Whole Grain Rice Cereal
Cereals – Less Concern 
Gerber Breakfast Buddies Hot Cereal With Real Fruit, Apple Cinnamon
Snack Foods – More Concern 
Gerber Graduates Arrowroot Cookies
Plum Organics Little Yums Organic Teething Wafers, Pumpkin & Banana
Gerber Graduates Cinnamon Graham Animal Crackers
Gerber Graduates Banana Cookies
Baby Mum-Mum Banana Rice Rusks
Baby Mum-Mum Vegetable Rice Rusks
Gerber Graduates Waffle Wheels Puffed Grain Snack, Banana Cream
Gerber Graduates Lil' Biscuits Vanilla Wheat
Gerber Graduates Cereal Bars, Strawberry Banana
Parent's Choice (Walmart) Little Puffs Cereal Snack, Strawberry Apple
Plum Organics Mighty Sticks Whole Grain Snacks, Berry Beet
Sprout Organic Quinoa Puffs Baby Cereal Snack, Apple Kale
Earth's Best Organic Sunny Days Snack Bars, Strawberry
Happy Baby Organics Superfood Puffs, Apple & Broccoli
Happy Baby Organics Superfood Puffs, Purple Carrot & Blueberry
Snack Foods – Less Concern 
Beech-Nut Quinoa Crispies, Vanilla
Ella's Kitchen Apples + Strawberries Nibbly Fingers
Gerber Graduates Puffs Cereal Snack, Strawberry Apple
Gerber Lil' Beanies Baked Snack Made With Beans, White Cheddar & Broccoli
Gerber Lil' Crunchies Baked Corn Snack Mild Cheddar
Gerber Lil' Crunchies Baked Corn Snack Vanilla Maple
Gerber Organic Puffs, Puffed Grain Snack, Apple
WHAT ALL ORGANIC CONSUMERS CAN DO
While it may not be possible to completely eliminate heavy metals entirely from your child's diet, Consumer Reports suggests the following tips to help minimize them:
1) Limit the amount of infant rice cereal your child eats. Cereal is often a baby's first solid food because it is easy to swallow, and it's usually fortified with iron, an important nutrient for babies. But both the FDA and the American Academy of Pediatrics say that there's no reason it must be rice cereal and that infants should be given a variety of cereals, noting concerns about levels of inorganic arsenic in those products.
2) Choose the right rice. In previous Consumer Reports' tests, brown rice had more inorganic arsenic than white rice of the same type. White basmati rice from California, India, and Pakistan, and sushi rice from the U.S., are good choices that had, on average, half as much inorganic arsenic as most other types. Rice cakes, cereal, and pasta were also high in inorganic arsenic.
3) Rethink rice prep. Cook it in a large amount of water—the FDA recommends 6 to 10 parts water to 1 part rice—and drain it well afterward. This will help reduce arsenic content.
4) Limit packaged snacks. Many contain rice flour, but even those without it don't supply much nutritional value.
5) Seek out whole foods low in heavy metals. Based on their review of the data from the Total Diet Study, our experts suggested a few easy-to-pack foods, suitable for snacking, that are very low in heavy metals: apples, applesauce (unsweetened), avocados, bananas, barley with diced vegetables, beans, cheese, grapes, hard-boiled eggs, peaches, strawberries, and yogurt.
6) Be wary of fruit juice. Previous Consumer Reports' tests found inorganic arsenic and lead in many brands of apple and grape juices. In addition, all fruit juices are concentrated sources of sugars and lack fiber.
7) Check your water. If you get your water from a well, or if your home has older pipes, consider having your water tested. Heavy metals sometimes seep into well water, and older pipes may have been made with lead.
IMPORTANT: The other thing that organic consumers can do is to contact your favorite organic brands and demand that they test their products for heavy metals. The results of these tests should be posted on their websites.
If the products are contaminated, these companies should do the right thing and source their raw ingredients from different, untainted suppliers.
(For more information about Consumer Reports' test protocol for heavy metals, click HERE.)