Foodstirs Becomes the First Nationally Distributed Organic Food Brand to Become Glyphosate Residue-Free Certified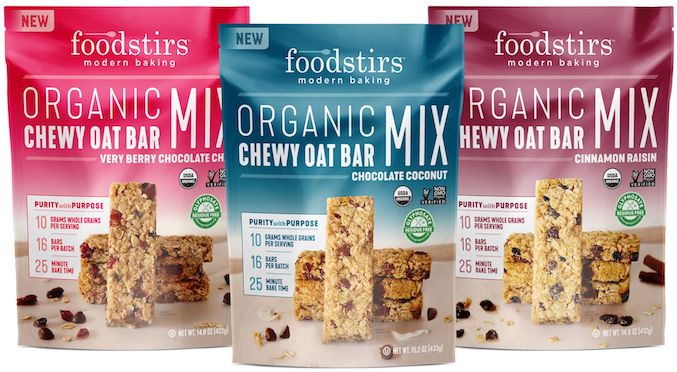 Most people recognize Foodstirs as the company that has completely transformed the organic baking category.
But with its latest move, the company will soon be known as a true trailblazer throughout the entire organic industry.
Foodstirs has become the first nationally distributed organic food brand — with its multi-ingredient food products being sold in natural and conventional retail outlets, as well as Starbucks — to receive Glyphosate Residue-Free certification.
Glyphosate, the primary ingredient in Monsanto's Roundup, is the most widely used herbicide in the world, It is known to the State of California to cause cancer, and the World Health Organization declared that it is a probable human carcinogen, which means that it probably causes cancer.
Even though glyphosate is prohibited in organic production, it has somehow made its way into the organic food supply, which Foodstirs first became aware of when Food Democracy Now! and The Detox Project released their groundbreaking report Glyphosate: Unsafe on Any Plate in 2016. Yet, when The Detox Project launched a Glyphosate Residue-Free certification the following year, the company felt a moral obligation to get its products tested.
"It is part of our mission to provide the cleanest food possible, particularly since we are selling our baking mixes to parents of young children. Providing food that is free from harmful chemicals is what we are all about and why we started Foodstirs in the first place. So, to learn that there is a certification out there that can validate what we are doing, while simultaneously giving parents peace of mind, was something very compelling and an easy decision for us," said Greg Fleishman, the company's Co-Founder and President/Chief Operating Officer.
As of now, the three bake-your-own organic chewy oat bar mixes and nearly all of the company's other products have received certification, with five remaining SKUs waiting for test results. To reflect this, updated packaging displaying the Glyphosate Residue-Free symbol will be rolled out across the country over the next month or so.
One of the challenges of being the first nationally distributed organic food brand to achieve this certification is a lack of awareness among consumers. Not only is Glyphosate Residue-Free relatively new with only a handful of products having achieved certification, but citizens are just starting to become familiar with the term glyphosate.
The recent $289M verdict for a California groundskeeper who got cancer by using Roundup and the Environmental Working Group's report on glyphosate in oat-based cereals and granola bars have certainly raised the visibility of this chemical, but it is a long way from it becoming a household term.
Despite the challenges, Foodstirs has a plan in place to spread the word about this certification, including point-of-sale/shelf signage and a PR/social media campaign, and focused messaging about how oats are highly susceptible to glyphosate contamination.
Being first isn't always the easiest because it generally comes with a lot of consumer education, but Foodstirs remains undaunted. Embarking on this certification was guided by the company's core values, confirming that this was the right thing to do for the moms, dads and kids that Foodstirs feeds each day.
Without question, many other organic food brands will soon follow suit and decide to get certification as well because they, too, will recognize that organic consumers deserve to eat food that is free from this cancer-causing chemical.
And when they do, we can thank Foodstirs for stepping forward and making this certification a real priority.
—-
For those who are concerned about glyphosate contamination, The Detox Project has just launched a new at-home kit where you can test your food and water for glyphosate. Also, there is a hair analysis to test how much glyphosate you have in your body.
*******
(Disclosure: Foodstirs is a sponsor of Living Maxwell. Additionally, I consult for the Glyphosate Residue-Free certification program and am an affiliate for the glyphosate tests.)