Best Trade Show Booths from Natural Products Expo West 2019 — General Mills, REBBL, Om Mushrooms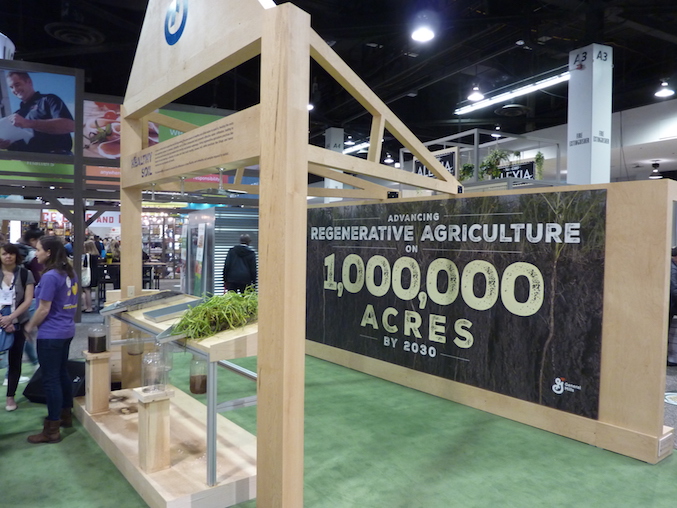 One of my favorite things to do each year at Natural Products Expo West is to pick out the best trade show booths. While the majority of people's time and attention is focused on showcasing new products, it cannot be overlooked that a good number of brands invest a tremendous amount of energy and resources into building their trade show booths.
As such, I like to recognize those companies that go the extra mile and present something special.
What I look for most are originality, interactive experiences, and impact. Two of this year's winners brought a very educational and scientific approach to their booths, and the other one took home the prize for sheer dedication to a cause.
Here are my Best Trade Show Booths at Expo West 2019.
GENERAL MILLS 
On the first day of the show when I was interviewing Carla Vernon, President of the Natural and Organic Operating Unit for General Mills, she said, "Make sure you see our booth. I think you're going to like it."
Given that General Mills won my award for Best Trade Show Booth of Expo West 2018, Carla knew that I was on the lookout for creative and unique presentations.
And when I got there, it was immediately obvious that the company had come up with something fantastic.
In conjunction with its major announcement that General Mills has committed to advancing regenerative agriculture on 1,000,000 acres by 2030, the booth was trying to demonstrate how healthy soil plays a critical role in capturing and storing water.
On the left side in the video below, depleted soil came from a mono-cropped, heavily-tilled conventional corn field with very little cover crop. On the right side, the healthy soil came from an Organic Valley dairy in Petaluma (bottom picture). The land at this farm is not tilled, is covered in diverse cover crops, and is rotationally grazed by dairy cows.
Demos of the water coming down were run three times per day by the sustainability team — Margot Conover, Sara Allan, and Christina Skonberg — and the presentation showed that regenerative farming practices not only retain water in the soil but strengthen the soil, which allows it to capture more carbon from the environment.
For this booth, the company was advised by a conservation agronomist at the USDA, the site director at Cascadian Farm (Ashley Minnerath), and a retired agronomist who now fabricates simulators for purchase, as well as many other people.
This main piece of the booth took about three weeks to design, test, and fabricate, led by Paul Heath at nParallel, the same firm who helped build last year's winning booth.
REBBL
REBBL did something that I have never seen before.
On one side of the aisle, it had a booth dedicated to showcasing its fantastic drinks (above).
On the opposite side of the aisle, it had a booth dedicated to its non-profit arm Not for Sale (below), which fights against human trafficking and exploitation around the world.
Not for Sale is the absolute driving force of REBBL and as I wrote about last year, the story of REBBL is this was a cause looking for a company — instead of a company looking for a cause.
At the show, when I realized that CEO Sheryl O'Loughlin and her team had spent tens of thousands of dollars to highlight Not for Sale, I knew right away that this had to be on my winning list. After all, what brand spends that kind of money at Expo West to place attention on an affiliated non-profit?
REBBL does.
That is because Not for Sale is deeply, deeply embedded into the company's DNA, and everything that REBBL does is geared towards making the planet a better place, including helping victims of human trafficking and exploitation. 2.5% of the company's sales go to Not for Sale, and $1M has already been given to this very important organization.
REBBL worked directly with branding/marketing firm Guru to brainstorm on how the booth would come to life, and one of the key aspects of the presentation was the creation of a mandala (below). The REBBL regenerative ecosystem is represented in the mandala, where everything works together and everything matters.
OM MUSHROOMS
There may not have been a trade show booth at Expo West that garnered more interest and attention than the one from Om Mushrooms.
While it is widely known that medicinal mushrooms are insanely popular right now, how many people have actually seen them in full form, growing in their substrate?
My guess is very few.
And the visual was so striking and so interesting that you couldn't help but stop, take pictures and ask questions. It was like being a really cool science class.
How does the entire process work?
"We inoculate our organic, gluten-free oats (the substrate) with one of our mushrooms strains. This is done with a tissue culture. Then, the mycelium develops, grows and digests the organic oats and becomes a hard block of mycelial biomass.  Once the substrate is consumed, it 'switches gears' into the fruiting body of the reishi (below), which takes approximately 8 weeks. Then, we dehydrated the entire biomass (mycelium and fruiting bodies) and mill into a powder," said co-founder and CEO Sandra Carter, PhD.
Aside from being a fantastic educational tool — co-founder Steve Farrar, a mycologist with over 30 years experience growing mushrooms, was also on hand to answer questions — the booth wanted to emphasize transparency, given that it does not import its products from China. Instead, the company grows all of its mushrooms in a certified organic cGMP facility in the U.S. under the close attention of its mycology experts, many of whom have been growing mushrooms for decades.
I have been a big fan of Om Mushrooms since its very inception, and it was fascinating to finally see how this product is produced.