Best Trade Show Booths from Expo West 2018 – General Mills and Nature's Path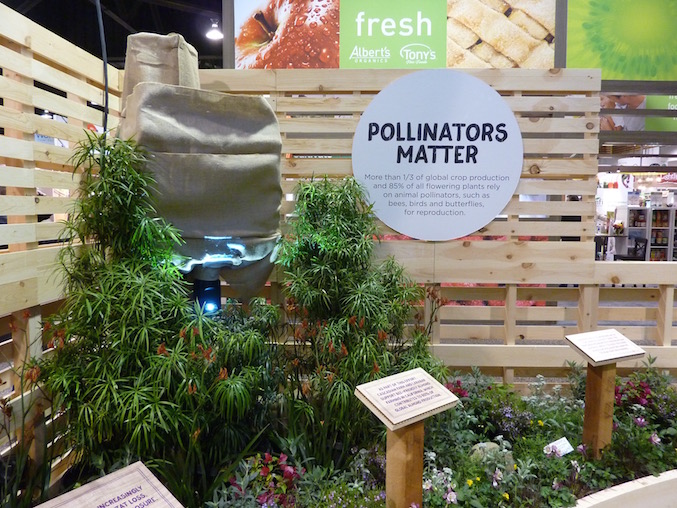 While most of the attention at Natural Products Expo West was focused on companies' products, it cannot be overlooked that a good number of brands invested a tremendous amount of time and energy into building their trade show booths.
As such, I like to recognize those companies that went the extra mile and presented something special, and I always give out awards for the Best Trade Show Booths at Expo West.
What I look for most are originality, interactive experiences and impact.
Here are Best Trade Show Booths at Expo West 2018.
GENERAL MILLS
General Mills had a phenomenal show and its Annie's Honey Bunny Grahams and Elbow Pasta & Cheddar were named to my Top 5 Organic Food Products of Expo West 2018.
Yet, its trade show booth stood above the rest as well.
The booth paid homage to the environment and everything that the company is doing for soil health, regenerative agriculture and pollinator preservation.
While living walls or living plants are not anything new for trade shows, there were two unique aspects of the plant life utilized in the booth.
First, plants and grasses in the specific sections of the booth were representative of the plants and grasses used in real life.
For example, the plants in the Pollinators Matter section represented a variety of pollinator-friendly plants from all regions of the U.S.
In the Epic section where the bison was, the grass nassella tenuissima was used because it represented similar grasses that Bison would graze on in the wild. This is a perennial grass that is drought-tolerant and is native to parts of Texas and New Mexico.
Second, the plants and grasses chosen were grown by a local gardener and almost all of them were donated to The Ron Finley Project after the show — an organization that former Annie's president John Foraker had a critical role in saving. I absolutely loved that a non-profit was worked into the trade show concept and that the plants did not go to waste.
Furthermore, there were speakers which had the buzzing of bees playing in the Pollinators Matter section, making it feel very authentic.
The booth was built in-house, and all of the booth materials and almost all of the samples were shipped on one truck in order to reduce the carbon footprint. The wood in the exhibit was pine and will be re-used for Expo West 2019.
The brown tops at the sample stations were Metem, a line of recycled HDPE panels. Other than the fabrics printed on Falconboard, all of the hanging signs and fabrics were made of 100% recycled material. The flooring was mostly artificial grass turf, which was 100% recyclable, made with renewable resources and will be re-used for Expo West 2019. The representation of poor soil in the Our Food Choices Make a Difference section was clay/sandy loam, which was re-used from Expo East 2017.
An overall awesome job by General Mills and its event company nParallel.
NATURE'S PATH
Nature's Path is a repeat winner of this award, having taken home the prize in 2015, and it delivered a fantastic interactive experience this year, similar to what Gaia Herbs put forth in 2017.
The company introduced its Zen Den, which wasn't just a place to go meditate. Arran Stephens, the founder and CEO of the Nature's Path, recorded a guided meditation for people to listen to when they went into the booth and put on the headphones. Both 2-minute and 5-minute options were available.
The idea for the Zen Den was inspired by the key ingredient in the company's new Golden Turmeric cereal.
Turmeric is an ingredient that has been used for many centuries because of its anti-inflammatory healing properties. The company believed that the mind-body connection of this ingredient would be well expressed through something like a meditation booth where people could make the mind-body connection as well.
I saw a woman (not the one below) so emotionally moved by Arran's guided meditation that she could not stop crying after leaving the Zen Den.
As someone who started meditating in 1991, I have a bias toward meditation and any booth that has such a positive impact on people at the show definitely deserves to win this award.