Best Trade Show Booths from Expo West 2017 – Kashi, Stonyfield, Gaia Herbs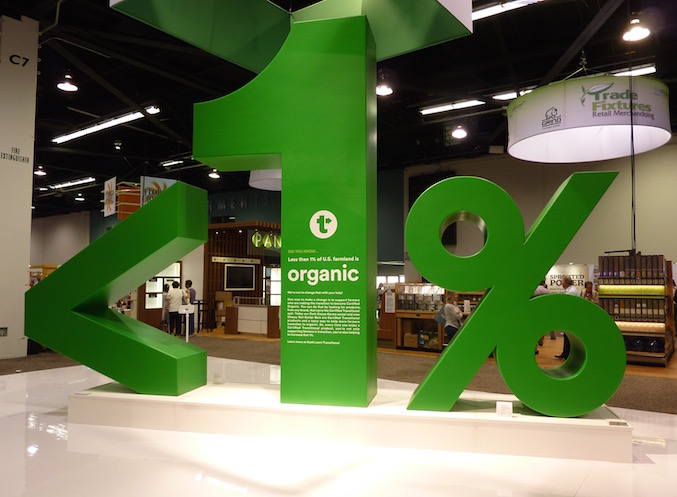 One of the most unheralded but important aspects of Natural Products Expo West are the trade show booths themselves.
Some companies put a tremendous amount of thought and effort into their booths, and I like to acknowledge those brands that go above and beyond what is generally expected.
As such, after each Natural Products Expo West, I give awards to my the best trade show booths. For me, the themes of this year's winners were originality, artistic creativity, and interactive experiences.
Here are my best trade show booths from Natural Products Expo West 2017.
KASHI
What might very well be the most unusual but arguably the most compelling trade show booth I have ever seen was from Kashi.
Not only was there no traditional booth, but the company wasn't even passing out samples of its food! Literally, it had absolutely no samples to give out, which is unheard of at a food trade show.
Instead, Kashi created a massive green structure with "less than 1%", representing the amount of organic farmland in the U.S. and highlighting its Certified Transitional program, which encourages farmers to switch to organic.
Forgoing the traditional trade show booth was a very savvy move by Kashi brand manager Natalie Knopp and her team, and it did more to create conversation and raise awareness about this issue than anything else could have.
This is out-of-the-box thinking at its finest.
STONYFIELD
Stonyfield and its digital marketing firm Agency of Trillions figured out a brilliant way to keep attendees coming back to the booth – by creating different art installations each day of the show.
The company hired Tracy Lee Stum, a world renowned, professional 3D street painter who has created works in 28 countries around the globe, to create three themes: Day 1 – 'Cow Selfie'; Day 2 – 'Milk a Cow'; Day 3 – 'Big Bowl of Blueberry Yogurt'. What made it so successful was that the art conveyed the company's key messaging in a very authentic and organic way.
For this booth, Tracy Lee Stum and her team employed 'chalkboard' style works, which were seen in the signage throughout the booth. The installations were created with oil pastels to appear as chalk drawings, and the team used a technique called 'anamorphic projection' to create 3D images.
It is awesome to see such amazing artistic talent on display at a food trade show.
GAIA HERBS
The main theme around Gaia Herbs' booth was its 30-year celebration. It had an exhibit pointing out key highlights in the company's history, a bar at the front of the booth serving golden turmeric milk, and a living wall.
Yet, the one aspect of this booth that made it really stand out was the interactive experience. You sat on the bench, put on cordless headphones, and listened to peaceful music while watching video footage of the company's organic farm in North Carolina.
With more than 80,000 attendees and nearly 2,800 booths, Expo West 2017 proved to be a very hectic few days, but this experience at the Gaia Herbs booth centered and calmed me like no other. I could have stayed there for hours.
Angela McElwee, President of Gaia Herbs, and her team truly brought what was needed — a lot of tranquility to a frenzied trade show floor.
Interactive experiences, such as this one, will be an emerging trend at booths in future Expo West trade shows.