Top 5 Organic Food Products from Expo West 2017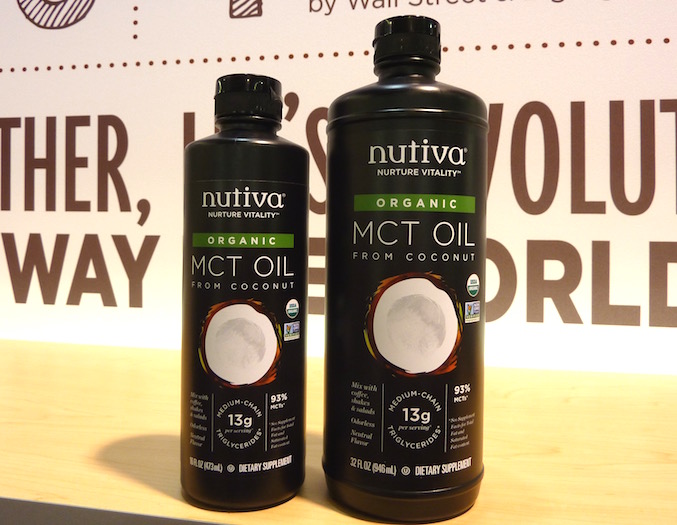 As I do after each Natural Products Expo West, I name my top 5 organic food products of the show.
This year, it was especially difficult to choose just five. Not only did this year's Expo West have nearly 2,800 vendors, but the quality of products from organic food companies has never been better.
To get my full recap of Expo West and to learn about the key trends at this year's show, be sure to sign up for a FREE trial of Organic Insider (no cost, no obligation, no credit card required) and I'll send it over to you.
Here are My Top 5 Organic Food Products from Natural Products Expo West 2017.
NUTIVA'S ORGANIC MCT OIL

If you are familiar with MCT oil, popularized by the Bulletproof coffee craze, and are an organic food person, you are also aware that there has been no organic MCT oil on the market. Until now.

Other non-organic MCT oils either use non-organic coconuts, fillers or non-organic ingredients in their products. Or, they use hexane or some other non-organic method in the processing. As a result, none has been certified organic until this point.
Nutiva's organic MCT oil has a smooth and neutral flavor, and it contains 93% MCT oils; most other non-organic MCT oils are approximately 72%. Per tablespoon, it has 7.3 grams of caprylic acid, 5.0 grams of capric acid, and 0.7 grams of lauric acid.
Having spent more than two years developing this organic MCT oil, Nutiva CEO and Founder John Roulac has a serious hit on his hands. There is absolutely no reason for a consumer to be using any other MCT oil on the market because as far as I can tell, no other organic MCT oil exists.
Without question, Nutiva's certified organic MCT oil was the product of the show.
It will be available for sale on Nutiva's website and on Thrive Market by May 1st and at retailers nationwide by June 1st.
RAU CHOCOLATE'S SALTED CARAMEL
There was no shortage of excellent nut milk products at Expo West, but the one that I kept coming back to was the Salted Caramel by Rau Chocolate.
At first glance, one might think that it is an overly rich, overly decadent drink with an abundance of sugar. However, with only 8 grams of sugar, this Salted Caramel drink had the perfect amount of sweetness and fantastic texture.
Salted Caramel will be available on Rau Chocolate's website in early April, and the company will be rolling it out nationally at various retailers over the next few months. I can't wait to drink this back in New York City.
The ingredients include filtered water, cacao powder, coconut palm sugar, cacao butter, Himalayan pink salt, caramel extract, and monk fruit extract.
ORGANIC GIRL'S SPICY TOMATO 
One of my all-time favorite drinks was the Drink Your Salad by Juice Press. For some reason, however, the company discontinued it.
Fortunately, I discovered Spicy Tomato by Organic Girl at Expo West and this will become one of my new go-to drinks.
While not as thick as a traditional gazpacho yet with excellent taste, perfect texture and a slight kick, Spicy Tomato fills an important need in the marketplace for those looking for a healthy, organic V-8 replacement. This drink is incredibly refreshing and provides a great alternative to the times when I am looking for something other than a green juice.
Produced using high-pressure processing and containing 9 grams of sugar per bottle, Spicy Tomato is made with Roma tomato juice, romaine juice, celery juice, tomato paste, lemon juice, prepared horseradish, lime juice, Kosher salt, cayenne pepper, and black ground pepper.
Spicy Tomato is expected to be available at retailers nationwide this summer.
PYURE'S SUGAR-FREE MAPLE SYRUP AND HONEY ALTERNATIVES
Pyure, a leader in organic stevia products, has rolled out something very compelling – an organic honey alternative and an organic maple flavored syrup.
Let me preface this pick by saying that these products are not for everyone and contain ingredients, such as gums and natural flavors, that many people do not like.
However, for health-conscious consumers who don't want sugar, for parents who want to give their kids a sugar-free, honey or maple syrup and for diabetics, this is the only certified organic, Non-GMO option on the market.
These products took years to develop and serve a very specific niche in the marketplace. And this cannot be dismissed.
It is expected that both products will be available at retailers nationwide this summer.
ORIYA ORGANICS' SUMMIT ENERGIZER
I have long believed that just as people travel with green powders, they will soon be traveling with other types of powders as well.
In my Top 5 Organic Food Trends of 2017, I said that turmeric powder would be one to watch this year, and Oriya Organics took that prediction to the next level with its Summit Energizer.
The company is using fermented beets, fermented turmeric and gelatinized maca powder as its three ingredients.
The fermentation of the turmeric increases the curcumin, and the fermentation of the beets doubles the amount of nitrates, which is beneficial for blood flow. Furthermore, the fermentation process makes the products more bio-available.
I love the combination of these three powerful foods, which have anti-inflammatory, anti-cancer, and stamina-building properties.
Overall, it is a great formulation with a smooth taste and is perfect to add to a pre-workout drink.
The company anticipates that Summit Energizer will be available for sale on its website by June 1st and in select regions of the U.S. by the summer.