Best Trade Show Booth at Natural Products Expo West 2015 – Nature's Path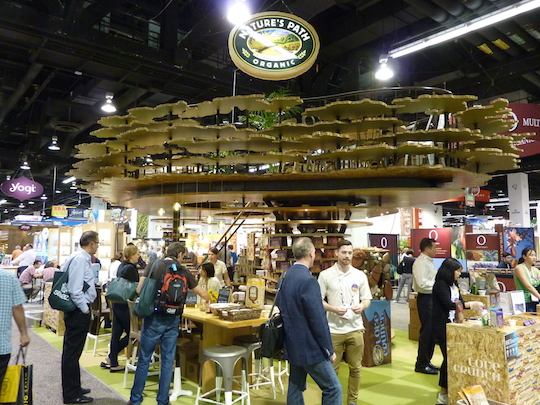 After Natural Products Expo West and Natural Products Expo East, I give my award for the best trade show booths.
Some companies put a tremendous amount of effort and resources into their booths, and I like to recognize the brands that go the extra mile in this area. To me, it speaks volumes about what kind of a company they are.
At Natural Products Expo West 2015, the clear cut winner was Nature's Path. Not only was it the best one of the show, but it was one of the most compelling and thoughtful booths I've ever seen.
According to Candice Macalino, Marketing Events Manager at Nature's Path, "In celebration of our company's 30th anniversary, we wanted our booth to reflect our deep organic roots, how we have grown as a family business, and the delicious organic foods we produce to nourish people and the planet. A tree was the perfect symbol.
"As our mission is to always leave the earth better than we found it, the team was sure to keep sustainability in mind when selecting building materials."
Key Highlights:
· The tree and counters were made from using a low-emission, urea-formaldehyde-free material (Oriented Strand Board) that is recyclable at the end of its life.
· The counter faces are made with upcycled Nature's Path cereal boxes.
· All of the lighting was LED fixtures for very low voltage consumption.
· The flooring was made with renewable and recycled content, and is recyclable (the tiles can be sent back to the manufacturer for recycling).
· The tree foliage is cut from Falcon Board – the only graphic display board made from reusable, renewable and 100% recyclable kraft paper honeycomb material.
· In order to maximize space, a canopy level was created above for meetings.
Nature's Path worked with two great partners who helped execute this phenomenal tree.
Ruf Project, a Vancouver multi-disciplinary design/architecture firm founded by Sean Pearson, came up with the design of the booth. Sean Pearson previously led the environmental brand design team as Design Director for Nike in Europe, the Middle East and Africa.
Additionally, Pinnacle Exhibits fabricated the booth with sustainable materials. They have over 15 years' experience and are the recipients of over 55 industry awards.
In the booth, the company was handing out copies of its fantastic book "The Earth is Ours", written by Arran & Ratana Stephens' daughter Gurdeep, which celebrates the history of 30 organic years as Nature's Path.
Overall, the booth displayed outstanding creativity, design, and thoughtfulness, especially in regards to the eco-friendly materials.
Awesome job, Nature's Path! You have set a real standard for what a trade show booth should be.