Wednesdays at Whole Foods – Mendocino Farms Investment, Christmas Trees, Rice Bowls in Los Angeles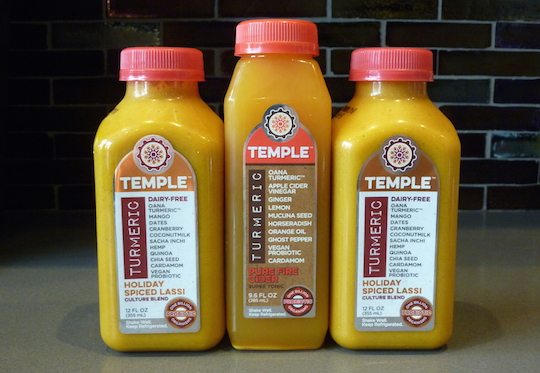 On the first Wednesday of every other month, I have a column called Wednesdays at Whole Foods. It showcases the most interesting news, exclusive products, store events, and happenings at the company.
A SIGN OF THINGS TO COME?
In October, Whole Foods Market made a very interesting strategic move – it took a minority stake in Mendocino Farms, an 11-unit, healthy fast-casual sandwich chain based in Los Angeles.
On the surface, the partnership seems like a natural fit, in both its product offerings and corporate culture. Mendocino Farms is aligned with the Slow Food movement, sources local and organic ingredients from farmers who utilize sustainable practices, makes its sauces and dressings from scratch, and embraces the Conscious Capitalism philosophy.
As part of the deal, it has been reported that Mendocino Farms will open locations in several of Whole Foods Market's Southern and Northern California stores, including the new 365 stores, which will debut in 2016.
Even though Whole Foods Market has a Local Producer Loan Program, where it makes loans to vendors, and has made outright grants to food start-ups, I have long believed that Whole Foods Market ought to have its own venture capital arm, a relatively common practice of many large corporations, particularly those in technology.
Not only would young companies be able to leverage Whole Foods Market's distribution, operational and supply chain expertise, but Whole Foods Market would benefit tremendously as well. It would get early access to innovative products, technologies, and concepts, which would both enhance the shopping experience for Whole Foods Market's customers and help it stay one step ahead of the competition.
Furthermore, Whole Foods Market would get stakes in companies that could potentially be worth a good deal of money one day.
With the healthy fast-casual restaurant segment really taking off, SweetGreen and Tender Greens as two notable examples, Whole Foods Market made a very savvy move here with Mendocino Farms. I wonder if, and hope that, this is a sign of things to come.
PLANT A CHRISTMAS TREE
If you're looking for a sustainable option for a Christmas tree this holiday season, Whole Foods Market has come up with something fantastic.
The company is joining forces with American Forests, the oldest national non-profit conservation organization in the U.S., to offer a special one-for-one deal.
For every full-sized evergreen sold at Whole Foods Market, the company will make a donation to American Forests, so it can plant a tree in one of its domestic wild land projects in the U.S.
Interesting Facts: The 1 million acres of Christmas trees growing in the U.S. produce enough oxygen for 18 million people per day. And for every tree harvested, an estimated three new seedlings are planted.
ON THE SHELVES
The following products are exclusive to Whole Foods Market and will all be in stores within the next month. 
Temple Turmeric has come out with two very innovative products – the Holiday Spiced Lassi and Pure Fire Cider – both of which support the immune system and inflammation balance.
The Holiday Spiced Lassi is particularly interesting because it is the first vegan lassi of its kind. Other impressive ingredients include a vegan probiotic strain, sacha inchi, cardamom, and Hawaiian Oana turmeric.
Based on an ancient recipe from herbalists and holistic practitioners, the Pure Fire Cider also contains a vegan probiotic strain plus horseradish and apple cider vinegar.
Susty Party, the Brooklyn-based start-up which sells fashionable and sustainable party goods, has launched a line of paper towels and garbage bags.
The chlorine-free paper towels are made from 100% recycled paper and minimum 20% post-consumer waste. The plant-derived garbage bags are heavy-duty, non-toxic and certified compostable. Furthermore, profits from these garbage bags support Whole Planet Foundation.
PBS KIDS has partnered with Whole Foods Market to launch new sustainable, non-toxic, educational toys this holiday season.
Called PlanToys, this line of toys is assembled using certified formaldehyde-free E-zero organic glue in place of traditional wood glue and does not use chemical dyes containing lead or other heavy metals. Additionally, PlanToys sources all materials within a 40-mile radius of its factory, which runs on bioenergy, and all toys cost less than $30.
100% of the net proceeds from the purchase of these toys in this holiday partnership will support PBS KIDS' mission to empower children to succeed in school and in life. Additionally, Whole Foods Market will donate 1% of total sales, up to $25,000, to Whole Kids Foundation.
The little kids in my life will definitely be getting these this holiday season.
LAST BITES
Acclaimed Los Angeles chef Roy Choi opened a second outpost of his Chego restaurant inside of the new downtown Los Angeles location. What's particularly notable is that everything will be organic and will adhere to Whole Foods Market's quality standards, a new direction for this restaurant chain.
Chego has a reputation for amazing rice bowls and is serving favorites such as the Beefy T Bowl, Chubby Pork Belly Bowl, Leafy T, and The Spiiiiinach Salad. I can't wait to check this place out.
The Zoe Report gives a rundown of the 10 best selling beauty products at the company. Fascinating stuff.
In partnership with Solar Alternatives and Nissan Motors, the Broad Street store in New Orleans hosted the city's first electric vehicle expo.
Electric Vehicle Day NOLA 2015 showcased six different electric vehicles, demonstrated charging systems from ChargePoint, and featured a mobile solar generator system, all with the goal of teaching people more about electric cars.
Lastly, from December 2nd to the 8th, Whole Foods Market will be serving freshly baked chocolate chip cookies for 25 cents each. This treat comes just in time for National Cookie Day on December 4th.
National Cookie Day? Who knew?