Wednesdays at Whole Foods – Spa Time, 365 Makes it Official, and Back-to-School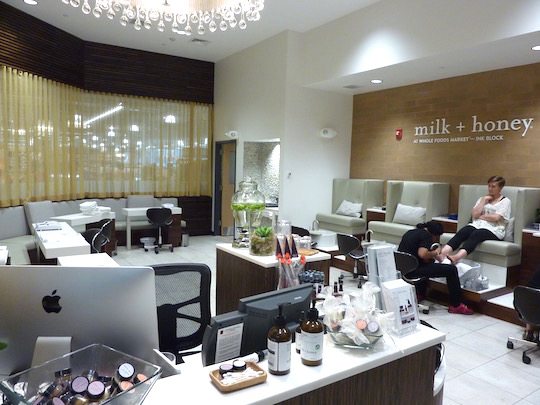 On the first Wednesday of every other month, I have a column called Wednesdays at Whole Foods. It showcases the most interesting news, products, store events, and happenings at the company.
GETTING PAMPERED
In its willingness to constantly test out different concepts and offerings, Whole Foods Market decided to try something that it had never done before – it opened a spa at its new location in Boston earlier this year.
Figuring that when shoppers come in for cheese or spinach, they might also want the convenience of booking a manicure, waxing, hot shave or shoe shine, using all natural and organic ingredients.
Austin, Texas-based milk+honey operates this spa, a "store within a store", at the Ink Block development in the South End on Harrison Avenue, a location which also happens to be the former building of the Boston Herald, a long-time newspaper in the city.
Located in an enclosed section of the store, near the beer, wine, and Whole Body departments but far away from dairy and meat, the spa does an excellent job of both integrating itself yet not interfering in the slightest with the traditional food shopping experience.
I don't know if the spa is doing something to the energy of the store or if I am just very drawn to the appealing amenities, layout, and design of this new location, but this is by far my favorite Whole Foods Market store in the entire chain.
I look forward to going there like no other.
PUTTING DOWN ROOTS
A few months ago, the company created massive news when it announced that it would open up a lower-priced supermarket chain under a new name. Co-Founder and Co-CEO John Mackey said that this chain would be "hip, cool, and tech-oriented".
A short time after that, we learned that this new brand would be called 365 by Whole Foods Market, and just last week, we got more details.
In the second half of 2016, the first five locations of 365 by Whole Foods Market will open in:
the Silver Lake neighborhood of Los Angeles (the first to open)
Houston, Texas
Santa Monica, California
Bellevue, Washington
Portland, Oregon
Not surprisingly, each of the new 365 stores is opening in a market where it currently operates, which will allow it to leverage an existing team member base and infrastructure. From an operational perspective, this makes a lot of sense.
The company also announced that it will double the number of 365 by Whole Foods Market store openings in 2017. Based on the selection of the first five, I would expect most, if not all, of these stores to be located on the West Coast.
ON THE SHELVES
The following products are exclusive to Whole Foods Market and cannot be found elsewhere. They will be rolling out to stores over the next month.
Green Valley Organics has introduced a lactose-free Green Apple Kale Kefir. This creamy smooth cultured milk is made with no lactose or added sugar, and it contains 10 live and active cultures.
This kefir is certified organic, Certified Humane®, certified kosher, and gluten-free, and is made in a solar-powered creamery in Sebastopol, California. The product's milk and cream come from certified organic family farms in the heart of Sonoma County, located north of San Francisco along the California coast.
Garden of Eatin' has launched Tuscola County blue corn tortilla chips made with organic whole corn kernels. The product is Non–GMO Project verified, gluten-free and certified kosher, and is available both in Sea Salt and Tomato & Cilantro.
And what's Tuscola County? Well-known for its high quality fruits and vegetables, it is an agriculturally diverse area located in the "thumb of Michigan" and is surrounded on three sides by Lake Huron.
Candle Café, a fixture in the organic restaurant scene in NYC for decades and a regular destination for media titans and celebrity vegans, has launched its own line of empanadas.
They come in three flavors – Plantain & Black Bean, Chili Tempeh Vegetable and Chipotle Vegetables – and are made with 70% organic ingredients. And, naturally, they are vegan. Congrats, Joy!
If you have any young children in your family, they are in serious luck. In a back-to-school partnership with PBS Kids, Whole Foods Market is now offering 100% organic cotton backpacks.
Made by Esperos, these backpacks have machine washable and adjustable straps, the hang tags are made with recycled materials, and they contain interior and exterior pockets.
LAST BITES
In my October 2014 column, I wrote about how the new store in Houston would have its own brewery.
Well, now this brewery will be taking the Whole Foods Market brand of beer on the road. The company plans to sell its own line of beer in all of its Texas stores.
The company's small producer grant program has given money to help fund 36 food and body care start-ups in Northern California.
If you ever live in Miami Beach, which I did for three years, one name that constantly pops up when it comes to new condo developments is Chad Oppenheim. This highly sought-after architect now is involved in the design of the new location on South Beach, and Architectural Design magazine recently did a feature on its sleek design.
Whole Foods Market is celebrating social enterprise in Africa through the work of some amazing brands, including LIFE Line, Alaffia, Madecasse, and Allegro Coffee.
Lastly, Whole Planet Foundation (WPF) just funded its 1 millionth loan for poverty alleviation.
As someone who has experienced first-hand the incredible work of WPF, I am thrilled to see this piece of news.