Wednesdays at Whole Foods – JugoCool, Bee Time, Fashion Week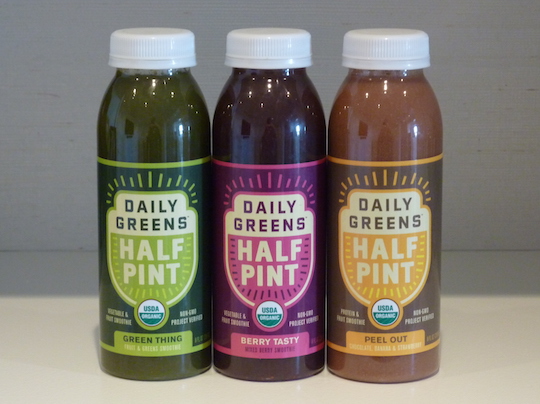 On the first Wednesday of every other month, I have a column called Wednesdays at Whole Foods. It showcases the most interesting news, products, store events, and happenings at the company.
MASHING UP MIAMI
A few months ago, JugoFresh, a pressed organic juice company with several retail locations in South Florida, opened up a "store within a store" at the new Whole Foods Market in downtown Miami.
This is quite unusual because JugoFresh is one of the very, very few external vendors to have such an arrangement, out of the hundreds of Whole Foods Market stores worldwide. (All items are paid for at the JugoFresh counter, instead of the regular Whole Foods Market checkout line.)
Along with offering its regular menu of pressed organic juices, smoothies, and salads, JugoFresh founder Matthew Sherman, Executive Chef Paco Laszlo and his product development team created a Mash Up bar for this location.
The Mash Up bar is a healthy twist on the frozen yogurt craze and incorporates organic superfoods. A few sample items are the Sammy Rosa (strawberry-coconut yogurt, buckwheat granola, berry mix, medicinal chocolate) and Hasta Manzana (chia pudding, blueberry buckwheat cereal, apples, lemon cashew cream).
What else is notable is that since JugoFresh is operating its own store, it is able to sell "raw" juice, which means that its pressed juices haven't been pasteurized or processed via High Pressure Pascalization (HPP). Normally, all brands selling their pressed juices at Whole Foods Market stores must pasteurize or HPP their products.
I have been a huge fan of JugoFresh for quite a while now and absolutely love what this company is doing. The juices and smoothies are excellent, the branding is as good as anyone in the pressed juice industry, and the customer experience is superb.
While there are no current plans to open additional JugoFresh locations within other Whole Foods Market stores, I could easily see that changing.
The demand for pressed organic juice will only continue to grow, and according to Matthew Sherman, it has been a "great partnership" working with Whole Foods Market.
THE BUZZ WE ALL NEED
With Colony Collapse Disorder becoming a more serious problem each year (U.S. honey bees are dying off at an annual average rate of nearly 30%), it is great to see Whole Foods Market so committed to addressing this issue.
From April 16 – 28, the company will again be teaming up with the Xerces Society to raise awareness about the plight of the pollinators through its Share the Buzz campaign.
As part of the campaign, on April 18th, Whole Foods Market will be hosting a "Party for the Pollinators" in-stores nationwide that will include fun events and education for consumers as to how they can "bee" part of the solution.
Shoppers can also make a difference by purchasing bee-friendly products that support the Xerces Society.
* 365 Everyday Value Pollinator-Friendly Almond Butter – $0.50 for every jar sold between April 16 – 28.
* Blue Diamond Almond Milk – $1 per box sold on April 18th.
* High Mowing Organic Sunflower Seeds sold at store checkouts – $1 per packet or 100% of every packet sold at store checkouts on April 18th.
Through the Share the Buzz campaign, Whole Foods Market hopes to raise $150,000 for the Xerces Society to help it reach its goal of planting 100,000 acres of pollinator habitat within the next 12 to 18 months.
Since 2012, the company has raised more than $462,700 for the non-profit, which has helped to create or improve 169,000 acres of pollinator habitat in the U.S., reduce the use of agricultural pesticides, and train people in pollinator conservation techniques.
The pictures below illustrate just how important bees are. It is pretty frightening.
ON THE SHELVES
The following products are exclusive to Whole Foods Market and cannot be found elsewhere. They will be rolling out to stores over the next month.
Pressed organic juice brand Daily Greens recently launched a new line of half-pint, veggie-based, organic smoothies that come in 3 varieties – Green Thing, Berry Tasty and Peel Out.
Ten cents of every bottle sold is donated to Whole Kids Foundation, and these nutrient-dense smoothies are just the right size to pack in kids' lunch boxes. My personal favorite is the Peel Out – so good! These smoothies are in stores now and are also Non-GMO Project verified.
DeLallo is introducing out a 100% organic, 100% Italian "00" flour, something perfect for pizzas, pastas, breads and crostata.
"00" refers to the grind of the high quality durum, which is grown and harvested in Italy. The fine grind, along with its ideal content, creates the desired elasticity for pizza dough — from the thin and crisp Neapolitan-style crust to thicker chewy focaccia.
Cascadian Farms is introducing two new items – an organic buzz crunch cereal and honey apple granola. For each product purchased on the "Party for the Pollinators" day on April 18th, the company will donate $1.00 to the Share the Buzz campaign.
Wholesome Sweeteners is launching a brand new, Biodynamic and fair trade cane sugar, and they're available in 1.5lb bags. It's fascinating to see a Biodynamic cane sugar.
In the next few weeks, get ready to see a new organic protein almond milk from Orgain.
What is unique about this product is that it will have 10 grams of organic, plant-based protein. This drink will come in two flavors – with only 6 grams of sugar in the lightly sweetened variety – and is vegan, dairy-free, gluten-free, and soy-free.
Furthermore, the almond milk is sustainably produced and bee-friendly. All of the almonds come from an organic dry farm with no run-off, and the almonds are planted alongside organic olive and citrus groves. More crop diversity means happier bees!
LAST BITES
Very good news for strawberry lovers. From April 1 – 6, all Whole Foods Market stores will be offering organic strawberries for $3.99 or less.
A fascinating profile of John Elstrott, serial entrepreneur, investor, and chairman of the Board of the Directors of Whole Foods Market. He hints that "Mexico may be next" for the company.
Along with the popular restaurant review site The Infatuation, Whole Foods Market will be hosting the first-ever social media-sourced bake sale on April 11th.
The new store on the Upper East Side in NYC has its own cheese club.
In celebration of March Madness, the wildly popular college basketball tournament, stores in Kentucky will be selling a "Burning Couch Cake".
The days of buying CDs at the checkout line might be coming to an end.
Here's a trend forecasting firm's take (and video) on what it might be like in the future to shop at Whole Foods Market with your iWatch. Pretty wild stuff!
Lastly, a big shout-out goes to Maren Giuliano, Executive Global Whole Body Coordinator, and her team who put on a fantastic fashion show at Natural Products Expo West 2015 a few weeks ago.
The show was called "Beauty in all Beings" and featured Whole Foods Market's apparel suppliers. Most importantly, $100,000 was raised that night for the Whole Planet Foundation. This is enough to fund 523 new microloans, which will help an estimated 2,615 people worldwide.