Top 5 Organic Food Products at Natural Products Expo East 2017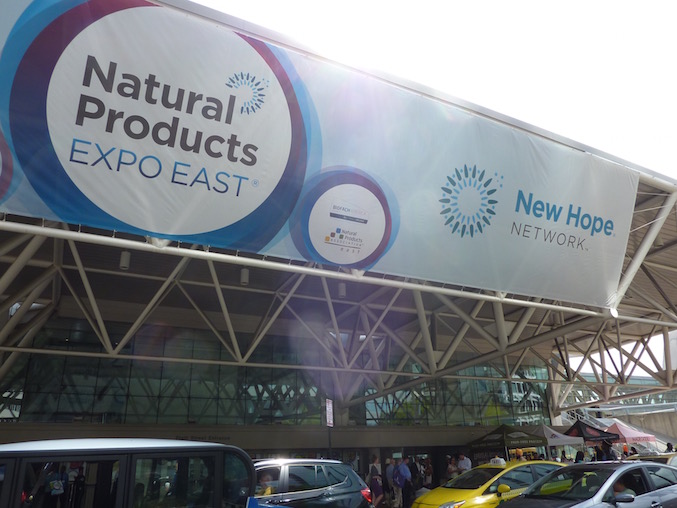 I just got back from a fantastic few days in Baltimore attending Natural Products Expo East, the organic industry's second largest trade show of the year.
In all of my years attending Expo East, this might have been the best one yet.
There was an abundance of excellent innovation, and many interesting up-and-coming brands exhibited for the first time. Furthermore, both the crowds and the pace of the show were not overwhelming, as is often the case at Natural Products Expo West.
In today's Organic Insider, I give a recap of the show and discuss the three trends that really stood out to me.
To read this analysis, just sign up for a free trial of Organic Insider (no credit card required), and I will send it right over to you.
As I do after each show, here are My Top 5 Organic Products of Natural Products Expo East 2017.
MOZZA SUSHI
When I visited the Mozza Risella booth, one of the guys working there immediately handed me a cup of rice-based ice cream and said "Are you ready for the best thing in the entire show?"
After looking down, realizing that the company was launching a line of vegan sushi and then tasting it, I told him "You have it all wrong. You need to be saying that this sushi is the best thing in the show, not the ice cream."
Called Mozza Sushi, this was the very first certified organic vegan sushi that I had ever come across. Even though it has been many years since I have eaten sushi or any type of fish, I was completely blown away by both the taste and texture of this vegan sushi.
One of its key ingredients is the sprouted brown rice, which is grown in Italy and is arsenic-free. This vegan sushi also uses the Mozza Risella plant-based cheese and contains no sugar.
Launching in January, the assorted vegan sushi will come in 4, 8 and 12-piece packs, and it will ship frozen when ordered on the company's website. Retail is also expected in 2018.
MAKER OVERNIGHT OATS
With a few hours left on the final day of the show, Barry Nalebuff, professor at the Yale School of Management and co-founder of Honest Tea, greeted me with a tray of his overnight oats. After sampling his great-tasting product and hearing his pitch, it was obvious to me that he has something very compelling with Maker Overnight Oats.
Given that overnight oats are becoming an emerging trend, Maker is capitalizing on this with very clean ingredients, beautiful branding and smart packaging. The single serves come in glass jars while the boxes contain five single-serve packages to take with you on the run. And this part is critical.
When going to the office, I may want to bring the jar but when traveling, I'd rather take something that I can easily throw in my bag or suitcase, without worrying about it getting crushed or breaking. Maker Overnight Oats understood this and designed its products to be both functional and versatile, fully taking into account in a person's varied lifestyle.
The company will be launching with three flavors – Mulberry & Chia, Banana & Coffee, and Apple & Coconut. My favorite flavor of the three was the Banana & Coffee, and it is made with oats, dates, bananas, dried coconut, chia seeds, coffee, cinnamon and nutmeg. No sugar added.
Maker Overnight Oats will be launching direct-to-consumer on its website in January and in retail throughout the U.S. beginning in February.
MIYOKO'S "UN-LOX" VEGAN CREAM CHEESE
Growing up, bagels and lox were a staple at weekend brunches and during certain holidays.
Since that time, I have stopped eating bagels and all white bread. And I have also given up fish, although I am not a vegan.
While I no longer eat those foods, the fond memories associated with them have not disappeared in the slightest.
Maybe that is why I was so drawn to Miyoko's "un-lox your dreams" vegan cream cheese, which I thought was the best cheese of the many that the company was sampling at its booth.
Miyoko's, a leading name in the plant-based cheese category, really nailed it with this one. The smooth texture was fantastic, and most importantly, it tasted just like lox.
Expect this product to be rolled out to stores nationwide in the second quarter of 2018 and available for purchase on the company's website in January.
WHITE LEAF PROVISIONS' BIODYNAMIC APPLE + PEAR SAUCE
As I have written about before on Living Maxwell, it is my belief that Biodynamic foods are the best-tasting organic foods on the market. Why?
Because of the way that they are grown. Biodynamic farming practices go beyond what certified organic rules mandate.
When I tasted White Leaf Provisions' Biodynamic Apple + Pear Sauce for the first time, it was apparent that this was a super-high quality product and given what I know about Biodynamic, I was not surprised in the least.
Certified Biodynamic by Demeter USA and regeneratively farmed (grown in an ecological manner that that helps to regenerate the soil and planet), While Leaf Provisions' Biodynamic Apple + Pear Sauce is made with seasonal fruit, which includes Jonagold apples and Red Bartlett pears. It contains no added sugar or salt, and is made with BPA-free and recyclable packaging.
The product can be purchased online and is available at select retailers throughout the country.
If you're not familiar with Biodynamic, please make sure you read this article.
ACAI PALMITO WILD HEARTS OF PALM
When I walked by the Acai Palmito booth, I nearly kept walking because it seemed like just another company selling acai powder.
Fortunately, I stopped to take a look and was thrilled at what I discovered.
Not only is it very difficult to find certified organic hearts of palm, but it is next to impossible to find certified organic hearts of palm in glass jars.
Acai Palmito has solved this problem and is offering the most delicious hearts of palm I have ever consumed. I had to do my best not to eat the entire tray you see above.
Why the name Acai Palmito?
The company says that acai berries grow at the top of the palm tree, the same tree from where it gets its hearts of palm.
What also makes this product unique is that the palm trees grow wild, instead of being farmed, in the pristine Amazonian rainforest of Guyana. Fair for Life certified, Acai Palmito expects to be in retail locations nationwide in 2018.