Top 5 Organic Food Products from Natural Products Expo West 2019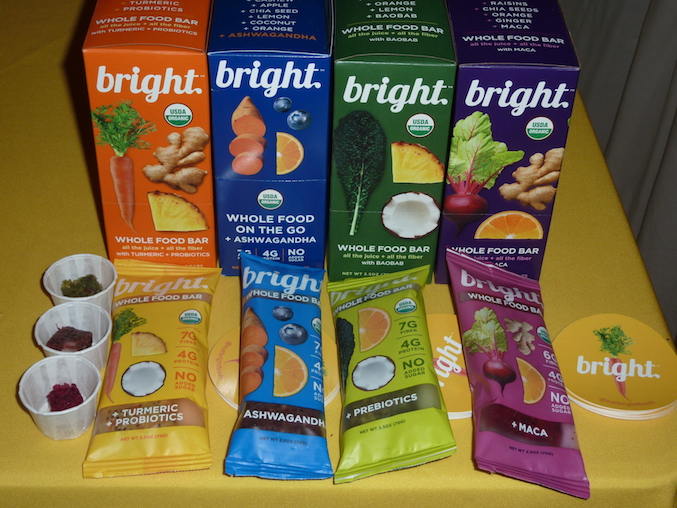 As I do after each Natural Products Expo West, I name my top picks of the show.
With 3,600 companies having booths at this year's Expo West, not only was it a challenge to narrow down my long list of great products but actually seeing everything was extremely difficult as well. This show keeps getting bigger and bigger, and fortunately, the quality of offerings improves along with it.
Below are my Top 5 Organic Food Products from Expo West 2019 and if you'd like to read my key trends, full analysis and takeaways from the show, be sure to check out this week's Organic Insider.
—
WHOLE FOOD BARS FROM BRIGHT FOODS
The most innovative product I came across all week at Expo West were the whole food bars from Bright Foods.
What makes these bars so special is they are the very first HPP, refrigerated bars on the market. And because no co-packer had ever manufactured them before, the company needed three years to figure out and perfect the process on its own.
According to founder Brenden Schaefer, "It was a really tall order. No one had ever made a bar from fresh produce before, let alone HPP'd it, and there were a ton of big, first principle questions to figure out. How do you combine a bunch of fresh veggies and fruits into a bar and keep all the juice and the fiber inside? How do you do that without using any strange chemical binders? How do you get it to taste great for 80-90 days without baking the product? And most importantly, how do you make it taste delicious?"
Well, all of that hard work certainly paid off because this is a delicious and unique product that truly has no peer. Customers are the real winners because being able to eat a fresh bar made with organic fruits, vegetables and superfoods is a privilege.
The bars from Bright Foods come in four flavors – ashwagandha, maca, prebiotics, and turmeric probiotics — and up until now, they have only been available in Southern California at Whole Foods, Erewhon and Lassen's.
However, the company is now shipping nationally through its website and next month via Amazon.
ALMOND DIPS BY NEW BARN ORGANICS 
When people who are new to Expo West ask me what they should look for or visit during the conference, I always respond, "Make sure you go to The Fresh Ideas Tent on the opening day of the show."
Why?
Without fail, I always find exceptional new organic products at the tent and this year was no exception, as two products on this list were discovered there.
The almond dips from New Barn Organics were one of them, and within seconds of tasting this product, I knew for sure this was a winner.
New Barn Organics is a plant-based brand that I have been following for several years, as the company's ice cream was named as one of my Top 5 Organic Food Products of Expo East 2016. While I have been a fan of their ice cream and milks for quite a while, these almond dips blew me away. And I told founder Ted Robb these will take New Barn Organics to the next level, in terms of recognition as a leader within the plant-based space.
It is hard to find great-tasting, organic plant-based dips, and the company is addressing a real void in the marketplace. They are light and delicious, made with whole food ingredients, and come in five flavors – garden herb, lemon dill, habanero, beet, and red pepper.
Expect to see these almond dips from New Barn Organics in retailers nationwide later this summer.
A2 GINGER TURMERIC MILK BY ALEXANDRE FAMILY FARM 
Another phenomenal product that I found in The Fresh Ideas Tent was the organic A2 ginger turmeric milk from Alexandre Family Farm.
What you may very well be asking is: what is A2 milk?
And, no, nothing is genetically engineered here.
Traditionally, cows produced milk with A2/A2 beta-casein protein, but over time, a mutated A1 gene worked its way into dairy cattle. It is believed that many people's bad reactions from dairy — gut issues, inflammation, congestion, autoimmune diseases — are a result of consuming the A1 protein. As such, a majority of people self-diagnose themselves as lactose intolerant.
However, Alexandre Family Farm has found that about 80-90% of people who think they are lactose intolerant are actually A1 intolerant. Many of these people can actually drink A2 milk with no problem.
Goat, sheep, water buffalo and even breast milk are all A2/A2 beta-casein protein, and the company breeds and tests all of its cows so consumers can trust that the organic milk is always 100% pure A2/A2. The milk is non-homogenized, low temperature pasteurized, American Humane Certified, contains 4.5% butterfat and is produced on a grass/pasture, fifth-generation family farm in California. Additionally, Alexandre Family Farm is part of the Regenerative Organic Certification pilot program.
The organic A2 ginger turmeric milk from Alexandre Family Farm is only available on the West Coast as of now, and A2 milk is a trend that should explode in popularity once people understand how it is different from regular A1 milk.
HEIRLOOM PASTA SAUCE BY NAPA VALLEY TOMATO CO.
Who doesn't love heirloom tomatoes? And if you can use them to create a pasta sauce, even better.
Maybe that is why I was immediately drawn to the superfood heirloom pasta sauce from Napa Valley Tomato Co.
Heirloom tomatoes are generally regarded as having superior taste and nutrition vs. hybrid tomatoes, and this pasta sauce did not disappoint in the slightest. Upon trying it, my first thought was this could be eaten alone as a soup. It was perfectly sweet and rich, combined with excellent texture.
The company claims it is the only organic pasta sauce made with 100% heirloom tomatoes (tomatoes that have not been cross-bred for at least 50 years), and the product also contains kale, red bell peppers, onions and garlic. No added sugar.
Napa Valley Tomato Co.'s superfood heirloom pasta sauce is available at retailers nationwide including Safeway, Central Market, Dierbergs and Raley's.
TOASTED SESAME PLANT-BASED CHEESE SPREAD BY LEGRAND
As I have mentioned before, I know a product is going to make my Top 5 list when I embarrass myself and eat sample after sample.
Well, that is what happened when I was at LeGrand's booth devouring its toasted sesame, plant-based cheese spread.
Free of any oils, gums, natural flavors and fillers, the toasted sesame spread is made with filtered water, cashews, coconut cream, ground black pepper, sesame seeds, chickpeas, garlic, sea salt and spices. It is perfect on crackers. Or, in my case, many crackers.
LeGrand is a Canadian company and expects to enter the U.S. market with this product in May or June of this year. Beautiful packaging, too.