10 Organic Food Stories You Need to Know About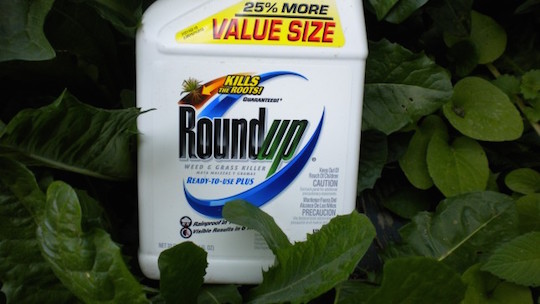 Here are 10 organic food news stories you need to know about.
1) California just dropped a BOMBSHELL about glyphosate causing cancer.  Several months ago, the World Health Organization said that glyphosate, the primary ingredient in RoundUp, Monsanto's $6 billion a year weed killer, was "a probable carcinogen" – which means that it "probably causes cancer".
Now, the State of California intends to declare that that glyphosate "causes cancer".
WOW!!!  This is major.  
If California does in fact declare that glyphosate causes cancer, there needs to be very serious debate about putting warning labels on glyphosate-sprayed food.
2) September is a big month online for organic.  In September, the Organic Trade Association is running a 30-day social media #OrganicFestival aimed at bringing the entire organic industry together behind a common theme and mission to correct long-held myths and misconceptions about organic.
Each week will have a different theme — organic labeling, organic health, organic value, organic production, organic beyond food.
3) GMO-industry and its apologists get exposed. All we hear about is how these so-called "independent experts and scientists" say that GMOs are completely safe.
Yet, no one in the organic industry believe that they are independent, and this is just one big PR spin.
The New York Times gives us an inside, and sickening look, at how this whole propaganda machine works. As it turns out, there is written proof that Kevin Folta, the University of Florida professor who received $25,000 from Monsanto, told the company "I'm glad to sign on to whatever you like, or write whatever you want."
Now, that is independent thinking and integrity at its finest.
4) Cuba is showing the world what organic can do.  One of the things that I think about is that as Cuba normalizes relations with the U.S., it is only a matter of time before GMOs and super-toxic pesticides infect the island.
With very limited resources, meet the farmer who is starting an organic revolution in Cuba. Such an inspirational story!
5) What is the USDA hiding?  Center for Food Safety (CFS) filed a lawsuit against the USDA for routinely failing to respond to requests for records related to genetically-engineered crops, unlawfully delaying its responses, and withholding public disclosure of information.
The USDA has failed to provide a timely final response to at least 29 of CFS's Freedom of Information Act (FOIA) requests or appeals, and this is the fourth time that CFS has had to sue the USDA for failure to comply with FOIA rules.
This is nothing short of a total disgrace and is a complete mockery of an open and transparent government.
6) Increased distribution for farmers.  A fascinating development emerged this week as it was announced that Amazon is testing out a service that delivers farmers market produce to homes, all within 36 hours of harvest.
7) Organic food in schools is gaining traction.  If I had kids, I would demand that they eat organic at school. Apparently, other parents feel the same way.
The public school district in Marin County, near San Francisco, is now the first in the U.S. to serve all-organic, non-GMO meals. Awesome!
8) More news about organic and marijuana.  Even though I quit smoking pot many years ago, it is something that I definitely keep an eye on, especially since there seems to be a lot going on with organic and cannabis.
Not only is there an Organic Cannabis Association, but scientists fear the coming of GMO marijuana. Naturally, they suspect that Monsanto is going to get into this field in a major way.
With marijuana legal in many states, some enterprising entrepreneurs in Washington D.C. have rolled out a cannabis-infused pressed organic juice line.
9) Prestigious medical journal calls for GMOs to be labeled.  Arguably the most important medical journal in the country, the New England Journal of Medicine, has called for GMOs to be labeled.
Not only that, but it also calls for the Environmental Protection Agency to delay its permit to allow the use of Enlist Duo in what is commonly referred to as "Agent Orange Corn".
10) More and countries intend to ban GMOs.  A law passed in March in the European Union allows individual countries to ban GMO cultivation.
First was Scotland, then came Greece and Latvia.
And now there is word that the most important economy in Europe, Germany, will ban the cultivation of GMOs as well.
Let's hope that more countries join this list.