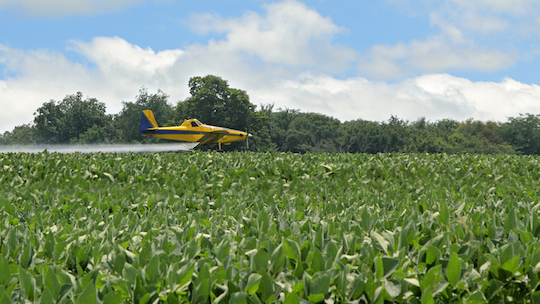 UPDATE AS OF 10/9/14: TODAY, THE EPA OFFICIALLY APPROVED "AGENT ORANGE" CORN AND SOY CROPS.
UPDATE AS OF 9/17/14: TODAY, THE USDA OFFICIALLY APPROVED "AGENT ORANGE" CORN AND SOY CROPS.
THE CENTER FOR FOOD SAFETY HAS ANNOUNCED THAT IT WILL TAKE LEGAL ACTION TO PREVENT COMMERCIALIZATION.  TO LEARN MORE, CLICK HERE.
During the Vietnam War, the U.S. used an incredibly lethal chemical called Agent Orange as part of its herbicidal warfare program.
It is estimated that 400,000 people were killed or maimed, and 500,000 children were born with birth defects as a result of spraying Agent Orange all over Vietnam.
Fast-forward 50 years later: The USDA is now telling us that it is completely safe to spray a new chemical called Enlist Duo, made up of glyphosate and 2,4-D, the primary ingredient in Agent Orange, on crops all throughout our country.
And this is despite the objections of 50 members of Congress, a litany of health, medical, and environmental experts, a group of Vietnam Veterans, prominent chefs, and 500,000 citizens, all of whom say otherwise.
WHAT'S GOING ON?
Genetically-modified food not only poses very serious health risks, pollutes our water supply, and presents an existential threat to organic food, but it has created a monster called superweeds.
Superweeds, as profiled in the New York Times a few years ago, are weeds that have become resistant to the ubiquitous herbicide RoundUp (glyphosate) and grow uncontrollably on farms all over the U.S.
In his comments to the EPA, Washington State University research professor and agricultural scientist Charles Benbrook said that "There are now more than two-dozen glyphosate-resistant weeds covering perhaps 70+ million acres."
What to do about it?
The chemical and biotech industries say that the only solution to kill the superweeds is to throw more toxic chemicals at the problem.
So, what they have proposed are genetically-engineered corn and soy crops that are resistant to the Enlist Duo herbicide. (They'll plant genetically-engineered corn/soy and spray them with Enlist Duo, with the goal of killing the weeds that grow around the corn/soy but not kill the corn/soy themselves.)
And just the other day, the USDA moved one step closer to giving Dow the greenlight to begin marketing its controversial Enlist-brand corn and soy crops.
Here's the very scary part:
* The USDA has admitted that approval of Dow's new crops will cause the use of 2,4-D to skyrocket from 26 million pounds to 176 million pounds. Scientists predict worse.
* Dow's 2,4-D is already the seventh largest source of dioxins in the U.S. and it has been linked to a number of serious illnesses including birth defects, infertility, allergies, Parkinson's disease, endocrine disruption and cancer.
At a time when cancer hits 41% of Americans and kills 21% of Americans, why in the world would we allow hundreds of millions of more pounds of toxic chemicals on our land?
The reason is simple – the chemical companies want it, even it if it is to the total detriment of the health of American citizens.
And the fact that our government is going along with this is unconscionable.
WHAT YOU CAN DO
Although we are very late in the game here,
1) Please share this post with your network, so they can know the truth about what is going on in Washington, D.C.
2) Sign the e-petition telling the USDA not to give final approval for these crops. Click HERE to take action.
The deadline is September 8th, just a few days away.
Thank you so much for your concern.
In the video above, Charlie Rose and CBS News did a story on this very controversial crop.
—-
Want to stay up-to-date on the most important news in the organic food world?
If so, make sure you Like my Facebook page, follow me on Instagram and join my email list.
To join my newsletter list, please enter your email below and I'll send you my Top 5 Inexpensive Ways to Shop Organic.