Tofu Disrupt in New York City was Truly an Amazing Night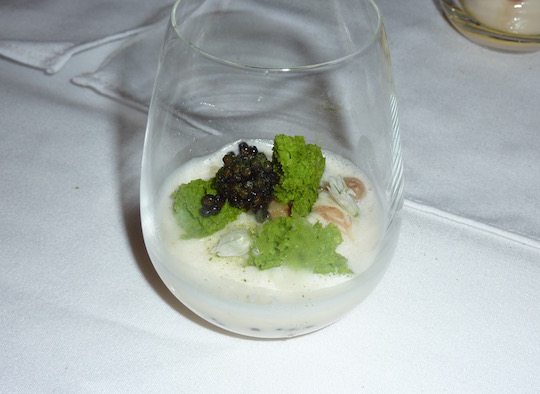 If you follow the technology industry, you are probably familiar with TechCrunch Disrupt, an event that showcases the most revolutionary and disruptive start-ups.
Well, the organic food industry now has its own version of this event called Tofu Disrupt.
While Tofu Disrupt does not put the spotlight on emerging tofu brands, its goal is to disrupt our preconceived notions of what tofu is and to make this a much more mainstream ingredient.
Hosted and conceived by Minh Tsai, my good friend and founder of Hodo Soy Beanery, the country's leading artisinal organic tofu brand, Tofu Disrupt was first held last year in San Francisco. On Monday night, it hosted its second event, this time in New York City at the International Culinary Center, and I had the very good fortune of being able to attend.
Over the past six years writing about the organic food industry, I have gone to my fair share of food events but I must say that Tofu Disrupt was one of the best that I have ever been to. Quite possibly, the best.
The night started off with a fascinating panel discussion called Changing the Way We Experience Tofu, which was moderated by the former Gastronomica editor-in-chief, Darra Goldstein. Other panelists included Minh Tsai; Jim Dodge, Director of Specialty Culinary Programs at Bon Appetit Management Company; and Kim Alter, Chef at Nightbird & The Linden Room in San Francisco.
Two very interesting pieces of information emerged from the panel discussion:
1) Hodo Soy Beanery has worked with Revolution Foods to introduce tofu guidelines to the USDA.  So, what does this mean exactly?
This means that schools across the country now have the option to offer tofu and soy yogurt products as a meat/meat alternative component in the National School Lunch Program (NSLP) and School Breakfast Program (SBP), as long as the purchased soy products meet specified nutritional and profile qualifications.
2) As a result of Hodo Soy Beanery's work with the International Culinary Center (ICC), the school is now offering a tofu program for the very first time. Minh Tsai hopes that other schools, such as the Culinary Institute of America, will soon have tofu programs as well.
The reality is that very few chefs have had much exposure to tofu and were never trained using this ingredient in school. Through the work of Minh Tsai and Hodo Soy Beanery, this is now changing.
After the panel discussion, six chefs from New York and California made various tofu dishes, all of which incorporated Hodo Soy Beanery's organic tofu products.
Needless to say, the food was out of this world, and I had a lot of troubling controlling myself.
Here is a sampling of what was served.
Chef Chris Cheung of East Wind Snack Shop created this masterpiece, which was made with braised tofu, Chinese sausage relish, bao, and tofu gratinee. Without question, it was my favorite dish of the night. Almost like a "doughy" English muffin with phenomenal flavor.
Chef Jansen Chan from the ICC came up with a Tofu "Mont Blanc" made with soy-nama yuba custard, strawberries and Earl Grey tea cream. The texture of the custard was ridiculously airy and fluffy.
Chef Lien Lin of Bricolage created a spicy lemongrass yuba noodle dish with jelly fish, peanuts, and celery hearts. Outstanding lemongrass flavor, perfect texture, so satiating.
Chef Kim Alter of Nightbird & Linden Room in San Francisco unveiled a miso-cured firm tofu with California spring vegetables, smoked nama yuba, ramp vinaigrette, and fried yuba-okara tuile. Light, refreshing, and very balanced.
Chef Nick Pfannerstill of Dovetail created this soy pudding with caviar, spring onion, and bonito butter. Rich, delicious, and and the saltiness of the caviar worked so well with the contrasting flavor of the soy pudding.
Chef Michael Recchiuti from the Recchiuti Confections & theLab treated us to an assortment of desserts including a horchata, geodesic dome bonbon, tofu biscotti, dragees, yuba crisp, and coconut husk charcoal-soy alfajores. My favorite of the bunch was the horchata, which provided a perfect ending to the night.
—
When you have phenomenal food from a variety of super-talented chefs, stimulating conversation, and an interesting and eclectic crowd, all in a beautiful loft-space in Soho, how can you beat that? The truth is that it is very difficult to do so.
But this night would not have happened without the tremendous effort and vision of Minh Tsai.
What he is doing with Hodo Soy Beanery is so impressive. Not only has he built the leading organic tofu company in the country, supplying Chipotle and Sweetgreen all of their organic tofu, but he is pushing tofu to a place where it has yet to go – into the consciousness of the broader food world.
Having watched him over the past five years, I can easily and confidently say that Minh Tsai is a veritable star in the organic industry.
If you ever have the opportunity to attend a Tofu Disrupt, do what you can to get there. This was a special night.

(with Minh Tsai, founder of Hodo Soy Beanery)