If You Want to Be Better in 2017, Don't Start the Year Without These Two Things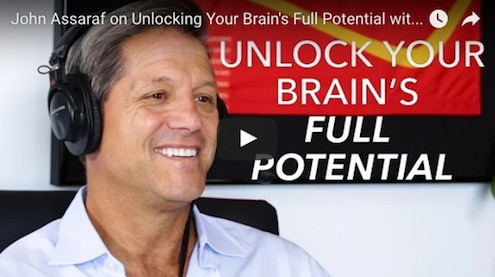 As 2016 comes to a close, many of us are strategizing, planning and visualizing how we would like 2017 to unfold. More specifically, we are giving serious thought about what we want to accomplish, how we want to be better and what kind of impact we want to have on the world.
With this in mind, I have been blown away by two things over the past few weeks that I'd like to share with you. And in my view, these are two absolute must-listen and must-read pieces of information.
LEWIS HOWES' INTERVIEW WITH JOHN ASSARAF
My friend Lewis Howes has one of the most popular podcasts on the planet – The School of Greatness – and he has interviewed some incredibly accomplished and successful people, ranging from Tony Robbins to Scooter Braun to NFL great Ray Lewis.
Yet out of the 400+ podcasts he has done, it was his very recent one with John Assaraf that impacted me the most.
Not only was it one of the best podcasts that Lewis has done, but it was one of the most impactful podcasts that I have ever listened to. How good was it?
I cannot remember ever listening to a podcast multiple times and taking notes throughout the entire interview. Furthermore, I plan on replaying it at least once a month just for the reminders.
For those unfamiliar with John Assaraf, he was in the movie The Secret. But even more impressive are his feats in the business world. Along with generating a six-figure salary at 20 years old (in the pre-Internet days), he built a billion dollar business by teaching his employees how to think correctly – by teaching them how to unlock the brain's full potential. This was and is the key to all of his success in business and in life.
In the podcast, John Assaraf discusses some fascinating concepts such as "reduce it to the ridiculous", neural tension, visualizing the obstacles, and habit is more important than intensity.
I think that I will look back many years from now and see this podcast as a seminal moment in my life, similar to how I view What the Bleep Do We Know?, a movie that I believe is the most important one ever made. Seeing What the Bleep Do We Know? played a pivotal role in helping me recover from a decade of antidepressants.
To listen to Lewis Howes' interview with John Assaraf, click HERE and you can also subscribe to The School of Greatness podcast on iTunes by clicking HERE.

TOOLS OF TITANS BY TIM FERRISS
I suggested Tools of Titans: The Tactics, Routines, and Habits of Billionaires, Icons, and World-Class Performers in my holiday gift guide but am recommending it again because this book is such an essential read.
Having interviewed world-class performers, billionaires and icons from every walk of life, Tim Ferriss summarizes the most important learnings from each and provides commentary with his own feedback and anecdotes. You get two years of podcasts perfectly summarized in one easy-to-read manual, allowing you skip around to the people and topics that you like best.
Among many other things, I was fascinated and inspired by General Stanley McChrystal's theory on the three people you should be watching, Gabrielle Reece's "be first" approach, and Tim's experience with intermittent fasting.
There are so many amazing world experts to learn from in Tools of Titans that it should be required reading for anyone who is looking to get to the next level in any area of their life.
Tools of Titans is one of those truly, truly valuable books. It can be purchased HERE.