Seasoned Vegan in Harlem is a Gem in the NYC Organic Restaurant Scene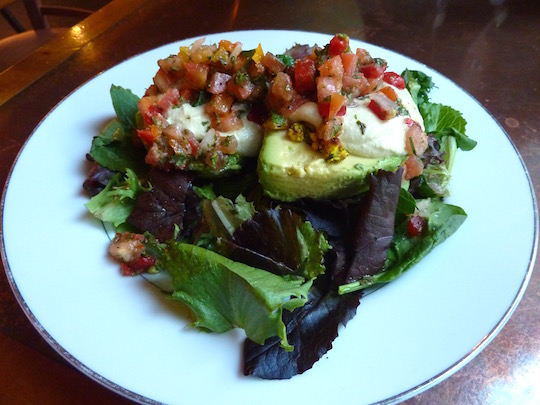 My belief that I had a pretty good pulse on the organic restaurant scene in NYC was called into serious question when I recently got an email from a reader, Joyce from Connecticut.
She told me about this place in Harlem called Seasoned Vegan, and apparently, it has been open for close to a year already. Yet, I had never heard about it before. 
Curious to see what this vegan organic restaurant was all about and fearful that my "game" was slipping, I quickly headed up to Harlem to check it out.
Here's what I had.
STUFFED AVOCADOS
These avocados were filled with almond meat and topped with cashew cream and pico de gallo. As you can tell from the picture above, everything on this plate was incredibly fresh.
RAW BURGERS
These fantastic burgers were made with pumpkin seeds, crimini mushrooms and pecans, and were topped with dehydrated onions, raw tomato sauce, avocado, cashew cheese, and dry herbs on homemade flaxseed bread.
"CRAWFISH" IN GARLIC BASIL SAUCE 
Accompanied by mashed potatoes and rice, this burdock root "crawfish" came in a garlic and basil sauce with 32 different spices.
This was the most unusual and impressive dish that I have had a long, long time. I have never seen burdock prepared in such a way — the texture was soft and easy to chew — and had amazing flavor. I was truly blown away by it.
—
Overall, I had a wonderful experience at Seasoned Vegan and would absolutely go back. The restaurant had a great energy, the food was extremely fresh, and chef/owner Brenda Beener was walking around greeting guests, something that you rarely see these days. And something that I enjoy and appreciate immensely.
Seasoned Vegan is a real gem that definitely needs to be on more people's radar screens, and I have added it to My Favorite Organic Restaurants in NYC.
If you feel that there is an organic restaurant that I might not know about but ought to, please Tweet me @livingmaxwell.
Thanks for the heads up, Joyce! It was well worth the trip.