TAKE ACTION: Tell the Senate to Reject the DARK Act, Call These Specific Senators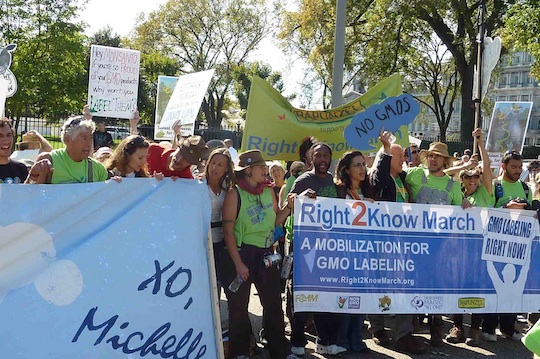 UPDATED ON MARCH 16, 2016: The Senate voted but failed to pass the DARK Act, which is a huge victory for U.S. consumers.
Expect this bill to resurface, however, after Easter. Big Food will definitely not be giving up, and we have not seen the last of the DARK Act, especially with Vermont's GMO-labeling law going into effect on July 1st.  
On Friday night, Senator Pat Roberts (R-KS) sponsored a new version of the House-approved "Safe and Accurate Food Labeling Act", an act widely known as the "Deny Americans the Right-to-Know Act (DARK Act)", and submitted it to the Senate Agriculture committee.
I have written about the DARK Act extensively in the past, and among other things, it would remove all restrictions on the planting of GMOs and make it illegal for states to label GMOs. This is particularly important since Vermont's GMO-labeling bill goes into effect on July 1st.
While everyone is telling you to call your Senators to make sure they reject the DARK Act, Andrew Kimbrell, Executive Director of the Center for Food Safety, says that there are additional, maybe even more important, steps that people need to take: calling the Democratic senators on the Agriculture Committee.
"Right now, there is only Republican support for the DARK Act on the Ag Committee, and the Republicans desperately want but don't yet have any Democrats supporting this bill.  If we can make sure that the Democrats on the Ag Committee stay strong and oppose this bill, the likelihood of a partisan DARK Act getting full Senate approval is very low," says Andrew Kimbrell.
ACTION ITEMS
Aside from calling your own Senators (http://www.senate.gov/senators/contact/), our best strategy is to call all of the Democrats on the Ag Committee, particularly Senator Amy Klobuchar (D-MN) and Senator Joe Donnelly (D-IN). These two Democrats are from the Midwest, a part of the country where Big Food has a lot of influence, and they are undoubtedly facing a lot of pressure to change their positions and support the DARK Act.
Democrats on the Agriculture Committee include:
Debbie Stabenow (MI), Ranking Member (202) 224-4822
Patrick Leahy (VT) (202) 224-4242
Sherrod Brown (OH) (202) 224-2315
Amy Klobuchar (MN) (202) 224-3244
Michael Bennet (CO) (202) 224-5852
Kirsten Gillibrand (NY) (202) 224-4451
Joe Donnelly (IN) (202) 224-4814
Heidi Heitkamp (ND) (202) 224-2043
Robert Casey (PA) (202) 224-6324
Please call all of the Senators above and tell them to reject Sen. Pat Roberts' DARK Act that would make it illegal for states to label GMOs. Anything than less than full labeling of GMOs on a product's packaging is unacceptable.
Thank you so much for supporting our right to know.