Mark Your Calendar — The Regenerative Earth Summit Is Coming to Boulder on November 6th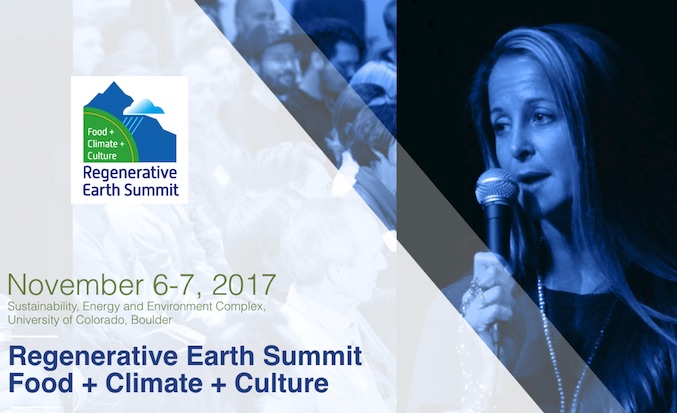 With carbon dioxide readings exceeding 400 parts per million, a dangerous threshold that has not been breached in millions of years, the climate is warming at an alarming pace. This is causing, among many other things, sea levels to rise, the oceans to become more acidified and nutrient levels in plants to decrease.
Needless to say, organic food companies are tackling this problem aggressively.
At one of the industry's most important meetings of the year, the first-ever Regenerative Earth Summit: Food + Climate + Culture will be held next month on November 6-7 in Boulder, Colorado. The purpose of this event is to review what efforts are currently being pursued and to strategize on how we can work more closely together to address this serious matter.
For a few years now, regenerative agriculture has been discussed in organic circles as a critical tool to mitigate climate change, but some people may very well be confused about what exactly this term means.
According to Regeneration International, regenerative agriculture is a "farming and grazing practice that reverses climate change by rebuilding soil's organic matter and restoring degraded soil biodiversity – resulting in both carbon drawdown and improving the water cycle."
Last month at Natural Products Expo East, a Regenerative Organic Certification standard was formally introduced by Rodale Institute, Dr. Bronner's, Patagonia and others – a very significant milestone to encourage widespread adoption.
Yet, what has ensued is a debate among industry leaders as to whether regenerative agriculture can be "regenerative" if it is not organic and if synthetic chemicals are being used.
Some believe that if farmers are embracing regenerative practices, reducing the amount of synthetic chemical they are using, and achieving improved soil health, they should not be excluded from the regenerative agriculture moniker. Others are adamant that regenerative agriculture must be completely devoid of all chemical inputs.
According to Seleyn DeYarus, Co-Founder & Executive Director of At the Epicenter, "this is a rare opportunity to have two days of conversation about regenerative agriculture – what it all means, where we need it go and what we need to do to in order to sequester carbon, improve soil health and improve the income of farmers. The goal is to build collaborative relationships across sectors and to determine what the best practices are going forward."
The Regenerative Earth Summit is being sponsored by Whole Foods Market, Patagonia, EPIC Provisions and many others, and it will feature speakers such as John Foraker, Once Upon a Farm CEO; Tom Newmark, Carbon Underground Co-Founder and Greenpeace Fund Board Chair; Katie Forrest, Co-Founder/CEO of Epic Provisions; Finian Makepeace, Kiss the Ground Co-Founder; Britt Lundgren, Director of Organic & Sustainable Agriculture at Stonyfield Farm and dozens of other industry leaders.
It is simply a matter of time before most organic companies are involved in regenerative agriculture, either supporting it or sourcing raw materials that have been grown in a regenerative manner, and this is your opportunity to be a part of this discussion and stay ahead of the curve on one of the industry's most important and pressing matters.
Tickets are very limited, and this is a one-time event. The Regenerative Earth Summit is not expected to take place again in 2018. Additionally, it will not be recorded or filmed via LiveStream, in order to create a candid environment for conversation.
To receive 20% off your tickets, use the code INSIDER20 at checkout.
I look forward to seeing you there!