Yes on Proposition 37 Giveaway: Dr. Bronner's Soaps – $50 Value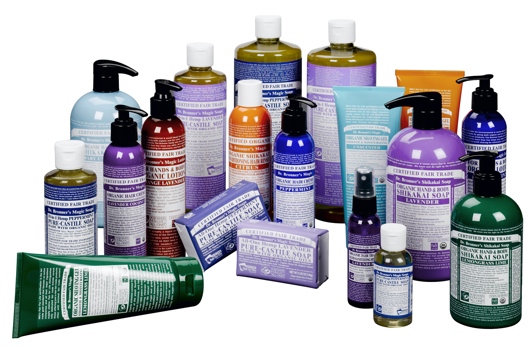 We are heading into the homestretch here with Proposition 37, California's GMO-labeling initiative, and every single dollar that we can raise is absolutely critical. Why?
Our opposition has accumulated a $40 million war chest, and they using it to bombard the public with $1 million dollars a day of misleading tv and radio ads.
As a result, our lead in the polls has diminished, and as it stands now, we are only ahead by 8 percentage points – 48% to 40%.
To help raise money for Yes on Prop 37, Dr. Bronner's has generously donated an assortment of soaps for me to give away to one winner, valued at $50.
If you are not familiar with Dr. Bronner's, let me tell you about this phenomenal brand.
First, there are very, very few people in the U.S. who have shown a greater commitment to GMO-labeling than David Bronner, the CEO of Dr. Bronner's. Here are a few things that he has done:
– Donated nearly $300,000 to the Yes on 37 campaign.
– Without one second of hesitation, gave us $1,000 to sponsor our GMO-labeling fundraiser in NYC.
– Helped fund and personally completed last year's Right2Know March from NYC to Washington D.C.
– Made a significant donation to the Non-GMO Film Project.
To be honest, it is hard to put into words just how valuable he is to our movement.
Second, his products are awesome. Dr. Bronner's soaps are of the absolute highest quality and make my skin feel so, so good. Once you try them, you'll be hooked.
HOW TO ENTER TO WIN
All you have to do is use the Rafflecopter widget below and (1) Sign up for my weekly newsletter (or send in a postcard — see official rules for details) and (2) Make a voluntary donation to Yes on Prop 37 (or comment below about why you support Prop 37). To donate to Yes on 37, click HERE.
You don't have to donate to win — this is voluntary — but hopefully you'll find a way to donate something! I have already donated several hundred dollars and plan on giving more this week. Even if you can only donate $10, every little bit helps!
This contest ends on Wednesday at midnight EST.
PLEASE NOTE: This sweepstakes is open to US residents only; residents of Florida, New York or Rhode Island are not eligible.