Eco-Friendly Fridays: Why Natura paint by Benjamin Moore is Something that Every Homeowner Should Consider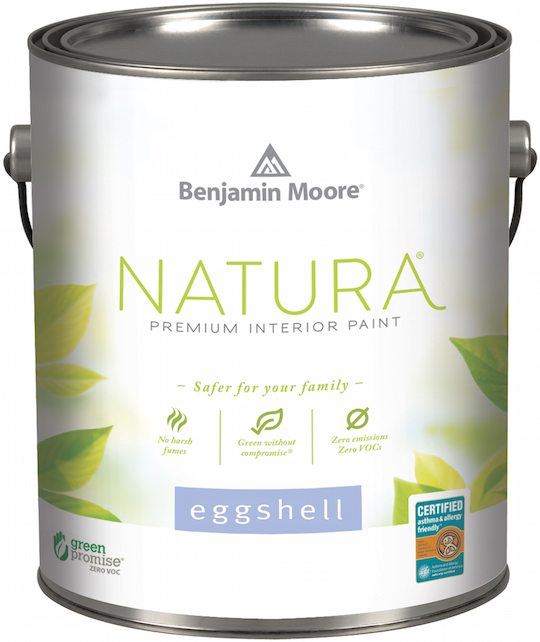 On the third Friday of every month, I have a column called Eco-Friendly Fridays. I started this column because I run across so many amazing organic, non-food items that I want my readers to know about.
—
When people think of having a non-toxic, green household, the first thing that generally comes to mind are cleaning supplies.
While the type of products that we use to clean our clothes, floors, and bathrooms are unquestionably important, the kind of paint that we put on our walls is equally as critical.
Maybe that is why the Natura line from Benjamin Moore, the company's most environmentally friendly paint, has been such a big success and received such acclaim.
Aside from being virtually odorless, Natura has zero VOCs (Volatile Organic Compounds) and zero emissions. Additionally, it just got certified asthma & allergy friendly™ by the Asthma and Allergy Foundation of America (AAFA) and carries the Green Promise designation.
But it doesn't stop there.
Natura was honored as the 2015 Product of the Year in the interior paint category and received Cradle to Cradle Silver certification this year.
In terms of the product itself, the paint is 100% acrylic, quick to return to service, and spatter resistant, and it also provides a durable, washable film.
Natura has a manufacturer's suggested retail price (MSRP) of $56.99 per gallon. In comparison, Benjamin Moore Aura — which is low-VOC and the company's highest performance paint — has a $67.99 MSRP while Benjamin Moore Regal Select is $49.99 MSRP and Benjamin Moore ben $39.99 MSRP, all prices are per gallon.
This award-winning paint, which is available in 3,500 colors, comes in three premium finishes — Eggshell, Flat, and Semi-Gloss — and is sold at independent retailers nationwide.
Long-term exposure to high levels of VOCs can cause very serious health issues, such as cancer, liver damage, kidney damage, and central nervous system damage, and we should be doing everything we can to eliminate them from our lives.
What Benjamin Moore has developed with Natura is incredibly compelling and important.