WOW!!!! McDonald's is Launching its First Organic Hamburger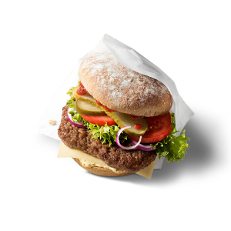 Is the tide really starting to turn in the food world?
Or, is it that McDonald's is just tired of closing new stores and reporting horrible numbers – quarter after quarter – to Wall Street?
Frankly, I could not care less about its motivation for doing so, but the fact that McDonald's has just unveiled its first organic hamburger is a seriously significant event.
Next week in Germany, the fast food chain will be launching the McB, which will contain a hamburger patty made from antibiotic-free, humanely-raised, organic beef.
There will be two different versions of its organic hamburger (varying types of cheese, buns, and lettuce) and customers can vote on which one they like the best.
It should be noted, however, that the company did announce last year that it might be selling more organic, and it is not entirely new to this space.
In the past, it had served organic coffee in many of its New England stores. Currently in Europe, the fast food chain uses organic semi-skimmed milk in some restaurants in the U.K and organic milk in its outlets in Germany. Additionally, organic fruit juice is available in Germany and France.
Yet, McDonald's has become what it is today for one reason – its hamburger.
And if McDonald's makes the only logical and intelligent decision to switch all of its hamburgers to organic throughout the entire world, not only will it reverse the fortune of this company but it will dramatically impact the global food system in a way that we have yet to see before, i.e., less pesticide use, decreased need for GMOs, fewer CAFOs, and superbugs become less of a problem.
Needless to say, this is a monumental announcement, and you can guarantee that everyone involved in the food industry will be watching this incredibly closely.
While McDonald's has A LOT of work to do to continue to improve its menu in all countries around the globe, I give the company huge props for taking this very important step.
The time has come.
(McDonald's released a video about this announcement in German. So, for my German-speaking readers out there, you'll have to tell the rest of us what is exactly being said.)