My Article in Mantra Magazine is My Highlight of 2014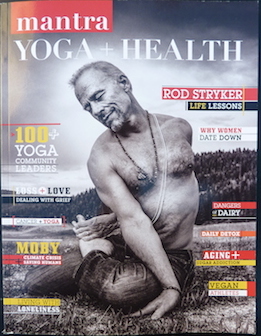 I've been fortunate to do many amazing things and meet a ton of inspirational people in 2014.
Yet, if I had to pick my highlight of the year, it is probably the article that I just wrote in Mantra: Yoga+Health magazine.
When the magazine first hit the stands, I vividly remember being hunched over in the aisle at Whole Foods Market in NYC's Union Square, absorbing every single word. What I felt after reading these few pages touched me in a way that nothing else had in a long, long time.
To be honest, my reaction really took me by surprise and I never imagined that I would be so overcome with emotion. Why was I so moved by this article?
I write blog posts all of the time that get shared throughout the world on the Internet. Additionally, I also have been lucky enough to have been profiled in The New York Times, CNN, Fox News, Bloomberg and many others major media outlets.
So, what was so special about this one?
Recently, I gave a talk at BevNET Live – Winter 2014 in Los Angeles and someone asked "Why do bloggers do what they do? Why do they blog?"
Without hesitation, I responded "We love telling stories".
When I first started Living Maxwell five years ago, my goal was to write about products, restaurants, trends, and news. Yet, as I learned the truth about what was going on in our country – the proliferation of genetically-modified food (GMOs), the lack of labeling of GMOs, the rampant use of harmful pesticides, the lack of support for organic food within our government – my blog and my mission took on much more of an activist role.
How could I sit back and just watch these things unfold before my eyes? I couldn't.
I needed to be involved, and I needed to write about them. I needed to tell the stories about what was really happening in the world.
Several months ago, I was at the Seed Festival in Miami and met Maranda Pleasant, the editor of Origin and Mantra magazines. When we discussed me writing a piece for her, she made it very clear that she wanted a topic that would "shake things up". This was a woman after my own heart! She liked to stir the pot, too.
I knew right away that I wanted to write about 2,4-D, or Agent Orange Corn, arguably the most controversial GMO/pesticide combination ever.
This is something that I have covered on my blog for the last few years, yet there were far too many people across the country who didn't know a thing about it.
The article for Mantra was bigger than just 2,4-D, however. It was to raise awareness of the frightening pesticide arms race going on today's on America's farmland. Not only do mainstream news organizations refuse to discuss this, but the USDA and EPA are encouraging this to happen.
The fact that I could talk about this vitally important yet largely ignored subject in a national print publication was so meaningful. And that it was in a super-cool yoga magazine — yoga is a HUGE part of my life and I practice ashtanga – made it even more special.
Telling stories while trying to make a difference in the world gives my life real purpose.
Thank you for the opportunity, Maranda and Mantra. I am very grateful.
Mantra did not post a link to this story online. So, that is an even better excuse to go buy this issue and support this phenomenal magazine.
It can be found at most Whole Foods Market stores nationwide and other places where magazines are sold.