LuliTonix has Been Rolling Out Some Fantastic Drinks Lately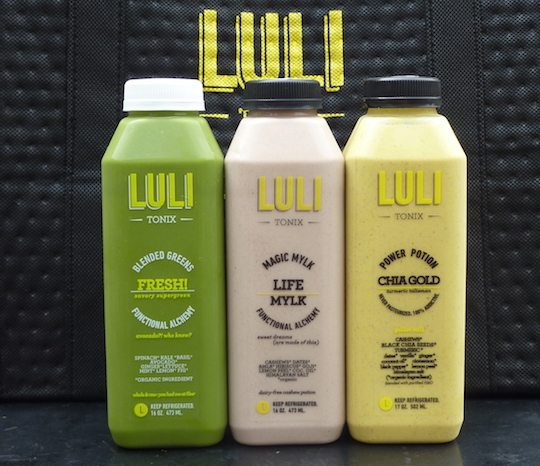 Last year, I said that LuliTonix, a NYC-based blended juice and elixir company, was one of two emerging organic beverage brands to watch.
And given what I have witnessed since then, I definitely believe that this was the right call.
LuliTonix is putting out some very innovative products, embracing powerful ingredients that are rarely used in beverages, such as amla, broccoli microgreens, and moringa.
Even though the company does ship nationwide, LuliTonix is not widely known — just yet — outside of the NYC area and Manhattan wellness community. So, I thought I'd give you a look at some of its newer flavors.
Fresh – avocado, spinach, basil, kale, lettuce, ginger, lemon, fig, purified water.
Life Mylk – lulistyle cashew mylk (cashews, medjool dates, himalayan salt), coconut oil, lemon peel, amla, goji berry, hibiscus.
Chia Gold – cashews, chia seeds, dates, turmeric, ginger, lemon peel, black pepper, vanilla, coconut oil, Himalayan salt, coconut sugar.
Chia Joe – cashews, cold brew coffee, chia seeds, dates, coconut oil, vanilla, Himalayan salt.
Green Mylk – lulistyle cashew mylk (cashews, dates, himalayan salt, lemon peel, purified water), spinach, moringa, extra virgin olive oil.
Kick – kale, spinach, romaine/leaf lettuce, mango, figs, mint, chia, lemon.
The Blend – avocado, broccoli microgreens, spinach, fennel, lemon juice, lemon peel, amla, extra virgin olive oil, Himalayan salt, purified water.
—-
Out of all of the above, my absolute favorites are The Blend, Green Mylk, Life Mylk, and Kick. Super-refreshing, rich flavors, smooth texture.
Recently, I spoke with Lianna Sugarman, founder of LuliTonix, and asked her what is behind her evolving product line.
"I've always been passionate about the notion of balance in my blends — balance between the body and mind, and utilizing whole foods which nourish all body systems — and that is why I have gotten so excited about adaptogenic foods.
"Adaptogens are a group of tonic herbs and foods, used extensively in Ayurveda and Traditional Chinese Medicine, that help your body respond to stress and restore you to a state of homeostasis. They relax you without being a sedative and energize you without being a stimulant. They target the whole body and all of the organs while nourishing your libido, stoking your digestive fire, sharpening your focus and boosting immunity. That is precisely why these foods, such as amla, turmeric, moringa, and goji, figure so prominently in my newest drinks.
"And since our society is plagued by so many stressors, it is vitally important that we are consuming adaptogens every single day."
When founders truly care about health, it shows in the cutting edge products that they bring to market. That is one of the reasons why I am so incredibly impressed by this company.
Currently, LuliTonix can currently be found at select retailers in the New York and Connecticut areas, and it is just a matter of time before it has national distribution.
Below are pictures from LuliTonix's first retail location at 182 Mulberry Street in Manhattan.