MUST-VISIT: Le Botaniste in NYC is Absolutely Stellar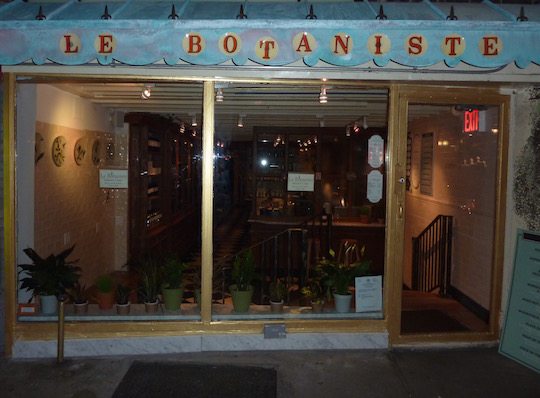 When I got wind that Alain Coumont, founder of the mega-successful Le Pain Quotidien, had opened up a new organic concept on Manhattan's Upper East Side, I knew that I had to check it out immediately.
So, last Saturday, I headed uptown and had dinner at his latest venture called Le Botaniste. And it just so happened that Alain Coumont was there that evening, and he spent the entire night with us, bringing out dish after dish and sharing his vision for this new venue.
It wasn't long before I came to the conclusion that Le Botaniste is one of the most interesting and compelling organic restaurants that I've ever been to.
At Le Botaniste, the food had incredible style, in every sense.
The 100% plant-based, all-organic menu utilized ingredients in such a unique way. The dishes were inventive and sophisticated yet extremely approachable and satisfying. Everything worked, nothing was contrived. And the presentation was so aesthetically pleasing.
Plus, the atmosphere at Le Botaniste was casual, welcoming and comfortable.
Here are a few things that I tried:
ASSORTED SIDE DISHES
On this plate was the coconut ceviche, marinated carrots, seaweed tartare, green pea hummus, and red beet caviar with pumpkin seeds. My favorite, the green pea hummus, was beyond flavorful.
SPRING ROLLS AND TEMPEH SUSHI
The spring rolls and tempeh sushi with avocado were light and had perfect texture.
SUPER-SEED AVOCADO
The avocado was covered in a blend of seeds, topped with salt and masala curry.
DIRTY NOODLE SOUP
The marinade (miso, ginger, garlic, black tea, cashew butter) in the free-range tofu was outstanding and had amazingly complex flavors. Yes, free-range tofu!
JOE'S SMASHED POTATO
This delicious and hearty dish was made with steamed potatoes with skin, porcini and button mushrooms, miso, onions, garlic, greens, carrots, and black tea smoked with pinewood.
CHIA SEED PUDDING AND PEANUT BUTTER QUINOA COOKIE
I've had a lot of chia seed pudding in my life but none made with coconut milk. This totally worked.
JUICES, TEAS AND WATERS
The Detox Juice — apple, beet, ginger — was delicious, and I literally couldn't stop drinking it.
—
Overall, I can't say enough good things about Le Botaniste. The food was so delicious,  and the ambiance was both warm and inviting.
Alain Coumont is a proven success when it comes to developing restaurants, and he has another winner on his hands here with Le Botaniste. If I lived on the Upper East Side of Manhattan, I would be there all of the time.
I have also added Le Botaniste to my favorite organic restaurants in NYC.
(With shoe designer Vanessa Noel and Alain Coumont at Le Botaniste)