Dark Act 2.0 — A Punch in the Gut to the American People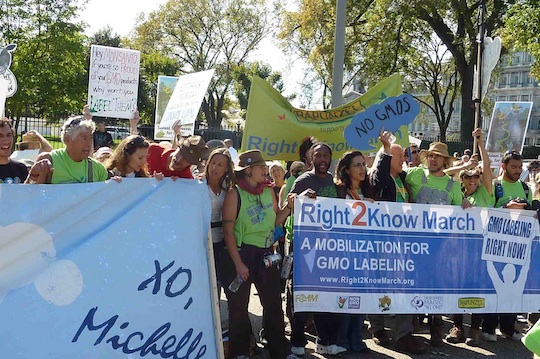 (To follow my day-to-day organic food adventures, please be sure to add me on Snapchat: maxorganic)
It was business as usual in Washington, D.C. yesterday, as we witnessed a truly sickening and reprehensible display of selling out the American consumer.
Seeking to void Vermont's GMO-labeling bill which goes into effect on July 1st, Senator Pat Roberts (R-KS) and Senator Debbie Stabenow (D-MI) agreed to a compromise — Dark Act 2.0 — that would make it illegal for states to label GMOs while simultaneously denying Americans the right to know what is in their food.
As usual, the "compromise" was a major gift to the big chemical corporations.
If passed in the Senate and the House, food companies will not be forced to clearly and easily disclose whether the ingredients are made with genetic engineering on the outside of a food product's label.
Instead, they can disclose GMO ingredients either through a QR code, which is both onerous and discriminatory, or through an on-package symbol or language that the USDA would approve.
Other facets of the bill include:
GMO ingredients would be called "bioengineered ingredients", a much more benign word which could easily confuse consumers.  Vermont's law calls for the language "produced or partially produced with genetic engineering".
Foods that have been genetically-altered using RNA interference or CRISPR/Cas9 technologies would not have to be labeled.
The USDA has two years to define the exact process and language, and one could safely assume that the USDA would give food companies another two years to prepare for the change. So, that could be four years from now before anything happens.
Andrew Kimbrell, Executive Director of the Center for Food Safety, had this to say about the DARK Act 2.0.
"This new bill is a tremendous blow to the food movement and America's right to know, and is in many ways worse than prior iterations of the DARK Act that were defeated. The bill is a grossly negligent attempt to preempt the Democratic decision-making making of states like Vermont, Maine, Connecticut and Alaska. It is a corporate giveaway by Senators Stabenow, Roberts and Heitkamp who have received hundreds of thousands in donations from the biotech companies.
"This is not a labeling bill; it is a non-labeling bill. Clear, on-package GE food labeling should be mandatory to ensure all Americans have equal access to product information so that they can make informed choices about what they purchase and feed their families. This kind of labeling system is inadequate and inherently discriminatory against one third of Americans who do not own smartphones, and even more so against rural, low income, and elderly populations or those without access to the internet.
"We are appalled that our elected officials would support keeping Americans in the dark about what is in our food and even more appalled that they would do it on behalf Big Chemical and food corporations. We will work to defeat this DARK Act just as we have before."
Jean Halloran, director of food policy initiatives for Consumers Union, issued her own scathing statement.
"This deal is unacceptable to the nine out of ten Americans who support mandatory GMO labeling. Consumers deserve to know what's in their food and to be able to make informed decisions. They have been clear that they want straightforward GMO labels that they can read and understand at a quick glance when shopping. This law would instead allow GMO disclosure to be done through scannable codes, phone numbers, or websites – making it difficult, if not impossible for the average consumer to find out what they want to know as they try to decide which kind of cereal or snack to buy.
NEXT STEPS
Here's what happens now.
This bill must get approval in the U.S. Senate, which failed to happen earlier this year. If it does get passed this time around, it then goes to the House of Representatives, where it should easily get approval. Then, it would go to President Obama for his signature.
As such, our only real chance is to make sure that it doesn't get through the Senate.
If this does become law, it will mean that Vermont's GMO-labeling bill will get rescinded because the House does not return until after July 4th. Vermont's bill goes into effect on July 1st and there is almost no chance that this becomes law before July 1st.
So, please call your Senators (http://www.senate.gov/senators/contact/) and tell them to reject the Roberts-Stabenow bill regarding GMO-labels.
IN CLOSING
Without question, this latest development is an absolute blow to the American consumer, and a select group of Senators in Washington, D.C. made a very clear statement yesterday. With their actions, they said "we work for American corporations, not the American people."
This is a very, very sad commentary as to the state of our political system.