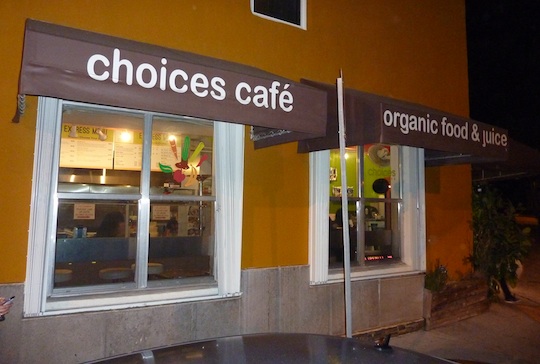 If you follow me on Facebook, you know that last week I took a short trip to Miami — I put up a bunch of pictures of the juice that I drank and the food that I ate down there.
What you didn't see was food from a visit to Choices Cafe, an organic vegan restaurant in downtown Miami, right off of Brickell.
Given that several of my friends in the industry had told me about Choices Cafe and the restaurant has been listed in my Pressed Organic Juice Directory for quite some time, I was eager to go check it out.
So, my good friend Lora Krulak and I ventured off of South Beach one night, and here is what we had.
QUINOA SALAD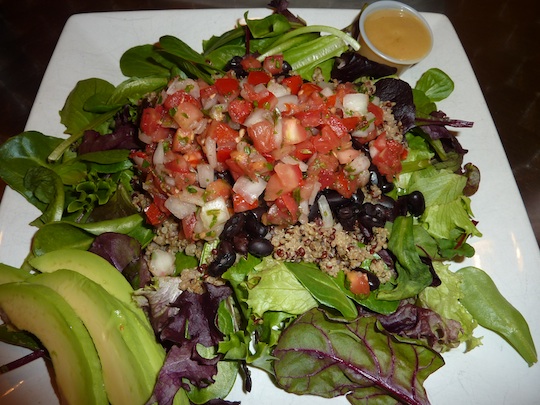 This salad had quinoa, black beans, avocado, onions, lemon, pico de gallo (which I LOVE), and cilantro on a bed of greens. Very fresh and the pico de gallo gave it great spice.
VEGGIE BURGER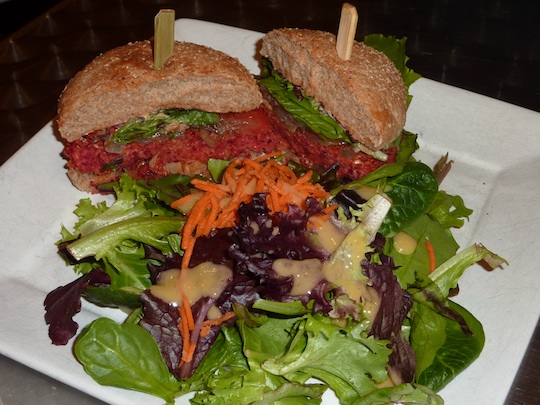 The picture above may look like a raw hamburger, but this was a veggie burger. And without a doubt, it was the best thing that I had that night. Not even close.
The burger was made with a house lentil and beet patty (hence, the red color), sautéed onions, lettuce, and tomato on an Ezekial bun. It was one of the better veggie burgers that I've had in a long time and had excellent flavor.
AZTEC SUN TEMPLE SALAD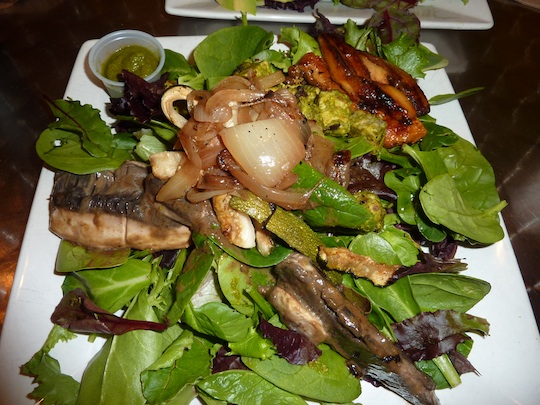 I am a HUGE pesto fan, and this sauce totally stole the show. The salad had avocado, plantains, tempeh, sautéed onions, greens,  and pesto sauce.
PRESSED ORGANIC JUICES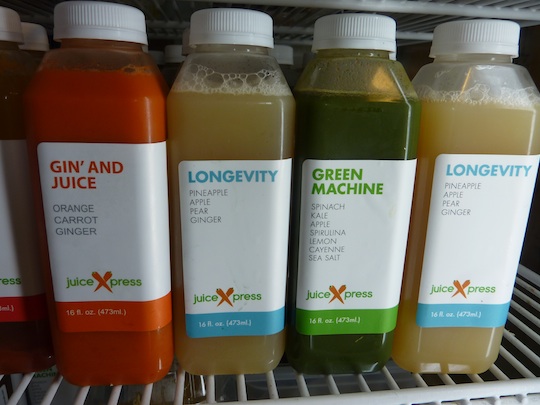 Some cool combinations, especially the Green Machine, which incorporates the very powerful superfood spirulina.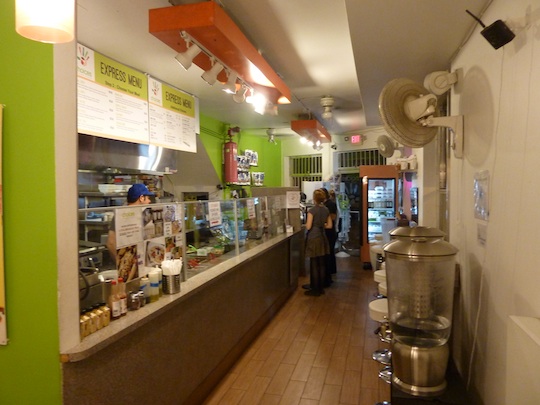 Overall, I had a great night at Choices Cafe and absolutely loved the veggie burger. The people working there were super-friendly, but you'll need to be a little patient as the service can be a touch slow.
For sure, I will go back to Choices Cafe the next time I am in Miami — probably their new location off of Biscayne Boulevard in Miami's Upper East side –  and will order the pizza, which looked fantastic.
—
Want to follow along with me as I check out the country's best organic restaurants?
If so, please Like my Facebook page and sign up for my newsletter.
To join my newsletter list, please enter your email below and I'll send you my Top 5 Inexpensive Ways to Shop Organic.